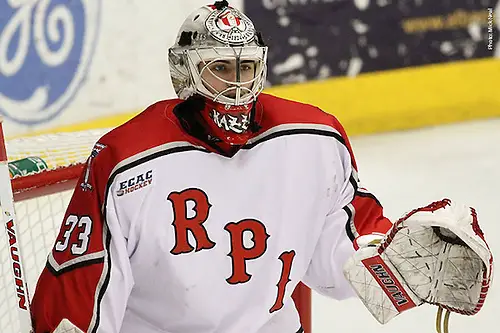 Jason Kasdorf, who just completed his senior season with Rensselaer, has signed an entry-level contract with the NHL's Buffalo Sabres.
Kasdorf, who was originally drafted by the Winnipeg Jets and then had his contract rights traded to Buffalo, had a year of eligibility remaining due to a medical hardship.
"I am extremely grateful for the opportunity that RPI has given me over these past four years," Kasdorf said in a statement. "Without Coach [Seth] Appert, the coaching staff and my teammates, I wouldn't be the goalie or the person I am today. I am extremely fortunate to have been surrounded with amazing people at RPI and the community of Troy. There is no other place I would have rather spent my last four years and I want to thank our fans and everyone who supports RPI Hockey, because without them the program wouldn't be what it is today.
"I am very excited to take this next step with Buffalo. It is a great organization and I am thrilled to be a part of it."
"We are thrilled to see Jason earn his opportunity at the NHL with the Sabres," added Appert. "He has been a great daily example in our program of what work ethic, competitiveness and love of being an RPI Engineer looks like. Our program is grateful for what Jason gave and the manner in which he gave it and we wish him the very best with Buffalo."
Kasdorf departs Rensselaer with the lowest single season (1.62 in 2012-13) and career (2.39) GAA in school history. He is second (.935 in 2012-13) and third (.931 in 2015-16) in single season save percentage, as well as second in career save percentage (.920). He is in the top five in 10 other categories, including fourth in career shutouts (7) and fifth in season saves (916 in 2015-16).
"I am delighted that Jason has decided to take his skills and talents to the NHL," said RPI director of athletics Dr. Lee McElroy. "He has been a model student-athlete during his tenure at RPI, who excelled in academics, athletics, and leadership. I wish Jason and his family the best as they take the next steps in their journey."
This season, Kasdorf played 30 games, going 12-12-5 with a 2.30 GAA and a .931 save percentage, which is ninth in the nation.