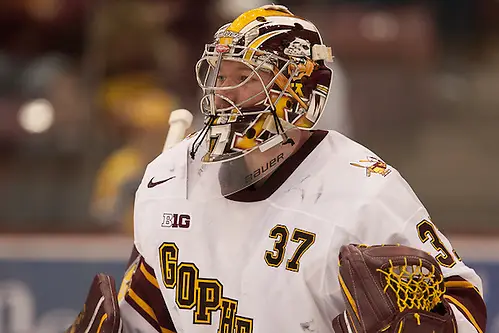 The Big Ten announced Monday the two All-Big Ten teams, All-Freshman Team and individual award winners.
Michigan's Kyle Connor was named Big Ten Player and Freshman of the Year, while also earning Scoring Champion honors, while Connor's Wolverines teammate Zach Werenski was tabbed the Defensive Player of the Year, which is awarded to a defenseman or forward.
Minnesota goaltender Eric Schierhorn was named the Goaltender of the Year and the Wolverines' Red Berenson was selected as the Coach of the Year.
Connor led the conference with 43 points and 22 goals in conference play. The freshman averaged a conference-leading 2.15 points per game in conference action to pace an offense that led all Big Ten schools with 5.35 goals per game in conference contests. Connor also led the conference with seven goals and 12 points on the power play in Big Ten games.
Werenski finished at the top of Big Ten defensemen scoring with 18 points and 14 assists in conference games. Nine of his points came on the power play, tallying three goals and six assists on the man advantage to lead all Big Ten defensemen in conference contests. The Wolverines finished second in the conference in scoring defense in Big Ten play.
Just a freshman, Schierhorn led the conference with 14 wins in conference play and also paced all Big Ten goalies with a 2.67 GAA in conference play, including a shutout on the road against Wisconsin.
Berenson guided Michigan to a 22-7-5 overall record and a 12-5-3-2 conference mark. The Wolverines earned the No. 2 seed and a first-round bye in the Big Ten Tournament.
The Big Ten also named Boo Nieves (Michigan), Michael Ferrantino (Michigan State), Jake Bischoff (Minnesota), Craig Dalrymple (Ohio State), Luke Juha (Penn State) and Kevin Schulze (Wisconsin) as conference Sportsmanship Award honorees.
2015-16 First Team All-Big Ten
| Player's Name | Position | Class | School |
| --- | --- | --- | --- |
| J.T. Compher | F | Jr. | Michigan |
| Kyle Connor | F | Fr. | Michigan |
| Tyler Motte | F | Jr. | Michigan |
| Zach Werenski | D | So. | Michigan |
| Josh Healey | D | Jr. | Ohio State |
| Eric Schierhorn | G | Fr. | Minnesota |
2015-16 Second Team All-Big Ten
| Player's Name | Position | Class | School |
| --- | --- | --- | --- |
| Hudson Fasching | F | Jr. | Minnesota |
| Justin Kloos | F | Jr. | Minnesota |
| Nick Schilkey | F | Jr. | Ohio State |
| Michael Brodzinski | D | Jr. | Minnesota |
| Vince Pedrie | D | Fr. | Penn State |
| Eamon McAdam | G | Jr. | Penn State |
2015-16 Big Ten Honorable Mention
| Player's Name | Position | Class | School |
| --- | --- | --- | --- |
| David Goodwin | F | Jr. | Penn State |
| Jake Bischoff | D | Jr. | Minnesota |
| Jake Hildebrand | G | Sr. | Michigan State |
| Christian Frey | G | Jr. | Ohio State |
2015-16 Big Ten All-Freshman Team
| Player's Name | Position | School |
| --- | --- | --- |
| Kyle Connor | F | Michigan |
| Mason Jobst | F | Ohio State |
| Luke Kunin | F | Wisconsin |
| Zach Osburn | D | Michigan State |
| Vince Pedrie | D | Penn State |
| Eric Schierhorn | G | Minnesota |