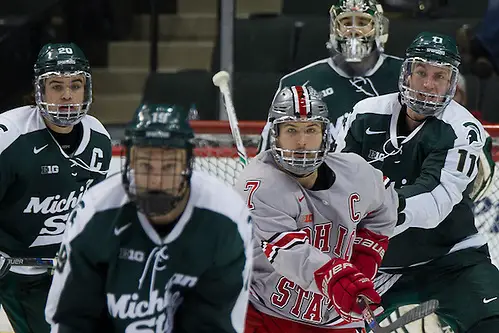 ST. PAUL, Minn. — Ohio State entered winter break fresh off of losing two overtime games to Minnesota at Mariucci Arena. During the time off, the Buckeyes dealt with the memories of playing a series where they felt deserving enough to come home with points, but instead left with nothing.
Steve Rohlik's team then went to Florida and beat then-No. 4 Boston College and then-No. 9 Cornell, and finished out the rest of their season playing their best hockey, going 10-6-4.
Big Ten tournament
See the tournament bracket and get links to schedules and stories at Big Ten Playoff Central.
Ohio State lost an overtime game and a one-goal game to Minnesota at Value City Arena during their second half, but the Buckeyes earned the right for a fifth game with Minnesota by defeating Michigan State 4-3 in overtime on Thursday in the Big Ten tournament quarterfinals.
What does the opportunity mean to the Buckeyes?
"Payback. Revenge," forward Matthew Weis said. "I think obviously with [Minnesota] winning the Big Ten title for the season, us losing three games in OT and one, one-goal game with them just shows that we can play with anyone when we want to. I think [there's] no better way to come here to the X in Minnesota and to see them tomorrow night."
Rohlik said Ohio State played four very good games against Minnesota but the Gophers just found a way to win like good teams do. The Buckeyes coach is a Wisconsin grad, but a St. Paul native and Hill Murray graduate who knows his team understands the stage it'll be on Friday night.
"They understand where we're at. They know we're right in Minnesota's backyard," said Rohlik. "I think our guys right away after the game, kind of realized where you're at, the stage you're at, and the opportunity they have."
The overtime scorer certainly knew during the postgame news conference what comes next.
"We were pretty aware of the path we were going to have to take to get a championship," said Mason Jobst. "I think we're licking our chops to get another chance at them."
Michigan State sees special teams success
Spartans coach Tom Anastos said that if his team won the special teams battle, then his team would be in good shape against Ohio State. Michigan State took advantage of four power-play opportunities during the second period, converting on three of them.
"I thought we moved the puck really well, got 'em running around a little bit," said Joe Cox. "It opened up shots for [Matt DeBlouw], it opened up a shot for me and we capitalized on it."
The Spartans' power play struggled during the season, going 20-for-140, just 14.3 percent. In the last month of the season, it was just 4-for-29, 13.8 percent.
"Our power play hadn't been scoring very often; tonight it moved the puck around well," said Anastos. "We had some really good looks. Those were good goals we scored, and so it really helped us get back in the game."
Hildebrand makes 44 saves in defeat
All-American Jake Hildebrand gave up a couple rebounds Thursday night against the Buckeyes, but he also made a season-high 44 saves on 48 shots. The goaltender especially made some big saves during the third period and overtime when the two teams were trading chances.
"He's got a great work ethic and it's just like a security blanket for us," said Cox. "We always know that we're going to get a good game out of him. It helps us be a little more risky offensively because we know he's always got our back."
Ohio State's game plan was built on getting shots through traffic on Hildebrand and then looking for pucks spilled around the crease.
"Last week when we split the series at Michigan State, we had a lot of shots that were just laying out front," said Weis. "So that was our big thing going into this game was everybody getting bodies going to the net, and someone put away the loose trash."
The persistence paid off as Tommy Parran, Weis and Jobst all scored on big rebounds off of shots through traffic.
Anastos: Big Ten tournament will take time
Anastos thought back to his CCHA Super Six days when asked about attendance. He remembered that the Thursday games back then were a tough draw and the Big Ten had the same problem Thursday, when attendance was announced as 4,283.
"When I came into this, I would say I had a pretty practical thought on the time it would take to build whatever we were doing or whatever our format was going to be," said Anastos. "There was a lot of time and tradition that was established before, and just because you throw a group together anywhere in the country, things aren't just going to happen. I think everybody is working at it."
Anastos reiterated that he's a big advocate of what the Big Ten is doing for Michigan State and hockey, and preached patience and noted what a great job the Xcel Energy Center does for the event.
"At the same time, regardless of how it's going or is perceived to be going, it's always smart to go back and kind of reassess things as they are and [ask] are there better ways to approach things?" he said.