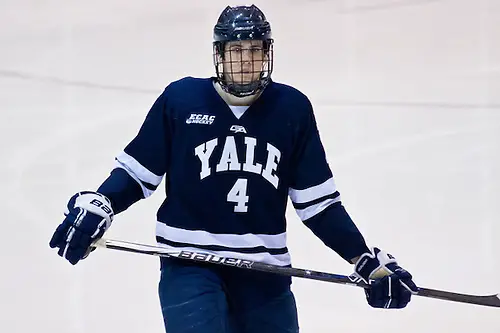 ECAC Hockey announced Friday the winners of its annual postseason awards and All-League teams as selected by the league's 12 head coaches.
This season's winners came from three schools – Harvard, Quinnipiac and Yale and featured three repeat winners from a year ago.
For the second consecutive season, Harvard captain Jimmy Vesey earned the league's Player of the Year honor. Vesey ranked second in league play in both points (38) and goals (30). The senior forward is a top 10 finalist for the Hobey Baker Award and a finalist for both the Walter Brown Award and Senior CLASS Awards.
Leading the league in nearly every goaltending statistical category, junior Alex Lyon from Yale was voted the Ken Dryden Award winner, recognizing the league's top netminder. Lyon backboned the top defense in the conference registering a 1.50 GAA and a .943 save percentage in logging nearly 1300 minutes in 22 games.
Guiding Quinnipiac to back-to-back Cleary Cup titles, Bobcats head coach Rand Pecknold earned his second-career Tim Taylor Award, honoring the league's top coach. Leading his squad to a No. 1 national ranking for much of the 2015-16 campaign, the Bobcats ranked first in the league in scoring offense and second in the league in scoring defense, which led to their 16-1-5 mark in 22 league contests.
The catalyst for Yale on offense this season, Joe Snively took home Rookie of the Year honors. The freshman forward led the Bulldogs in scoring in conference action, recording 19 points on 12 goals and seven assists in 22 league games.
Yale's Carson Cooper was named the league's Best Defensive Forward. The senior registered 22 blocks, while winning nearly 300 faceoffs. He helped the Bulldogs establish themselves as the top penalty kill unit in the league, stopping 60 of 62 opportunities while being a man down.
Another repeat winner, honoring the league's top blueliner as Best Defensive Defenseman, Yale's Rob O'Gara helped the Bulldogs establish themselves as one of the nation's best defensive teams, yielding only 1.68 goals per game in overall play.
Becoming the second individual to win the league's Student-Athlete of the Year Award, Harvard's Kyle Criscuolo epitomizes the model for ECAC Hockey's most prestigious honor. A senior Psychology major with a minor in Economics, Criscuolo maintains a 3.548 GPA while taking a demanding course load at Harvard. His dedication in the classroom has caught the eye of some of the institution's most distinct faculty members, who noted his work and discussions on topics ranging from classical Chinese ethics and theory to contemporary political issues.
A two-time captain for Harvard, Criscuolo has been named a finalist for the Hockey Humanitarian Award and Senior CLASS Award.
Yale earned its second consecutive Team Sportsmanship Award.
2015-16 ECAC First Team All-League
| Player's Name | Position | Class | School |
| --- | --- | --- | --- |
| Sam Anas | F | Jr. | Quinnipiac |
| Nick Lappin | F | Sr. | Brown |
| Jimmy Vesey | F | Sr. | Harvard |
| Gavin Bayreuther | D | Jr. | St. Lawrence |
| Rob O'Gara | D | Sr. | Yale |
| Alex Lyon | G | Jr. | Yale |
2015-16 ECAC Second Team All-League
| Player's Name | Position | Class | School |
| --- | --- | --- | --- |
| Kyle Criscuolo | F | Sr. | Harvard |
| Tim Clifton | F | Jr. | Quinnipiac |
| Travis St. Denis | F | Sr. | Quinnipiac |
| Eric Sweetman | D | Jr. | St. Lawrence |
| Devon Toews | D | Jr. | Quinnipiac |
| Jason Kasdorf | G | Sr. | Rensselaer |
2015-16 ECAC Third Team All-League
| Player's Name | Position | Class | School |
| --- | --- | --- | --- |
| Alexander Kerfoot | F | Jr. | Harvard |
| Tyson Spink | F | Sr. | Colgate |
| Mike Vecchione | F | Jr. | Union |
| James de Haas | D | Jr. | Clarkson |
| Paul Geiger | D | Sr. | Clarkson |
| Michael Garteig | G | Sr. | Quinnipiac |
2015-16 ECAC All-Rookie Team
| Player's Name | Position | School |
| --- | --- | --- |
| Ryan Kuffner | F | Princeton |
| Tommy Marchin | F | Brown |
| Joe Snively | F | Yale |
| Max Gottlieb | D | Brown |
| Chase Priskie | D | Quinnipiac |
| Cam Hackett | G | Rensselaer |