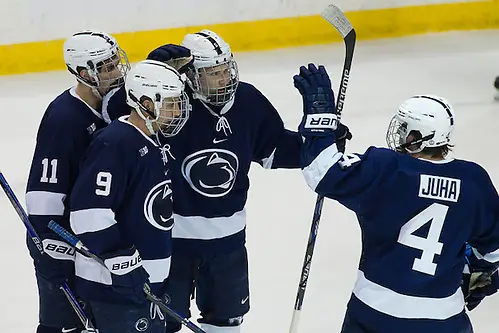 ST. PAUL, Minn. — Guy Gadowsky admitted that Michigan is probably one of the talented college hockey teams he's seen, after getting knocked out of the tournament 7-2 by the Wolverines, but the coach knows his program is improving.
"It is a tremendous year by our team and the seniors, obviously, took us a long way, a lot further than I think anybody thought they would," Gadowsky said after Friday's Big Ten tournament semifinal.
Big Ten tournament
See the tournament bracket and get links to schedules and stories at Big Ten Playoff Central.
The Nittany Lions won 13 games their first season as an independent, then just eight games in their first season as a member of the Big Ten, and now 18 and 21 wins the past two seasons.
"It was a huge season for us. We reached 20 wins, we had some big wins, some momentum throughout the year," said David Goodwin. "It's tough to turn the page on this season, but I think there's a lot of positives going into next year."
Penn State won at Mariucci Arena and also tallied road wins at Ohio State, Michigan State and Wisconsin as well.
"Now a lot of the guys have the experience of the Big Ten tournament, whether here or at the Joe Louis [Arena]," said Goodwin. "I think just kind of feeling comfortable and consistently doing the things that have brought us success."
Penn State will lose Luke Juha, who had one goal and three assists during the tournament, along with David Glen, Eric Scheid, Tommy Olczyk, Curtis Loik, Kenny Brooks and Connor Varley. While the Nittany Lions are losing over a third of their lineup, the coach is optimistic moving forward they will be a team to be reckoned with.
"I think Penn State is a top-tier university, and it's going to happen," said Gadowsky. "I'm not sure how close we are, but it's really fun to keep on improving and to have all the support that we get; it's fun to keep striving to get there."
Michigan's Red Berenson's team has struggled in games against Penn State the past few seasons. While the Wolverines swept the Nittany Lions this season, they went 6-3 against them in previous seasons.
"They had our number for two years," said Berenson. "I think they surprised everyone and they've done a great job, the coaches and the players and the way they played."
Gadowsky likes Xcel Energy Center but non-committal on future
The Nittany Lions experienced some success at Xcel Energy Center this year and Gadowsky had nothing but great things to say about his experience at the arena.
"I've been fortunate enough to work regionals in this building and everything they do is very, very professional," said Gadowsky. "And a lot of what you don't see — behind the scenes, they have a great attitude. They're detailed, they do a tremendous job. It's a great experience to play in this building. I really love it from every aspect. They are extremely professional."
Penn State beat Michigan in its opening game of the 2014 Big Ten tournament 2-1 in overtime before exiting the tournament with a 2-1 loss to Wisconsin. The team then defeated Wisconsin in the opening game of the tournament this year 5-2.
However, when the coach was asked about the future of the tournament in St. Paul, the coach was less expressive.
"That's above my pay grade; I don't know," said Gadowsky.