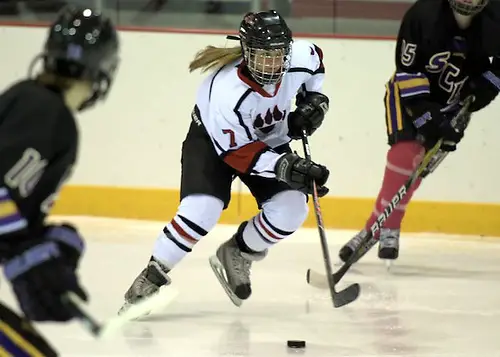 Lake Forest senior forward Michelle Greeneway has been named the winner of the 2016 Laura Hurd Award, given by the American Hockey Coaches Association to the Division III women's player of the year.
Greeneway, a two-time First Team CCM All-American and the 2016 NCHA Player of the Year, leads the nation with 33 goals and 14 assists for 47 points.
For her career, Greeneway fashioned 103 goals and 49 assists for 152 points in 101 games.
"Michelle Greeneway has been the driving force behind our team's success for the past four years," said Lake Forest coach Carisa Zaban Wahlig in a news release. "She has been a great leader, not just with points, but with her work ethic and competitiveness. I've never coached a more competitive player or someone who can just naturally score and dominate like she does. Her teammates look up to her and can rely on her in all areas of the ice.
"Yes, she can score, but she's also the first one go to down and block a shot and she's the first one who will do an extra workout during the week so she can still continue to improve."
Outside of hockey, Greeneway is an outstanding student. She is a member of the "Senior 25" – twenty-five students chosen as leaders among their peers, who positively contribute to the quality of life in the Lake Forest College community through their service, commitment, and achievements. She's been on the Dean's List the past four years, NCHA All-Academic, and member of Delta Kappa National Leadership Honor Society.
All the while, she also played soccer for four years and was named to the First Team Academic All-American team this year. She is also the only current player to have scored over 100 goals in soccer and 100 goals in hockey throughout her career at Lake Forest.
Greeneway, twice NCHA Player of the Year and a four-time NCHA All Star, received Second Team All-American accoldaes in the two years she wasn't on the First Team.
The runner-up for this year's Hurd Award was Chloe Kinsel, a senior forward from Wisconsin-River Falls.
The award is named in honor of former Elmira star Laura Hurd who died in a car accident shortly after graduation. Hurd was a four-time All-American who led Elmira to victory in the first NCAA Division III women's national championship.