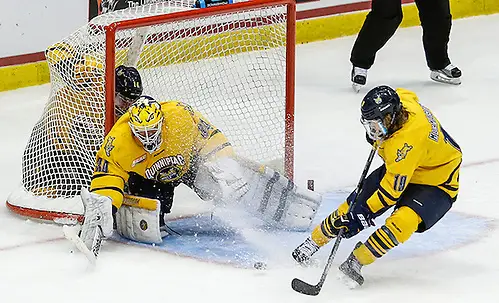 The East Regional in Albany, N.Y., will reunite three teams from the 2013 Frozen Four and return a fourth — Rochester Institute of Technology — to the venue where its improbable 2010 Frozen Four run began.
No. 1 seed Quinnipiac, the tournament's top overall seed, will face No. 4 RIT on Saturday, while No. 2 seed Massachusetts-Lowell will take on No. 3 seed Yale at the Times Union Center.
East Regional (Albany, N.Y.)
• Quinnipiac vs. Rochester Institute of Technology, 4 p.m. EDT Saturday, ESPNU
• UMass-Lowell vs. Yale, 7:30 p.m. EDT Saturday, ESPN3
• Regional championship game: 7:30 p.m. EDT Sunday, ESPNU
The Bobcats won their first ECAC Hockey Whitelaw Cup Saturday night — and an NCAA automatic qualifier — with a 4-1 win over Harvard, after defeating Dartmouth 3-1 in the conference's early semifinal on Friday.
Quinnipiac's stingy defense is backstopped by senior Michael Garteig, who has averaged just under 1.90 goals per game and is tied for second nationally with seven shutouts.
An injury resulting from a major penalty for boarding by Harvard's Luke Esposito leaves junior Sam Anas' status for Saturday uncertain, though Quinnipiac coach Rand Pecknold said Sunday during the televised NCAA selection show that he hopes to have him in the lineup. Anas' 48 points leads a Bobcats offense that is tied at fourth in the nation at 3.87 goals per game.
Quinnipiac has a 2-1 record against RIT in the Tigers' Division I era, but the teams have not met since 2007. The Tigers upset last season's overall No. 1 Minnesota State before dropping the regional championship game to Omaha.
"We won a game last year and we want to go even further," RIT captain Josh Mitchell said after the Tigers downed Robert Morris 7-4 for their second consecutive Atlantic Hockey title on Saturday.
Offensively, three of RIT's four top scorers are underclassmen: sophomore Myles Powell with 15 goals and freshmen Gabe Valenzuela and Liam Kerins, who have 13 goals each, while leading scorer Mitchell, a senior, is tied for seventh in the nation with 30 assists.
RIT goalie Mike Rotolo has been in net for all four playoff wins after missing nine weeks with an ankle injury.
No. 8 overall seed UMass-Lowell received an at-large bid following a 3-2 loss to Northeastern on Saturday in the Hockey East championship. The River Hawks are one of six teams from that conference in the tournament.
"It speaks to the depth of our league and the difficulty of our league," UMass-Lowell coach Norm Bazin said after selections were announced Sunday. "It's ruthless. It's such a grind."
River Hawks sophomore C.J. Smith leads the team in scoring with 38 points, while senior Adam Chapie and junior Joe Gambardella both have 35.
Lowell has given up an average of 1.82 goals per game, second nationally only to Yale's 1.74, and goalie Kevin Boyle is third in Division I in save percentage (.935) and GAA (1.77).
Yale had to wait for the results of Saturday's games to see if it would land an at-large bid to the tournament after getting swept by Dartmouth in the ECAC Hockey quarterfinals. Yale's seniors won their program's first national championship over Quinnipiac in 2013. The Bulldogs lost both of this season's games to the Bobcats.
Yale netminder and Hobey Baker Award finalist Alex Lyon has been stellar this season, with a 1.59 GAA and a .938 save percentage — tops in both categories in the nation — and has five shutouts. Offensively, Yale is averaging just 2.71 goals per game, led in scoring by freshman Joe Snively, with 28 points and senior Stu Wilson, son of RIT coach Wayne Wilson, with 26 points.
The last meeting between Yale and Lowell was the Bulldogs' 3-2 overtime win over the River Hawks in the 2013 national semifinal game.