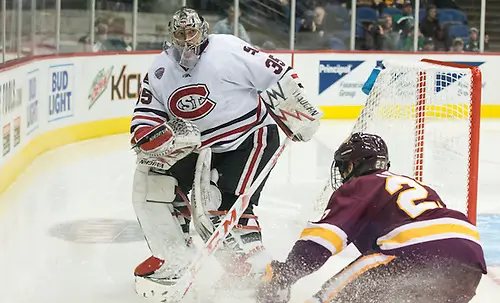 On Friday night at the Target Center in Minneapolis, St. Cloud State coach Bob Motzko described his team's NCHC semifinal victory over Denver as "a ground game, just a hard, heavy, get-pucks-deep, a lot of mucking up down low. … There just wasn't a lot of transition in the game tonight,"
The Huskies held off Denver 4-2 scoring an empty-net goal in the last minute to send the Huskies on to the Frozen Faceoff championship against Minnesota-Duluth, which the Huskies also won.
West Regional (St. Paul, Minn.)
• St. Cloud State vs. Ferris State, 2 p.m. CDT Saturday, ESPNews
• Denver vs. Boston University, 5:30 p.m. CDT Saturday, ESPNU
• Regional championship game: 4 p.m. CDT Sunday, ESPNU
This Sunday, it's possible that St. Cloud State and Denver might have to replay that scenario just across the river at the Xcel Energy Center in St. Paul, Minn., with a berth in the Frozen Four on the line for the winner. If so, St. Cloud will have confidence from having gone 3-0 against the Pioneers this season.
Of course, they'll have to win their opening-round games first to set that up. St. Cloud State faces off against WCHA champion Ferris State, while Denver faces Boston University.
St. Cloud is paced by the second-best offense and second-best power play in the country, averaging 4.28 goals per game and clicking at 28.89 percent on the power play.
The Huskies are strong defensively as well, giving up only 2.12 goals per game, good for 10th in the nation. Part of that is the play of goaltender Charlie Lindgren, who has a .927 save percentage, a 2.05 GAA and five shutouts while playing the second-most minutes in the country.
St. Cloud is willing to open things up and allow its top forwards, including the fifth-best scorer in the country, Kalle Kossila, to play run and gun and relentlessly forecheck. The defense, including Hobey Baker Award finalist Ethan Prow, pinches and cuts pucks off down low and cycles into the attack, confident that if the puck gets behind them, Lindgren can make the saves.
The Huskies' opponent, Ferris State, got hot at the right time, winning its last four games to win the WCHA tournament. Friday, the Bulldogs edged Michigan Tech 1-0 and Saturday, they defeated Minnesota State 2-1 with the game-winner a controversial penalty-shot call.
Ferris State averages a respectable 2.67 goals per game, good for 29th, while giving up only 2.54 goals per game, good for 23rd. Freshman Darren Smith's numbers are not that far off from Lindgren's, with a .923 save percentage and 2.15 GAA. The offense is paced by a pair of juniors, Gerald Mayhew and Chad McDonald.
The other game pits two teams that are familiar with each other. Denver and Boston University played in Boston back on Halloween, with the Terriers winning in overtime 5-4 after Denver had rallied with two third-period goals, including a short-hander by Quentin Shore, to tie it. BU's Ahti Oksanen scored twice, including the game-winner just 21 seconds into OT.
"It was very contrasting styles," Denver coach Jim Montgomery said of that game. "You had more of our speed and transition against their puck possession down low, which gave us some problems on three goals. And I think our transition game gave them a lot of problems."
Denver has arguably been the hottest team in the country in the second half, going 14-1-3 and then sweeping Omaha in the NCHC quarterfinals before losing to St. Cloud on Friday. That pace has been due in no small part to the play of Denver's Pacific Rim Line: Trevor Moore, Danton Heinen and Dylan Gambrell have put up points in bunches, and before Friday's St. Cloud game were held without a goal in only two games in the second half, against Western Michigan on Jan. 15-16. They've scored at least one point in every game since losing to North Dakota on Dec. 5.
Overall, Denver has the 16th-best offense in the country, scoring 3.13 goals per game, and the 13th-best defense, giving up only 2.29 goals per game.
Defensively, Denver is led by senior Nolan Zajac and junior Will Butcher, both of whom like to jump into the offensive play. Butcher has 29 points on the year and Zajac has 18. Tanner Jaillet has been the starting netminder, with a 2.22 GAA and .925 save percentage. Jaillet will want to improve on his performance from the last time Denver faced BU, when he was yanked at seven minutes of the second period after giving up BU's third goal.
BU, last year's runner-up in the NCAA tournament to Providence, was swept on the road in the Hockey East tournament quarterfinals by UMass-Lowell. The Terriers are almost even with Denver offensively, ranking 14th with 3.21 goals per game and led by seniors Danny O'Regan and Oksanen.
The defense is 26th, giving up 2.61 goals per game. Sean Maguire is in net for BU, and has a 2.26 GAA and a .924 save percentage. The inconsistency on defense hurt the Terriers down the stretch, as they went 4-3-1 in February before edging Massachusetts in the Hockey East tournament first round and then losing to Lowell.