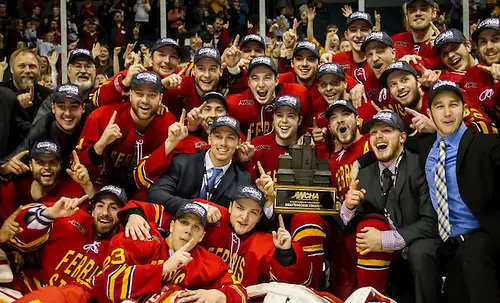 Each week during the season we look at the big events and big games around Division I men's college hockey in Tuesday Morning Quarterback.
Paula: First, Jimmy, I want to congratulate all of the conference championship winners. There were legitimate upsets in at least two conferences: Atlantic Hockey and the WCHA. I was lucky enough to cover the WCHA tournament in Grand Rapids, Mich., and I really want to start with that.
The WCHA field was really good and the competition was keen, so I say what comes next with no disrespect for the top three seeds: I am thrilled that I got to witness Ferris State win its first playoff championship in program history. For the entire time I covered the Bulldogs in the CCHA, I was impressed with the way that coach Bob Daniels always — and I mean every single year — focused first and foremost on capturing the conference playoff crown. Ferris State had taken the regular season championship a few times, but winning the conference tournament was always the focus of the program, year in and year out.
Daniels and his staff's philosophy always stood in stark contrast to many teams in the CCHA when I covered him; too many CCHA teams saw the Mason Cup as a steppingstone to the NCAA tournament. Even in years when Ferris State needed the league's autobid to advance to the NCAA tourney, the NCAA tourney was never the prize they sought.
After defeating Minnesota State on Saturday, Daniels told the press that he and his coaches never even discussed the NCAA tournament during the WCHA playoffs and the Ferris State players nodded in agreement. It's as though the tournament autobid is the icing on the cake, but the Broadmoor Trophy is definitely the cake itself.
Daniels also said something else that struck me. The other three teams in the tournament — No. 3 Bowling Green, No. 2 Minnesota State and No. 1 Michigan Tech — were all vying for the MacNaughton Cup as the regular season came to a close, and Daniels thinks that maybe those three teams were so intent on capturing the regular season trophy that perhaps they didn't have enough emotion left in the tank to fuel them through the conference championship tournament. In other words, Daniels thinks that the Bulldogs benefited from being out of that particular fray at the start of the weekend.
What the Bulldogs did to win that tournament was to play simple yet brilliant defensive hockey. They completely smothered Michigan Tech's potent offense on Friday night, and they gave Mankato just a sniff or two Saturday.
One more thing about the WCHA tournament itself. The atmosphere in Van Andel Arena was great for a conference championship. There were enough fans in attendance and the crowds were enthusiastic. Every coach commented on how electric it felt at ice level, an experience that every team playing in a conference championship tournament should know. Both Van Andel Arena and the WCHA did a very nice job with the tournament, and I look forward to covering it again in two years when it returns.
Jim: Your mentioning of how teams in the WCHA might have used up a lot of energy trying to win the regular season makes me wonder the effect that having last week off might have on some of the teams in the NCAA field.
In fact, of the 16 teams playing this weekend, three were idle last weekend: Notre Dame, Boston University and Yale. It will be interesting to see how each of those teams used the past week. Rest and practice this time of year is often important to coaches. For the NCAA tournament, you're preparing for new opponents, trying to fine-tune some parts of your team's game. And most importantly, the rest can benefit teams nursing some key injuries.
A year ago, Providence lost in the Hockey East quarterfinals and bounced back two weekends later to win the East Regional and then, of course, the Frozen Four. Omaha also lost in the NCHC quarterfinals but dominated its regional tournament to get to the Frozen Four, eventually losing to Providence.
Minnesota-Duluth was the third team a year ago that was idle during the conference tournament and the Bulldogs, though they didn't advance to Boston, upset then-Big Ten champ Minnesota in the opener before losing to Boston University.
So often times I wonder how much the conference tournament weekend can take out of a team. We all know none of the teams wants to sit home that weekend, but might there be a trend here where it can be beneficial to have some rest before the NCAA tournament begins?
Paula: I know on paper that Minnesota-Duluth's win over Minnesota in the NCAA tournament was considered an upset, but given the strength of the Big Ten — or lack thereof — in 2014-15, I'm not sure that the Bulldogs did anything they shouldn't have done.
That's not to say that time off can't help. Last year, Providence went 6-4 in the 10 games before the NCAA tournament, with four of those contests decided in overtime and three of those games losses. Clearly, the two weeks off helped the Friars.
Omaha was 2-5-3 in the 10 games leading to the NCAA tournament, so the Mavericks must have used that time to right several wrongs.
This season, of the three teams in the NCAA tournament that were idle last weekend, I see Yale as having the best chance. Yale is 7-3 in its last 10, and those seven wins are actually part of an eight-game win streak that was halted by a 4-1 loss to Quinnipiac on Feb. 27. Then the Bulldogs ran into a determined and streaky little Dartmouth team.
Notre Dame is 5-5 in its last 10 and BU is 5-4-1, and neither team has played consistent hockey this season.
If the Fighting Irish and the Terriers advance, then I think we can start talking about a trend.
Jim: We might as well use the rest of this space to look ahead at the regionals. Looking at all four, it's difficult for me to come up with a bracket of death that we usually can find. The Midwest Regional might earn that title as you have a very strong North Dakota team coupled with two conference champions — Northeastern and Michigan — and Notre Dame. Each of those four teams has put together impressive streaks throughout the season and you might argue that North Dakota, though winless last weekend at the NCHC tournament, is the most potent of those four teams.
The West Region and East Region also each have two conference champions and, in each, those teams square off. St. Cloud State will take on Ferris State in St. Paul and Rochester Institute of Technology takes on Quinnipiac in Albany. I know when I'm making my picks for this tournament, I tend to give some preference to the conference champs, which makes picking either of these games more difficult. The 1 vs. 16 matchup of Quinnipiac and RIT might, on paper, look like the one automatic until you remember that RIT is 3-1 in regional play and 2-0 in opening games.
So I'll pose the question: Which bracket do you think is the toughest and what game do you see as having the best potential for a first-round upset?
Paula: Your bracket of death pick is mine as well, Jim. Not only are there two conference champions there, but you have two conference champions who are arguably playing the best hockey of the season between them — Northeastern on its incredible second-half roll, and Michigan with its mighty offensive machine. Quite frankly, I was a little sad when I realized that the Huskies and Wolverines would be placed in the same bracket, eliminating the possibility for both teams to advance to the Frozen Four.
Of course, that presupposes that either will emerge from Cincinnati — and that's a mighty big if, isn't it? As we mentioned, Notre Dame comes into that regional very well rested, and North Dakota is just a very tough postseason opponent.
I would like to say that I see an upset coming out of the West Regional, but that is a strong bracket and Ferris State may fall prey to the exact sentiment that Daniels expressed about his WCHA opponents last weekend. How much gas will the Bulldogs have in the tank heading into that regional after expending so much of their intense energy to capture the Broadmoor Trophy? Additionally, Ferris State is really skilled defensively but did give up chances in the second game — and I see their defense exploited even more in the regional. St. Cloud State is the top seed in that bracket, but I don't necessarily see either Denver or BU emerging from St. Paul as an upset.
Worcester is interesting in that Providence and Minnesota-Duluth look really good on paper in their last 10 games, with winning records against teams lower in their conferences. Neither Harvard nor Boston College has looked very consistent to me in the second half, but we both know that each of these four teams is capable of taking this bracket. An upset might be a western team emerging from this specific regional, but I don't see that happening. Can it ever be argued, however, that BC is an upset coming out of any bracket, regardless of the Eagles' seeding, given the program's NCAA experience? Harvard would surprise me, to be honest.
And that brings us to the East Regional in Albany. As RIT fans are pointing out, last year the Tigers faced the overall No. 1 seed, Minnesota State, and knocked them out in the Midwest Regional before falling to Omaha. And the last time the Tigers were in a regional in Albany, they advanced to the Frozen Four. It's a nice story, for sure, but I like Yale in that regional if an upset is to be made.
Jim: Here is what is most interesting to me about Albany: You have three of the top 10 goaltenders in GAA nationally with Lowell's Kevin Boyle, Yale's Alex Lyon and Quinnipiac's Michael Garteig all heading to New York's Capital District. Quinnipiac is scoring at a clip of 3.87 goals per game, fourth-best in the country. But RIT's offense is ranked 17th, Lowell's 18th and Yale's 27th. So one has to wonder exactly how many goals are going to be scored in Albany.
But, having taken a really close look at the brackets, I don't think it's fair to say that any team has absolutely no shot of reaching Tampa. Each bracket is competitive for its own reason, which should make for an incredible three days of hockey.
Thumbs up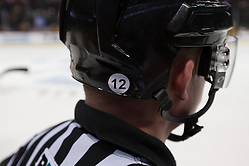 To the "Get Better Butchy!" gofundme site that aims to raise $100,000 to help with WCHA referee Butch Mousseaux's medical expenses following his fall at the conclusion of warmups before Friday's second WCHA semifinal game. Mousseaux remains in critical condition in a medically induced coma. Mousseaux's accident and its aftermath are horrific, but it's no surprise that there are so many people who want to help the Mousseaux family.
Thumbs down
To whomever screwed this one up:
Women's #NCAA hats given to Nat'l Champ @GopherWHockey in Durham, NH. With men's #FrozenFour logo. #insulting pic.twitter.com/vL8XUDtovH

— AJ Mleczko Griswold (@AJMleczko) March 21, 2016
It's bad enough that women's hockey probably feels like it takes the back seat to the men, but to put the men's Frozen Four logo on the women's championship hat is just plain awful.
Coming up
The NCAA tournament starts Friday in Cincinnati and Worcester, Mass. The regionals in Albany, N.Y., and St. Paul, Minn., join in on Saturday. By Sunday night, we'll know which four teams will head to Tampa.