Besides featuring the tournament's top seed in Quinnipiac, the 2016 NCAA East Regional has teams that are hoping to prove that you don't need to finish in the top three of your conference standings to make waves in the postseason.
UMass-Lowell tied for fourth in Hockey East before advancing to the postseason championship game, while Rochester Institute of Technology finished fifth in Atlantic Hockey before winning the playoff title.
Here's the schedule for the East Regional at Times Union Center in Albany, N.Y., followed by a look at the four teams:
• Quinnipiac vs. Rochester Institute of Technology, 4 p.m. EDT Saturday, ESPNU
• UMass-Lowell vs. Yale, 7:30 p.m. EDT Saturday, ESPN3
• Regional championship game: 7:30 p.m. EDT Sunday, ESPNU
Quinnipiac Bobcats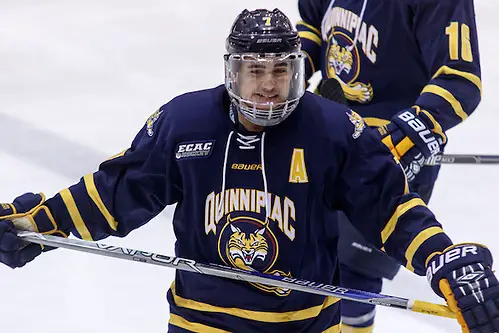 Team page | Statistics | Roster | Schedule/results | History
Coach: Rand Pecknold, 22nd season at Quinnipiac and overall
Record: 29-3-7 (16-1-5 ECAC Hockey, first)
2016 NCAA East Regional
See complete coverage at Regional Central.
How they got in:
ECAC Hockey tournament champion
Regional seed: First
Last NCAA tournament appearance: 2015
Best NCAA finish: Runner-up, 2013
Why they'll get to the Frozen Four: Quinnipiac is one of the deepest teams in the country and has four lines and several defensemen capable of scoring.
Why they won't get to the Frozen Four: Leading scorer Sam Anas was hurt in the ECAC championship game and did not return. His loss would be a major blow for the Bobcats.
Quinnipiac won the first program's first ever Whitelaw Cup with a 4-1 win over Harvard in the ECAC Hockey championship last Saturday in Lake Placid, N.Y.
Now, the top-seeded Bobcats are looking for another first: a national title.
The league playoff championship was one thing that had eluded the Bobcats over the last four years, which have included four NCAA tournament and ECAC semifinal appearances, two regular season titles and an appearance in the national championship game in 2013.
But there is one caveat; leading scorer Sam Anas was hurt during the league title game last Saturday after getting hit into the boards by Harvard's Luke Esposito late in the first period. The junior did not return to the game, but was on the ice during the postgame trophy presentation.
This is the second year in a row Anas has been hurt during the playoffs; he missed the league semifinals last year. He returned for Quinnipiac's first-round NCAA tournament loss to North Dakota, but coach Rand Pecknold estimated he was about 40 percent for that game. Pecknold was unsure of Anas' status during the NCAA selection show Sunday and no update was available during the week.
While Quinnipiac has plenty of depth (nine players have at least 20 points), Anas is the player that makes the Bobcats go.
"We're a different team without Sam," Pecknold said following Saturday's win over Harvard. "He drives our team. Puck possession, making plays, our power plays, five-on-threes, there is so much he can do. The rest of the guys stepped up and we found a way to win, which we have done all year."
While Anas and linemates Travis St. Denis (20 goals) and Landon Smith (10 goals, 25 assists) are the headliners for Quinnipiac, the Bobcats have gotten good offensive production from their defense as well. Junior Connor Clifton has added some scoring to an already physical style of play, while junior Devon Toews and freshman Chase Priskie are good two-way defenders.
A strong possession game has helped Quinnipiac outshoot its opponents by nearly 10 shots per game this season. When the Bobcats stick to their system, the results are there. However, when they take penalties or have individual players "going rogue," as Pecknold had said in the past, the Bobcats can run into trouble.
The only other time Quinnipiac was the No. 1 overall seed in the NCAA tournament was 2013, when it shook off a tough Canisius team in the opening round of the East Regional in Providence. The Bobcats made the school's only national title game appearance that season, losing 4-0 to league rival Yale.
— Nate Owen
UMass-Lowell River Hawks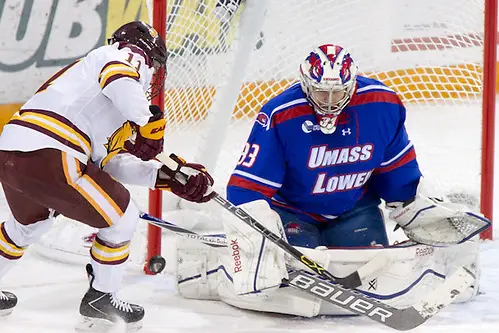 Team page | Statistics | Roster | Schedule/results | History
Coach: Norm Bazin, fifth season at UMass-Lowell, eighth overall
Record: 24-9-5 (12-6-4 Hockey East, tie-fourth)
How they got in: At-large bid
Regional seed: Second
Last NCAA tournament appearance: 2014
Best NCAA finish: National semifinals, 2013
Why they'll get to the Frozen Four: Strong offensive balance is complemented by the play of Kevin Boyle in net. And should Boyle be able to carry this club through the tournament, don't be surprised to see this team in Tampa.
Why they won't get to the Frozen Four: At times, Lowell's offense has had trouble scoring goals and its power play hasn't produced well since the calendar turned to 2016.
When you look at the NCAA draw, it might be easy to assume that UMass-Lowell coach Norm Bazin might have been upset with being placed in the Albany regional.
The fact is, the selection criteria states that the top seed, which is Quinnipiac, top seed in Lowell's region, should be placed closest to campus, and the Worcester regional technically would have been closer for the Bobcats.
That would've allowed the River Hawks and their fans to be within an hour of campus instead of three hours away in Albany, almost guaranteeing a better home crowd feel.
But when Sunday's selection show came around, Bazin was more than happy to play in Albany, which begins play on Saturday, a day later than Worcester.
"This time of year it's about rest and practice time," said Bazin. "An extra day of rest allows you to practice more effectively the next day."
That rest is needed for the River Hawks, who played a marathon triple-overtime game against Providence last Friday in the Hockey East semifinals. Although Bazin would never use the excuse, Lowell certainly looked to have heavier legs a night later when the River Hawks lost to Northeastern. So any way to recuperate, particularly if it means having an extra day's rest, is welcome.
Once Lowell and first-round NCAA opponent Yale take the ice on Saturday, don't have any expectations that the game will be decided easily. Like the Providence semifinal, goals will be extremely difficult to come by given that the River Hawks sport the third-best goaltender in the nation in Kevin Boyle while Yale possess the top goaltender in Alex Lyon.
"The observation from afar is that we're two of the best defensive teams in the country. They're going to build this up as defensive makeup," said Bazin. "But we both know somebody's going to have to score to win the game."
The River Hawks hope to keep three of their key offensive players hot, namely sophomore C.J. Smith, junior Joe Gambardella and senior Adam Chapie. Smith and Chapie had excellent weekends at the TD Garden while Gambardella and Smith tied for the team lead in points (five) in the Hockey East playoffs.
— Jim Connelly
Yale Bulldogs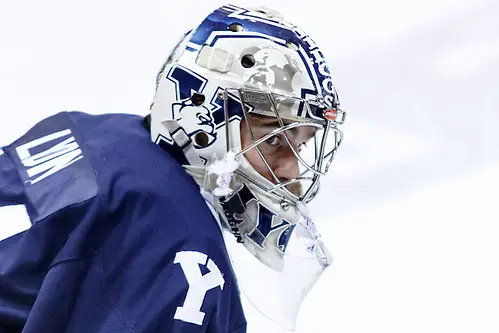 Team page | Statistics | Roster | Schedule/results | History
Coach: Keith Allain, ninth season at Yale and overall
Record: 19-8-4 (14-5-3 ECAC, second)
How they got in: At-large bid
Regional seed: Third
Last NCAA tournament appearance: 2015
Best NCAA finish: Champions, 2013
Why they'll get to the Frozen Four: Defense. Goaltender Alex Lyon and a strong defensive corps should keep teams off the scoreboard, and rookie sensation Joe Snively can steal games offensively.
Why they won't get to the Frozen Four: Inconsistency. Yale fell to lower-seeded Dartmouth in the ECAC Hockey quarterfinals and has lost three straight heading into the tournament.
It's been a little less than a month and Yale has played only two games — two losses to lower-seeded Dartmouth in a disappointing ECAC Hockey quarterfinal series for the Bulldogs that saw them get bounced from the conference playoffs much earlier than many anticipated.
But Yale's regular season dominance has given Keith Allain's squad new life and a chance to continue its season in the NCAA tournament with Saturday's matchup against UMass-Lowell.
"It's pretty unique. I don't think we've ever gone 27 days and only played two games," Allain said Wednesday during media availability. "We're trying to address that with our approach. We'll find out Saturday night if we're successful or not. We'll certainly be fresh and we'll try to take advantage of that in the playoffs."
Yale has had plenty of time to dwell on its series with Dartmouth and, specifically, what went wrong. In fact, the Bulldogs have not won a game since a 6-0 victory against Princeton on Feb. 26 and have lost three games since then. Allain hopes the time off will recharge his group for a deep postseason run in the tournament.
"If you look at that [Dartmouth] series, Friday night [a 4-3 loss] by most ventures we should have won the hockey game," he said. "But we didn't play our game. That's what bothered me. Saturday night their goaltender just stole the game. … We've got to find a way to score on any goalie we play. That's our job."
Defense, however, is far and away Yale's strong suit. The team led the ECAC in goals against with 52 through 31 games this season, led by senior defensemen Rob O'Gara and Mitch Witek. Bulldogs goaltender Alex Lyon won the ECAC's Ken Dryden Award for top goaltender with a 1.50 GAA and a .943 save percentage. Yale's Carson Cooper was also named the league's best defensive forward.
Up front, Yale rookie sensation Joe Snively has led a team starving for offensive production. The freshman scored 10 goals and added 18 assists this year, earning ECAC top rookie honors in the process.
For Allain, a fresh opponent might help jumpstart his team. The Bulldogs haven't faced UMass-Lowell yet this season, and a new challenge might bring the extra jolt he's looking for.
"Sometimes when you get late into a season you need different things to get their attention," he said. "The fact that this is an opponent we don't know about, [the players] will be a little bit more raptured when we talk about them in practice. … Newness can be exciting."
— Josh Weinreb
Rochester Institute of Technology Tigers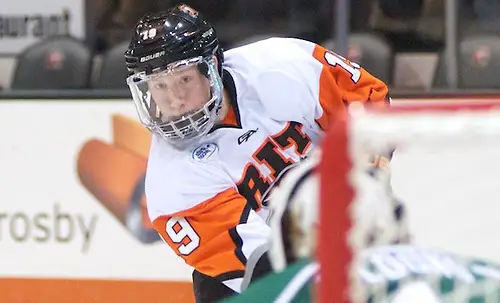 Team page | Statistics | Roster | Schedule/results | History
Coach: Wayne Wilson, 17h season at RIT and overall
Record: 18-14-6 (14-9-5 Atlantic Hockey, fifth)
How they got in: Atlantic Hockey tournament champions
Regional seed: Fourth
Last NCAA tournament appearance: 2015
Best NCAA finish: National semifinals, 2010
Why they'll get to the Frozen Four: The Tigers are 2-0 in NCAA tournament first-round games, 3-2 overall in NCAA tournament play and knocked off top-seeded Minnesota State last season.
Why they won't get to the Frozen Four: As the 16th seed, RIT has the toughest route to Tampa.
Rochester Institute of Technology, despite its 18-14-6 record and 36th spot in the PairWise Rankings, isn't going to sneak up on anyone.
The Tigers have had enormous success in previous NCAA tournament appearances, winning the East Regional in Albany in 2010 and defeating top overall seed Minnesota State in the Midwest Regional last season.
RIT is 2-0 all-time in first-round games and 3-2 overall in NCAA play since elevating its program to Division I in 2007.
And it's not just the Tigers who have won from the bottom of the bracket. Yale (2013) and Providence (2015) both won national championships as four seeds in their regionals. At what point do these kinds of results stop being upsets?
"Someone's got to be picked as the favorite," said RIT coach Wayne Wilson. "So that means there are still upsets. But it used to be that it should never happen, and now it happens quite often. But Quinnipiac deserves to be No. 1 based on the year they've had."
While the Tigers became just the second team in Atlantic Hockey history to repeat as playoff champions, this year's edition has a much different makeup than last year's squad.
In 2015, RIT relied on its first line, led by Hobey Baker Award finalist Matt Garbowsky, for 45 percent of its scoring. This season, RIT's offensive output is up slightly, and spread more evenly with sophomore Myles Powell (15 goals) and rookies Liam Kerins (13 goals) and Gabe Valenzuela (13 goals) leading the way.
Senior winger Josh Mitchell's 36 points leads the team, including 30 assists, tied for seventh nationally.
RIT's defense has pitched in 31 goals, second among the NCAA field and more than double its output in 2015. Chase Norrish, the defenseman of the year in Atlantic Hockey, has eight goals and defensive partner Greg Amlong has seven.
"We're better balanced [than last year]," said Wilson. "Last year we were young on defense, and this year we were expecting different things as guys gained experience. Guys that can score from the point are a big part of our offense because so many teams clog up the middle to limit Grade A chances."
The Tigers' goaltending situation has been a storyline all season, with injuries taking starter Mike Rotolo (2.68 GAA, .908 save percentage) out of the lineup for nine weeks and backup Christian Short for three. Club goalie Nick Amato was pressed into duty and went 2-1-1 down the stretch, helping the Tigers to claim a bye in the conference playoffs and get healthy.
Rotolo returned for the playoffs on just one week of practice and has been stellar in the postseason, allowing seven goals in four games as RIT knocked off the fourth, second, and first seeds on its way to the title.
The number of injuries this season resulted in what Wilson has said was the most adversity he's seen one of his teams face in 17 years behind the RIT bench. But now that the team is relatively healthy, meeting those challenges allowed more players to step up when needed.
"We were very understated in the way we approached it," he said. "We didn't use it as an excuse. But the byproduct was that it accelerated a lot of players' development.
"We were able to take that negative and turn it into a positive at the right time of the season."
— Chris Lerch