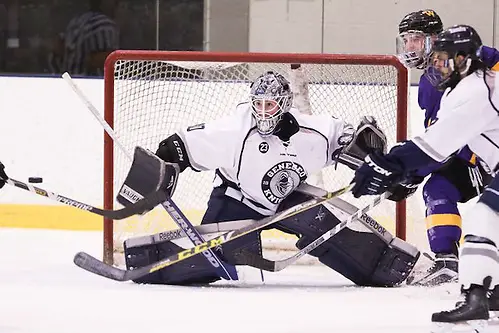 Just three games remain in the Division III men's season – the NCAA tournament semifinals and finals, both this weekend in Lake Placid, N.Y.
Geneseo, Massachusetts-Boston, St. Norbert and Wisconsin-Stevens Point remain in the hunt and our columnists preview each team on the eve of the semifinals Friday.
Geneseo, with 23, has a good reason to win it all
No, it is not a typo in the title, but a reference to the number of a fallen teammate that drives on the Geneseo hockey team to reach for that yet to be attained national championship.
Defenseman Matthew Hutchinson was tragically killed back in January and his teammates carry his spirit with them as they pursue what would be the school's first NCAA championship. The small patch with the No. 23 sewn on their jerseys is a constant reminder of the tragedy they all have tried to work through and their commitment to honor their teammate.
"I imagine that 'Hutch' is looking down on us and is happy and proud of the guys," said senior defenseman Ryan Donnelly. "Hutch was here when we played last in the Frozen Four in Maine and I can just picture his reaction to our winning the league and then advancing in the tournament. I know he would have loved another crack at winning it all."
No one can imagine really the sense of loss that Geneseo has endured this season — a loss that has impacted not only the players on the team and on campus at the school, but really the entire community.
"It is amazing how many people Hutch touched in his time here on campus," said Knights coach Chris Schultz. "I have been here four years and don't know half the people he had reached out to and became part of this community, including being a member of the volunteer fire department. His loss impacted so many in the community that our winning would help us all to heal."
The team is on a mission and has a very strong cause, but it also has a lot of talent as evidenced by their most recent three wins that earned them their spot in the Frozen Four in Lake Placid.
Starting with their SUNYAC conference win over top-seeded Plattsburgh by a 7-1 score and an identical 7-1 first-round win over Salve Regina in the NCAA tournament (ironically, Hutchinson's birthday is July 1), the team showed off its prolific scoring and high-powered line of Stephen Collins, Trevor Hills and Anthony Marra, along with a smothering defense that never let either opponent generate any significant offense. The Knights' quarterfinal win was a hard-fought 2-1 win over Williams that showcased their complete defensive game and strong goaltending.
Freshman Devin McDonald has been the No. 1 goaltender for Geneseo and has made all of the big saves when needed for the Knights, who will again look to their diminutive netminder to come up big for just a couple more games this season.
"He has played great for us and is such a tough kid," said Schultz. "He has made some really big saves when we really have needed them and the team has great confidence in him."
So Geneseo is a talented team playing for a cause and that could be a very potent combination in Lake Placid.
"We are bringing Hutch's shirt, the SUNYAC championship trophy and the hard hat that hangs in his locker," stated Schultz. "The hard hat is something we give out to the hardest-working player for each game, something Hutch personified in his time here. It's a way to keep him with the team for the Frozen Four and we all feel he is with us."
The Knights face last year's runner-up, Wisconsin-Stevens Point, in the first game on Friday afternoon in what looks like yet another tough battle on the ice — one that some support from above would be welcome inspiration.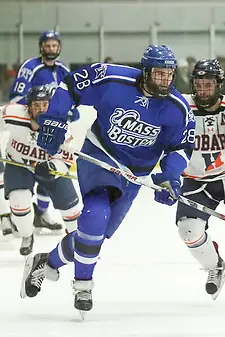 Beacons making the first time, the best time
For first-time NCAA qualifier Massachusetts-Boston, the trip advancing to the Frozen Four has taken the Beacons through milestone wins against last year's defending champion Trinity in the first round and a quarterfinal win over the top seed in the East, Hobart.
They have surprised some, but not themselves on this journey.
"We have been the underdog all the way through, so I will be happy to play that role for a couple more games if we keep getting the results," coach Peter Belisle said. "This team has been great and the motto has been 'Let's get another game for the seniors.' Nobody wants the ride to end, so we go into Friday looking to play our best against a perennial Frozen Four team and try to get our seniors one more game."
One senior who doesn't get recognized for his contribution on the scoresheet, but is a big part of the Beacons' overall success is Andrew Crawford, a stalwart on the blue line. Crawford, who played just eight games last season, has played in all 30 this season so far and has been a major contributor to the success of the Beacons' penalty kill all year.
"What was I thinking not playing him more last season?" asked Belisle. "He has been terrific for us all year and just the backbone of our penalty kill. Andrew is a great story as one of our seniors that has gone through some adversity as a player in a prior season or two, but has remained committed and focused to the program. That is why there is so much team effort to extend the season as much as possible for the seniors and players like Andrew who have given their heart and soul to the team."
Another senior in the spotlight is goaltender Billy Faust, who has only recorded two consecutive shutouts in his first two NCAA games making 79 saves in the wins over Trinity and Hobart. Faust has clearly saved his best for last while posting a 1.95 GAA and .934 save percentage on the season. He has been unflappable in the tensest of moments, which has helped to keep his team calm and poised in critical times during the tournament.
"Billy was seeing shots from everywhere in that final period at Hobart," said Belisle. "He is just so calm in there. I said it before that during their timeout he came to the bench and was laughing and joking with our team manager in the final moments of a really close hockey game. He is very relaxed and that clearly has carried over to the team in front of him in that they see him in those moments smile and joking and can relax – they know he's got it."
The Beacons have shown some versatility in scoring during the tournament with strong secondary scoring in the win over Trinity and a clutch power-play goal from team leader Matt Lemire in the win at Hobart. Fellow senior Frankie DeAugustine, who earned his 100th career point with two assists in the Trinity win, will also be looked to create opportunities against a solid St. Norbert squad on Friday night.
Everyone is focused for Friday night and their first appearance ever in the Frozen Four. With a little luck and the continued strong play, there may just be "one more game for the seniors."
East powerhouses looking to bring home a banner
Stevens Point and St. Norbert have been two of the best teams in college hockey all year and this weekend, they will play in the final four for the right to advance to the title game.
The Pointers are making their third consecutive appearance and have played in the last two championship games, finishing as the runner-up both times. The Green Knights are seeking their first championship since 2014 and their fifth overall.
Stevens Point (22-5-2) is coming off a 5-2 win over Adrian last Saturday, its third consecutive win, and have lost only once in its last 12 games. The next hurdle on its road to a title is Geneseo (20-4-6), which is in the final four for the second time in three years.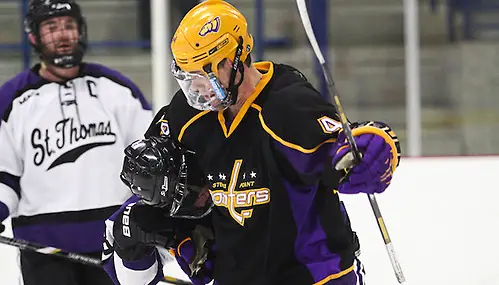 Offensively, the Pointers have been sharp, striking for 140 goals, with Lawrence Cornellier paving the way with 22. He has tallied 12 assists as well.
Four other players have scored at least 10 goals. That list includes Joe Kalisz, who leads the team in points with 13 goals and 27 assists. Kyle Sharkey has punched in 18 goals to go along with 17 assists, Jono Davis has come through with 16 goals and 11 assists and Eliot Grauer has put 10 goals and 16 assists on his stat line.
They all fuel an offense that is averaging nearly five goals per game (4.8). Thirty-one of those goals have come off the power play. Max Milosek leads the way on defense, fashioning a 17-4-2 record to go along with a 2.08 GAA.
Stevens Point seems to be playing its best under pressure in the postseason, with two of its games being decided by a goal. The Pointers scored five times against Adrian, which hadn't lost at home all year and featured the only unbeaten goaltender in college hockey in Kevin Entmaa.
Experience is worth a great deal to the Pointers and no team may be hungrier for a championship than Stevens Point, which is seeking its first title since 1993. It doesn't hurt to have one of the best coaches in the game in Chris Brooks, who has won 96 games in five seasons at Stevens Point. Brooks is a finalist for the national coach of the year award.
St. Norbert brings a ton of experience to the table as well and will be facing a Mass.-Boston team that is in the final four for the first time in program history. In fact, this season is the first in which the Beacons (23-4-3) have played in the NCAA tournament.
The Green Knights (24-3-2) rolled to a 6-1 win over Augsburg last Saturday and have lost only two games since the calendar flipped to 2016.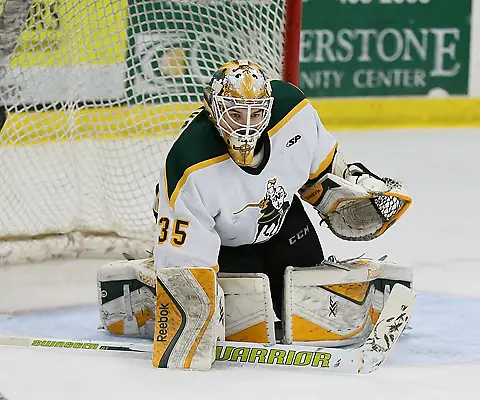 Five players have come through with 12 or more goals, with Michael Hill and Pijus Rulevicius scoring 15 apiece. They have tallied 10 and 9 assists, respectively. Erik Cooper leads the team in points with 12 goals and 21 assists and Riley Christensen has racked up 13 goals and 13 assists. Roman Uchyn has been solid as well offensively, scoring 13 goals and dishing out six assists. Blake Thompson is one of the team's best playmakers, tallying 18 assist and scoring twice.
Tony Kujava is the leader of the defense. He is 15-1-1 with a 1.27 GAA. He has allowed only 22 goals all season. The Green Knights have been sharp as a defensive unit, particularly in the postseason, allowing two goals or less in four of their five postseason games.
It's interesting to note there are only four seniors on St. Norbert's roster, but those players will be counted on to provide the leadership it takes for a team to compete at a high level with a championship on the line.