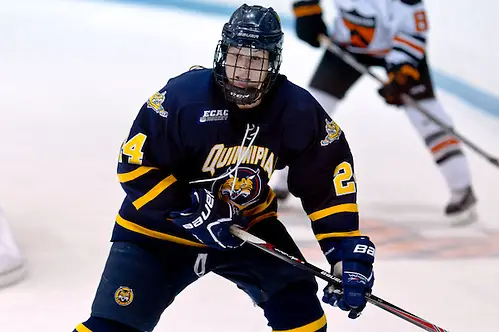 They're a group of women with gold medals, NCAA records, hundreds of wins, and thousands of points combined, and in a few weeks, they'll add college degrees to their repertoires. Women like Minnesota's Amanda Kessel, Hannah Brandt, and Lee Stecklein, Boston College stars Alex Carpenter and Haley Skarupa, and Northeastern's Kendall Coyne, all hold high esteem within the women's hockey ranks. Three of those women have won three of the last four Patty Kazmaier Awards, and all graduate this spring.
The Class of 2016 is stacked due in large part to players taking time off to play for their respective countries at the 2014 Winter Olympics in Sochi. Five members of Team USA who matriculated and were set to graduate earlier had taken a year off to play on the world's biggest stage.
Many of these women who donned the same red white and blue for the United States in Russia faced-off against each other for one last time at the Frozen Four last weekend. Many of them will also return to the same lines at the IIHF Women's World Championship in a few days.
Some of the brightest young stars in the women's game even star as linemates, as 2016 Patty Kazmaier recipient Coyne plays on a line with fellow Kazmaier Award winners Kessel (2013) and former Wisconsin Badgers standout Brianna Decker (2012).
"I'm really happy for Kendall," Kessel said. "She's a great player, very hard worker, and modest. She's just a great person all around. I was lucky to play with them and they've helped me develop so much as a player."
The impact these players have had on the ice is the stuff of legends. Alex Carpenter appeared in a Frozen Four in each of her years at Boston College while accumulating over 275 points to set a new Eagles record for men or women.
Minnesota, under the guidance of the senior class, has repeated as back-to-back national champions and had the only undefeated season in NCAA history in 2012-13. The 2016 grads continue to impress by holding the winningest record in Gophers' program history.
Part of those contributions came from Kessel after what appeared to be a lost season following a severe concussion prior to the Olympics. Kessel's return, highlighted by scoring the game-winning goal for the title against Boston College on March 20, 2016, was the finishing touch on a golden comeback.
"Amanda and I talked in August and we knew that she was coming back to school; our hope, quite honestly, was that she'd come back and graduate," Minnesota coach Brad Frost said.
"Knowing what she went through for a year and a half, I just felt like it was an extreme long shot. I just tried to keep myself from thinking whether she'd make it back or not. As she continued to get better, and started playing again with us in December, you could see the improvement and you could see the light back in Kess' eyes and she was back to who she is and what she's born to do."
For the programs alongside Minnesota at the upper echelon of the game, these young women using their raw talents not only boosts the 35 programs across the nation, it's enabled the teams to differentiate themselves from the others by fostering unique team identities around these players.
"These six seniors have given so much to these younger players and have shown them how to be a BC hockey player," Eagles coach Katie Crowley said. "I think the younger players learned that through this year and will use that to help them continue to be better and help the program."
Clarkson University, another Frozen Four team, had a group of seniors lead the Golden Knights to a national title and the program's two 30-win seasons through the strong contributions of Shannon MacAulay, Erin Ambrose, Renata Fast, and Olivia Howe. Three of the four had over 100 career points; MacAulay sits on the outside with 99 points.
The same core contributions came to ECAC foe Harvard Crimson through the likes of Miye D'Oench, Emerance Maschmeyer, and Michelle Picard. Efforts from those seniors gave Harvard a national title run, falling just short at the hands of Minnesota in the 2015 title game.
For the upstart Quinnipiac Bobcats, the class of 2016, which includes the three Nicoles, Connery, Kosta, and Brown, provided the winningest group in program history and back-to-back NCAA tournament appearances. Cassie Turner, who set the record for most wins by a rookie head coach at the helm of this year's team, saw greater contributions than wins to her Connecticut program.
"This class helped to enhance our culture every single year, and that is something that is so powerful," Turner said. "Because when you enhance a culture, it means it's lasting. They, every year, have added something to this program, in terms of work ethic and expectation of details and a winning culture."
As some continue their emergence and presence in the international stage, others return to the communities that raised them into high-caliber players. Turner, an alumnae of Brown hockey herself, has a simple request for graduates across the nation.
"Really, I'd love for them to do anything they can to give back to women's hockey, whenever that time may come. Whether it's next year, whether it's five years down the road, whenever it is they have the time to give back to our sport, because we need women involved. And we need women at the youth level ready to help and support these young girls so they have role models. Not just to go watch them play, but role models who are helping them to grow as athletes and as people. That is definitely my message for any seniors graduating —- give back to women's hockey."