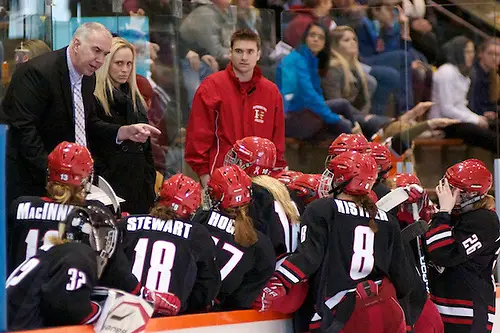 The numbers are phenomenal. Three straight national titles. A 27-1-0 record. An ECAC West regular season title and a fourth consecutive ECAC West conference tournament title. A fifth-straight NCAAA Frozen Four appearance. A sixth career AHCA national Division III Women's Coach of the Year nod.
Add another.
Plattsburgh coach Kevin Houle, now in his 13th season with the Cardinals, has been named the USCHO women's D-III coach of the year for the second time in three years. He has led Plattsburgh to 11 NCAA tournament appearances in his career.
Houle's Cardinals marched with ease to a near-perfect season. The Cardinals started with a close 2-1 win over then No. 4 Norwich, and followed with a 3-0 win over then No. 6 Adrian the next night in the East/West Showcase. That game against Norwich was the closest a team came to beating the Cardinals until Feb. 13, when they suffered their only loss of the year, a 4-2 decision to Utica.
In Plattsburgh's other games in the regular season, the closest anyone got was Buffalo State on Dec. 5 in a 2-0 win for Plattsburgh, and Elmira on Jan. 30, a 4-2 win for the Cardinals. Every other game was a runaway win.
Houle also got his team to learn from first matches to dominate opponents in subsequent matchups. When Plattsburgh faced Norwich for the second time on Jan. 19, the Cardinals ran away with a 6-0 win. The night after the 2-0 win over Buffalo State, Plattsburgh won 5-0 in the second game of the weekend series. The night after beating Elmira 4-2, the Cardinals crushed the Soaring Eagles 7-1.
Utica got punished for inflicting the lone blemish on Plattsburgh's season. The night after Plattsburgh lost, the Cardinals won the rematch 6-1, and then in the final of the ECAC West tournament, the Cardinals beat Utica 8-0.
Houle was previously voted USCHO women's D-III coach of the year in 2014, and was runner-up last season to Elmira's Dean Jackson.