The top two seeds in the 2016 NCAA West Regional were just in the Twin Cities last weekend, playing a semifinal game against each other in the NCHC Frozen Faceoff in Minneapolis.
This weekend, St. Cloud State and Denver are in St. Paul, where they're joined by Boston University, which sat out last weekend after a Hockey East quarterfinal series loss, and WCHA playoff champion Ferris State.
Here's the schedule for the West Regional at Xcel Energy Center, followed by a look at the four teams:
• St. Cloud State vs. Ferris State, 2 p.m. CDT Saturday, ESPNews
• Denver vs. Boston University, 5:30 p.m. CDT Saturday, ESPNU
• Regional championship game: 4 p.m. CDT Sunday, ESPNU
St. Cloud State Huskies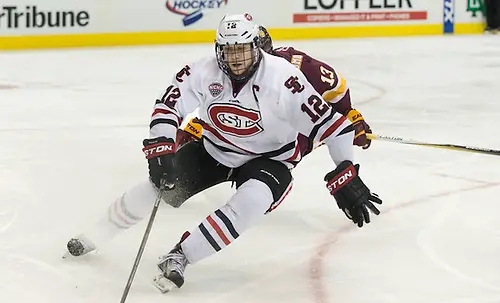 Team page | Statistics | Roster | Schedule/results | History
Coach: Bob Motzko, 11th season at St. Cloud State and overall
Record: 31-8-1 (17-6-1-1 NCHC, second)
NCAA West Regional
See complete coverage at Regional Central.
How they got in:
NCHC playoff champion
Regional seed: First
Last NCAA tournament appearance: 2015
Best NCAA finish: National semifinal, 2013
Why they'll get to the Frozen Four: Veteran leadership and scoring from multiple lines makes the Huskies difficult to stop.
Why they won't get to the Frozen Four: The old saw is that defense wins championships, so St. Cloud needs to shore itself up in the defensive zone.
In late February, the St. Cloud State Huskies were tied with North Dakota atop the NCHC and owned the tiebreaker for the top seed in the tournament. Then the Huskies hosted what had been a struggling Minnesota-Duluth team and got swept.
The two teams then, somewhat fittingly, squared off in the NCHC Frozen Faceoff championship game last Saturday, and St. Cloud weathered an early storm and emerged triumphant 3-1, capturing the NCHC conference tournament for the first time, one year after losing that same game to Miami.
Yet, even after that emotional win, coach Bob Motzko offered up a word of caution.
"We're awfully proud of our guys," said Motzko. "We're trying to guard everything right now with emotion, because like we talked about yesterday, we won the first round of the playoffs, but we have another round to go. We're excited, but we want to park it quickly and stay off an emotional roller coaster."
St. Cloud's strength is its explosive offense, ranked second in the country, averaging 4.28 goals per game, and also led by the country's second-best power play, clicking at 28.89 percent. With Ferris State a team that takes a lot of penalties, that could favor St. Cloud, even if the team's power play struggled at the Frozen Faceoff.
"I thought we had some good looks on our power play; we were moving it around," said Motzko. "That's how I'll always look at our power play: Did we have looks? Did we have it in the right spot? Ethan [Prow] didn't shoot a couple of times, so I'm going to holler at him later, because I think he had some point-blank chances to get the puck through traffic, but I liked our movement."
St. Cloud has a lot of veteran leadership. Seniors Kalle Kossila, Joey Benik, Jimmy Murray, David Morley and Prow played in the Frozen Four in 2013, and all five are key contributors. A healthy Kossila is fifth in the country in scoring, averaging 1.30 points per game.
"It just shows how badly we missed him last year," Motzko said of Kossila. "He went through two surgeries, and his junior year, to watch him struggle and what it does to his psyche. … We started this year and saw him continue to get back to that level. A coach in our league, after his sophomore year, told me, 'You guys have the best player in the conference in Kossila.' That was Dave Hakstol when I bumped into him going into last year, and we're seeing it now. It took a year for him to get healthy."
Expectations are high for St. Cloud, the No. 2 overall seed and the top seed in the West Regional. Asked when he realized that he might have a championship-level team, Motzko doesn't hesitate.
"There was a point, I will tell you that, I'm not going to hide from it," said Motzko. "It was when I realized what we've done on the road. We got swept at Quinnipiac our first road series of the year. Ethan was hurt, and we were playing three freshman defensemen, and they're a really good team. I think they are the No. 1 seed, and they've earned it. We just weren't ready that weekend without Ethan. We've only lost one road game since then; that, to me, is a sign of a team that doesn't get rattled."
— Candace Horgan
Denver Pioneers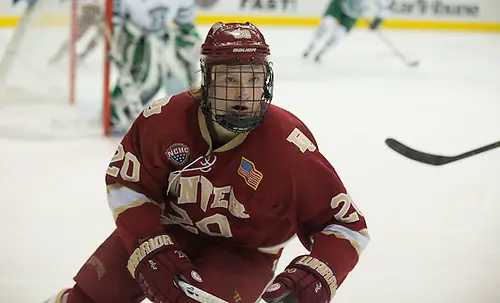 Team page | Statistics | Roster | Schedule/results | History
Coach: Jim Montgomery, third season at Denver and overall
Record: 23-9-6 (17-5-2 NCHC, third)
How they got in: At-large bid
Regional seed: Second
Last NCAA tournament appearance: 2015
Best NCAA finish: Champion, 2005, 2004, 1969, 1968, 1961, 1960, 1958
Why they'll get to the Frozen Four: Denver barely missed out on a berth last year, and this year's team has been hotter in the second half than that one.
Why they won't get to the Frozen Four: Most of the scoring comes from one line; shut it down, and Denver is vulnerable.
In many ways, Denver's season comes down to two distinct halves. The Pioneers were up and down in the first half, closing December on a 1-4-2 run, including back-to-back series sweeps at the hands of North Dakota and St. Cloud State that weren't close.
Denver started its second half with a pair of ties against Notre Dame. The second tie, in particular, could have been devastating, as Denver had a late lead before allowing a Notre Dame goal in the last minute to tie it.
However, that series was when Denver coach Jim Montgomery started regularly playing freshman Dylan Gambrell on a line with junior Trevor Moore and sophomore Danton Heinen. The line, named the Pacific Rim Line (Gambrell is from Washington, Moore from California, and Heinen from British Columbia), led a second-half resurgence that saw Denver go 14-1-3 and sweep Omaha in the NCHC quarterfinals before losing a close game against St. Cloud State in the Frozen Faceoff semis.
Gambrell had struggled in the first half of his freshman season — with only 12 points — but since the second half started has been red hot, garnering 31 points.
It's light years; I don't think you can compare the two teams," Montgomery said of the difference between Denver in the first half and the second half. "We're a completely different team now, as anybody that is still playing is. You're not playing at this time of the year if you haven't improved."
The Pacific Rim Line paces a Denver offense that ranks 16th, averaging 3.13 goals per game. The line has registered at least one point in every Denver game in the second half. Gambrell is 21st in the country in scoring and leads the Pioneers with 43 points and a 1.13 points-per-game average, while Moore and Heinen are tied for 25th with 42 points each. Gambrell is also third in the country in scoring by freshmen, trailing only North Dakota's Brock Boeser and Michigan's Kyle Connor.
All NCHC coaches recognized how deadly the Pacific Rim Line can be, and the line won high praise from St. Cloud defenseman Ethan Prow.
"I think there's a ton of skill on their whole team, especially that top line," said Prow. "Just their presence in the offensive zone and their ability to make plays all over the rink is why they are one of the top lines out there and we have to make sure we are keeping an eye on them."
Beyond that line, Denver also gets good scoring from Troy Terry (17 points) and Quentin Shore (23 points), and from some of its defensemen, including Will Butcher (29 points) and Nolan Zajac (18 points).
Denver's starting goaltender is Tanner Jaillet, who has put up a 2.26 GAA and a .925 save percentage. Jaillet played poorly the last time out against Denver's opponent in the regional, Boston University, getting yanked after giving up three goals in 27 minutes on Oct. 31, but he has been strong since then. He'll need to be on top of his game in the rematch against BU.
— Candace Horgan
Boston University Terriers
Team page | Statistics | Roster | Schedule/results | History
Coach: David Quinn, third season at Boston University and overall
Record: 21-12-5 (12-6-4 Hockey East, tie-fourth)
How they got in: At-large bid
Regional seed: Third
Last NCAA tournament appearance: 2015
Best NCAA finish: Champions, 2009, 1995, 1978, 1972, 1971
Why they'll get to the Frozen Four: When the BU offense is clicking, it can be potent, most notably the Terriers' top line of Jordan Greenway, Jakob Forsbacka-Karlsson and Danny O'Regan. If they can score goals, BU can be a force.
Why they won't get to the Frozen Four: Goaltending was a concern in the Hockey East tournament as was this team's desire to compete. If the Terriers don't hit the reset button before the tournament, can they win a game?
When Boston University takes the ice on Saturday, its opponent will actually be familiar.
The Terriers faced Denver on Halloween night, winning 5-4 in overtime. It was a win that had a positive impact on both BU's spot in the PairWise Rankings and the immediate season for the team.
The Terriers entered that game 2-3 in their last five, having just lost games to Connecticut and Merrimack, but then reeled off a six-game unbeaten streak and lost just once in the entire month of November.
This weekend, the situation may feel very similar for BU, which is 2-3 in its last five games. The two wins were single-goal victories over last-place Massachusetts in the first round of the Hockey East tournament. The losses included a 1-0 defeat at Notre Dame on the final night of the regular season, a setback that knocked BU to the fifth seed in the Hockey East tournament. That sent the Terriers on the road in the quarterfinals, where they were promptly swept by UMass-Lowell.
"I said after we lost the Lowell series, it's been a while since we've had a feel-good moment," said BU coach David Quinn. "Our last feel-good moment was the Friday night win at Notre Dame. And then the next night we played well — played playoff-type hockey — and lost a 1-0 hockey game and haven't felt really good about ourselves since."
Losing the quarterfinal series to Lowell actually came with a consolation prize as BU knew almost immediately afterward that other results in the country had sewed up their NCAA bid.
Additionally, not playing last weekend at the TD Garden gave BU some time off to regroup, something that helped last year's national champion, Providence, which lost in the league quarterfinals, to then post a four-game winning streak that culminated with a national title victory over BU.
"Maybe the break did us good," said Quinn. "We've had some great practices; I love our attitude right now. One of the things we've talked about over the last 10 days is keep building on feeling good, and the best way to feel good is to work hard, and they've worked hard."
— Jim Connelly
Ferris State Bulldogs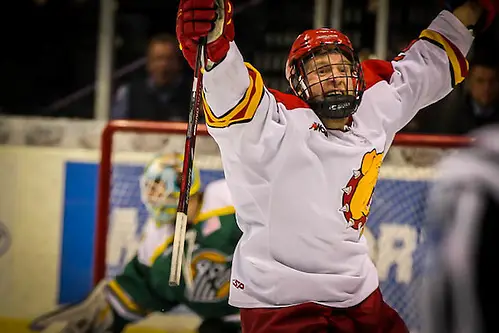 Team page | Statistics | Roster | Schedule/results | History
Coach:Bob Daniels, 23rd season at Ferris State and overall
Record:19-14-6 (13-11-4 WCHA, fourth)
How they got in: WCHA playoff champion
Regional seed: Fourth
Last NCAA tournament appearance: 2014
Best NCAA finish: National runner-up, 2012
Why they'll get to the Frozen Four: Defense, defense, defense. The Bulldogs, as coach Bob Daniels said, "didn't set the house on fire" when it came to scoring goals, but with four experienced senior defensemen (Simon Denis, Brandon Anselmini, Zach Dorer and Sean O'Rourke) and a talented freshman goaltender (Darren Smith), Ferris has gotten here by keeping teams off the scoreboard and getting greasy wins.
Why they won't get to the Frozen Four: Although junior Gerald Mayhew was the WCHA's top scorer and freshman Corey Mackin led all league rookies, Ferris State just doesn't have the top-down scoring depth that other teams in this regional do.
This may be Bob Daniels' toughest test yet.
The longtime Ferris State coach has seen plenty of recent success for his Bulldogs, including finishing as the national runner-up in 2012 followed by another near-run to the Frozen Four in 2014 that ended with a double-overtime loss to North Dakota in the regional finals.
The Bulldogs are returning this season for yet another NCAA appearance (their third in five years), but this time around they had to scrap and claw just to make the tournament. For the first time ever, the Bulldogs earned their spot by winning a tournament championship. And if Ferris hadn't upset both WCHA co-champions on consecutive nights in the Final Five, they wouldn't be here.
"No question this one has a different feel to it," Daniels said. "Those other teams, we went into it, there was a different aura to it. This one is more of an underdog-type team. The good news is, at least half the team has experience in the NCAA tournament."
Twelve Bulldogs players skated in the 2014 tournament, and one — fifth-year senior defenseman Simon Denis — was a member of the team that made the Frozen Four run in 2012.
They're an experienced group, and they've thrived even without star goaltender CJ Motte, who graduated last season. His departure was a big question mark for Ferris before the season started, but the Bulldogs found a suitable replacement in freshman Darren Smith.
"When the season started, a lot of people asked, 'Boy, how are you guys going to do without CJ Motte?' We really didn't have an answer at that time," Daniels said. "We had a pretty good goalie in Charles Williams, but he was coming off an injury. It was kind of an unknown with Darren. As it turned out, he played really well for us all year."
Smith played well (16-9-5, 2.15 GAA, .923 save percentage) after securing the starting job from Williams in November.
That helped the Bulldogs remain, essentially, a decent .500 team all season — not great, but they kept hanging around thanks to their curious inability to sweep (or be swept). The Bulldogs didn't get their first sweep until Feb. 5-6 against Alaska and weren't swept until Feb. 26-27 — the second-to-last weekend of the regular season.
Still, Daniels said he felt good about the team coming down the stretch. Maybe it was the confidence he had in his team defense — in front of Smith are four senior defensemen, including Denis, Brandon Anselmini, Zach Dorer and Sean O'Rourke.
The Bulldogs secured home-ice advantage despite going just 13-11-4 in the conference in the regular season, then swept Northern Michigan before going to the Final Five and winning a pair of defensive-minded games — 1-0 against Michigan Tech and 2-1 over Minnesota State.
Daniels acknowledged that the Bulldogs, a No. 4 seed, will have to be sound defensively to have a chance at getting very far in the tournament — especially against a powerful offensive team like St. Cloud State. Ferris boasts two of the WCHA's leading scorers, including Gerald Mayhew (12-22–38) and league newcomer of the year Corey Mackin (9-14–23), but it will lean on its experienced team defense.
"We're going to have to do it a little differently," Daniels said. "We're built a little different [than in years past]. Regardless of who the matchups are, we're going to have to make sure we're on top of our game, especially on the defensive side of things."
— Jack Hittinger