Teams that have won four of the last six national championships are together for the 2016 NCAA Northeast Regional this weekend.
Boston College won the title in 2010 and 2012 — the latter in Tampa, Fla., site of this year's Frozen Four — while Minnesota-Duluth won in 2011 and Providence is the defending champion.
Here's the schedule for the Northeast Regional at DCU Center in Worcester, Mass., followed by a look at the four teams:
• Providence vs. Minnesota-Duluth, 4:30 p.m. EDT Friday, ESPN3
• Boston College vs. Harvard, 8 p.m. EDT Friday, ESPNU
• Regional championship game: 9 p.m. EDT Saturday, ESPNU
Providence Friars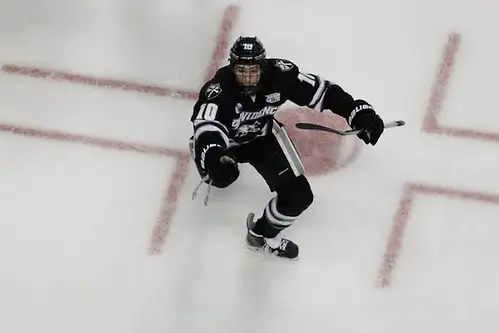 Team page | Statistics | Roster | Schedule/results | History
Coach: Nate Leaman, fifth season at Providence, 13th overall
Record: 27-6-4 (16-3-3 Hockey East, tie-first)
2016 NCAA Northeast Regional
See complete coverage at Regional Central.
How they got in:
At-large bid
Regional seed: First
Last NCAA tournament appearance: 2015
Best NCAA finish: Champions, 2015
Why they'll get to the Frozen Four: This is a team that plays some of the best defense in the nation. If goaltender Nick Ellis is strong and the Friars can produce offense, they will reach Tampa.
Why they won't get to the Frozen Four: When Providence struggles, its offense has a difficult time scoring goals. And any sort of a power outage in this tournament could spell the end of the season for the defending national champs.
When Providence lost in the Hockey East semifinals last Friday night, coach Nate Leaman knew that there wasn't just a mental hurdle to get past that game, there was also a physical one.
The Friars and UMass-Lowell skated for more than 112 minutes of game play over a span of close to five hours on the clock. When the game ended and Providence was on the wrong side of the 2-1 triple-overtime decision, Leaman's club wasn't just tired but also dehydrated.
Refueling, not what team the Friars were going to face or where they would play in the NCAA tournament, was the biggest concern.
But after a couple of days off the ice, Leaman said he felt confident in his team's recovery.
"We skated for 40 minutes on Monday and I thought [the team's] legs looked pretty good," Leaman said. "That was a long game and we had to make sure we did a good job rehydrating."
And while the loss to Lowell may have possibly taken a lot of out his team, Leaman is convinced that game along with two quarterfinal wins against Merrimack the weekend before will help his team as it faces NCHC runner-up Minnesota-Duluth in Friday's Northeast Regional in Worcester.
He sees a lot of similarities between Lowell, Merrimack and Minnesota-Duluth. All play puck possession styles of hockey, similar to the Friars. And all three play what Leaman calls a "heavy" brand of hockey
"Duluth plays a heavy game," said Leaman. "[Coming off games against Lowell and Merrimack], our team is in the right mindset and should have a good mindset on how to approach [Friday's] game."
The Friars enter the tournament with something none of the other 15 teams can claim: the 2015 national champion's trophy. Knowing how to navigate the tournament and all of the experiences that come with it should prove beneficial.
"That goes unsaid that we have some experience," said Leaman. "But we're also playing a team [in Duluth] with as many seniors as we do and also played in the regional final last year.
"They were preseason No. 1 in their league. That shows what the other coaches think of their ability. So we know we're facing a really good team."
— Jim Connelly
Boston College Eagles
Team page | Statistics | Roster | Schedule/results | History
Coach: Jerry York, 22nd season at Boston College, 44th overall
Record: 26-7-5 (15-2-5 Hockey East, tie-first)
How they got in: At-large bid
Regional seed: Second
Last NCAA tournament appearance: 2015
Best NCAA finish: Champions, 2012, 2010, 2008, 2001, 1949
Why they'll get to the Frozen Four: This could be the most complete team in the NCAA field. There is plenty of offensive ability, great puck-moving defensemen and an all-league goaltender in Thatcher Demko. That's a pretty powerful combination.
Why they won't get to the Frozen Four: BC has not been a stellar postseason team of late. None of the current Eagles has reached the Hockey East championship game. A Frozen Four appearance in 2014 was sandwiched between two one-and-dones in the NCAA regionals in 2013 and 2015. BC needs to play like the confident, perennial contender it is.
This year's NCAA tournament might feel a tiny bit like the Beanpot to Boston College coach Jerry York.
This is, after all, the first time that all four Beanpot teams are part of the NCAA field and it's possible that the Eagles, if they're going to win their sixth national title, might have to beat two other Beanpot clubs.
That will begin on Friday when Boston College takes on Harvard in the rematch of this year's Beanpot semifinal, a 3-2 victory for the Eagles. And while these two teams have squared off numerous times in the Beanpot, in nonleague play and in the old days of the ECAC, this will be the first time the two meet on the NCAA stage.
"Obviously, we're very excited to be playing an old rival, but very unique in that we've never played Harvard in the NCAA tournament," said York. "They have been a great team from start to finish this season and with that [Jimmy] Vesey line, they are extremely high-powered."
It's not surprising to hear York mention Vesey, but he also understands that there is plenty of depth to this Crimson club.
"That top line is excellent, but they are a very deep team, so you cannot just solely focus on those three," said York. "They have many dangerous weapons throughout their lineup."
The Eagles have weapons of their own, the most notable being goaltender Thatcher Demko, who earned co-player of the year honors in Hockey East.
They also have a coach with one of the biggest intangibles come this time of year: experience.
York is the all-time leader in NCAA wins with 39 and has won five titles, four coming with BC since 2001.
York's own words show just how important this time of year is.
"Playing in an NCAA tournament is always the most fun part of the year," York said. "It's for the shiniest trophy and all 16 teams are playing their best hockey.
"You can never predict what will happen. We just have to worry about ourselves. We have a great team and if we play to the best of our abilities, I think we have as good a chance as anyone in the tournament."
Let's not kid ourselves: with York behind the bench, if this team plays well, it has the best chance to win this title.
— Jim Connelly
Harvard Crimson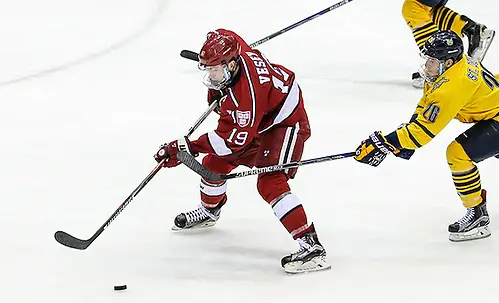 Team page | Statistics | Roster | Schedule/results | History
Coach: Ted Donato, 12th season at Harvard and overall
Record: 19-10-4 (12-6-4 ECAC Hockey, third)
How they got in: At-large bid
Regional seed: Third
Last NCAA tournament appearance: 2014
Best NCAA finish: Champions, 1989
Why they'll get to the Frozen Four: Outside of Michigan's top line, the line of Jimmy Vesey, Alexander Kerfoot and Kyle Criscuolo might be one of the top groups in the country.
Why they won't get to the Frozen Four: While the offense is loaded with playmakers, Harvard has some inexperience on the back end due to injuries. That could be trouble against a high-scoring Boston College team.
While the NCAA selection committee generally tries to avoid intraconference matchups in the opening round of the tournament, the same can't be said of common foes from college hockey's premier in-season tournament.
Beanpot participants Boston College and Harvard will meet in the opening round of the East Regional in Worcester. The teams met in the Beanpot semifinals in February, with the Eagles winning 3-2.
The Crimson were denied a second straight ECAC Hockey playoff championship thanks to a 4-1 loss to Quinnipiac in the league title game last Saturday. Harvard matched the Bobcats at even strength but was victimized by three Quinnipiac power-play goals, including two on a five-minute major against Luke Esposito.
"That's one thing about this tournament; it's a one-shot deal," Crimson coach Ted Donato said following the ECAC championship game. "We have to manage those momentum swings and we have to be able to stay away from that big mistake and [Saturday] we certainly weren't."
However, the Eagles certainly can't afford to take any penalties, as Harvard's power play is fourth in the country. Its first unit, consisting of forwards Vesey, Kerfoot, Criscuolo, Colin Blackwell and Ryan Donato, is especially dangerous.
Boston College goalie Thatcher Demko, a Hobey Baker Award finalist, and each team's high-powered offense likely will be the focal points of this game. But it would be unwise to ignore Harvard goalie Merrick Madsen, who was excellent against a St. Lawrence team that was fighting for its season in the second game of the ECAC semifinals last Friday.
In his first season as a starter, the sophomore has four shutouts and a .933 save percentage. The question will be about the defense in front of him, as the Crimson dressed freshmen Adam Baughman, Viktor Dombrovskiy and sophomore Thomas Aiken against the Bobcats on Saturday. The trio has combined to play in 30 games this season, 15 by Baughman.
Sophomore defenseman and Boston Bruins draft pick Wiley Sherman was out for last weekend and his status is uncertain going forward. However, Donato does expect forward Sean Malone, a key penalty killer, to be available this weekend after missing Saturday's loss to Quinnipiac.
— Nate Owen
Minnesota-Duluth Bulldogs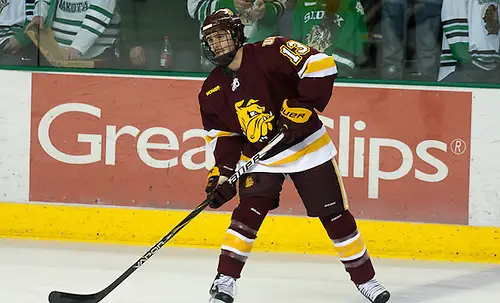 Team page | Statistics | Roster | Schedule/results | History
Coach: Scott Sandelin, 16th season at Minnesota-Duluth and overall
Record: 18-15-5 (14-11-3 NCHC, fourth)
How they got in: At-large bid
Regional seed: Fourth
Last NCAA tournament appearance: 2015
Best NCAA finish: Champions, 2011
Why they'll get to the Frozen Four: The Bulldogs have been in playoff mode for weeks just in order to qualify for the NCAA tournament, and a trip to Tampa would give UMD nine wins from its past 10 games.
Why they won't get to the Frozen Four: Just getting out of the regional would be a feat in two effective road games, first against the defending national champions and then either Boston College or Harvard.
A team looking to nab the last at-large bid for the NCAA tournament will have put itself into playoff mode several weeks before the national showcase's beginning.
Minnesota-Duluth coach Scott Sandelin points to a road series at North Dakota on Feb. 19-20 as the point where his Bulldogs' big push began. UMD lost both games of that series to the Fighting Hawks, but Duluth then went on to win seven consecutive games, including a NCHC first-round playoff sweep of Miami and a win over UND in the league playoff semifinal last Saturday.
Minnesota-Duluth fell 3-1 to St. Cloud State the following day in the NCHC playoff final. Favorable results elsewhere, however, helped the Bulldogs win the last at-large bid for the NCAA tournament.
After the final two regular season meetings with North Dakota, the rest of Duluth's season was looked at in segments.
"When we left Grand Forks, we had a talk after that about how we were still tied for fourth in the [league standings] and we wanted to try and get home ice, which we did," Sandelin said. "We then tried to win in the first round [of the NCHC playoffs] to try and get to Minneapolis to have a chance to win two games and get the automatic bid.
"That was our focus and we put ourselves in a good position. We obviously didn't get the automatic bid, but getting one of the bids was pretty exciting for our team.
"We had a lot of really good games this year that we couldn't win, couldn't score, couldn't finish chances," Sandelin continued, "but our guys felt good about some of the things we were doing and felt good about how we were playing."
The results started to match the Bulldogs' effort, however, and they now look to carry on the recent trend of the last teams to qualify for NCAA tournaments doing well. Yale and Providence both won national championships in the past three years after picking up respective seasons' final at-large bids.
"What you try to get across to your team," Sandelin said, "is that you want to be one of the teams playing at the end of the year so you have a chance for a title.
"I don't know if anybody can play four great games in a row in the tournament, and you hope that if you're in the final you're playing your best game then, but you've got to play close to that and keep in mind that everybody's good and the seeding doesn't always mean anything."
— Matthew Semisch