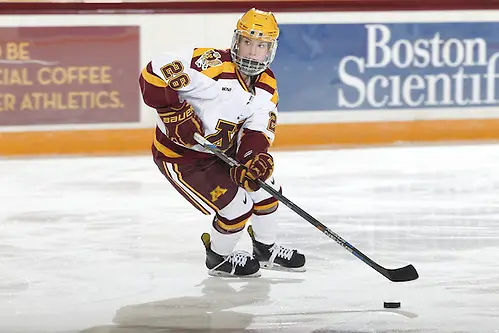 Heading into the NCAA tournament, the competition for USCHO rookie of the year was tight.
Rensselaer goaltender Lovisa Selander backstopped her team into the playoffs for the first time in three years. Once there, she forced regular season and eventual tournament champion Quinnipiac to battle long past regulation both days to advance.
Karlie Lund was the top scorer for Princeton as she led all scorers in ECAC Hockey league play, thus lifting the Tigers to their first NCAA tournament in 10 years.
Makenna Newkirk, the top goal scorer in her class, was helping Boston College march toward perfection.
Meanwhile, Sarah Potomak had hit a bit of a drought in her season. At one point, it had looked like she might cruise to the honor. When Amanda Kessel rejoined Minnesota late in the regular season, it helped the Gophers overall, but it left Potomak to figure out exactly where she fit in the juggled lineup.
Initially, she was moved off the first line for several games. When Potomak was put back on that unit, Dani Cameranesi, with whom she'd enjoyed good synergy, was taken off. That left Potomak to try to build a relationship with Kessel and Hannah Brandt, a duo who took naturally to playing with each other, but their interaction with Potomak wasn't quite as seamless.
Through the four games of the WCHA tournament, Potomak was held without a goal. She didn't even have a point.
Every goal scorer knows what has to happen at that point: get to the dirty areas.
In her first NCAA tournament game versus Princeton, Potomak did just that, and she scored her first postseason goal on a deflection and celebrated accordingly. Two minutes later, a much freer Potomak had the primary assist as Kessel completed a hat trick.
With 15 minutes elapsed in overtime in Potomak's first appearance in the Frozen Four, she made the play that will likely define her career. Potomak stripped a Wisconsin defenseman of the puck and flipped the puck into the net to advance the Gophers to the final.
Two days but only 13 seconds of game action later, Potomak banged home a one-timer from the slot to put Minnesota ahead of Boston College to stay. For good measure, she had the primary assist in the third period on Kessel's goal that proved to be the game-winner. Potomak was recognized as the Frozen Four's Most Outstanding Player as she celebrated her first national title.
She finished her 38-game freshman season with 15 goals and 39 assists for 54 points and was a team-best plus 55.
Congratulations to Sarah Potomak, the USCHO rookie of the year.