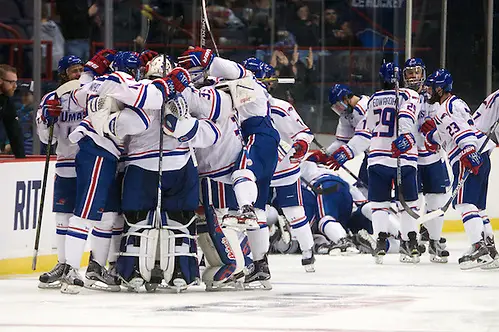 ALBANY, N.Y. — UMass-Lowell hadn't won a game this season when it was trailing after the second period. That streak almost continued against Yale in the NCAA East Regional semifinals at the Times Union Center Saturday night.
Almost.
2016 NCAA East Regional
See complete coverage at Regional Central.
Trailing 2-1 after two periods, the River Hawks withstood a flurry of Yale attempts early in the third, including a breakaway by Joe Snively 30 seconds into the period. UMass-Lowell goalie Kevin Boyle made the save, but the puck came loose near the left post, where a diving Snively couldn't put it into the net.
"I think I got kind of lucky there. I thought it was in my glove but it really wasn't," Boyle said. "We knew it was going to be up and down. It's my job to weather it for the guys in front of me. I think I did that and we had a couple of shifts where we got some momentum."
But UMass-Lowell held, and tied the game off a Bulldogs turnover and ensuing defensive breakdown later in the period. Joe Gambardella jumped on a rebound and fired it past Yale goalie Alex Lyon to tie the game at 2-2 6:12 into the third.
Gambardella's second of the game won it for UMass-Lowell 1:37 into overtime, moving UMass-Lowell's record to 1-6 this season when trailing after two periods.
"It just shows the kind of character we have in the locker room," Gambardella said. "We have a never-give-up kind of mindset. We weren't scared at all; our backs weren't up against the wall. We knew what we had to do to come out in the third period and get the job done."
While UMass-Lowell broke a season-long trend to emerge with the win, Yale continued a habit that has plagued it at times this season: the inability to finish its chances. In addition to Snively's breakaway, the Bulldogs had several other chances in the third period, including a Mike Doherty slap shot that bounced off Boyle's pad.
"They aren't a team that has a tradition from coming from behind, so I think another goal would've made all the difference," Bulldogs coach Keith Allain said.
The game was similar to the last meeting between the teams, which took place in the national semifinals in Pittsburgh on April 11, 2013. Yale beat the River Hawks 3-2 on Andrew Miller's goal 6:59 into overtime.
It was also the second straight year that Yale's season had ended in overtime, as the Bulldogs lost to Boston University 3-2 in overtime at last season's Northeast Regional semifinal in Manchester, N.H.
The loss to the River Hawks marked the final game for Yale's senior class. Rob O'Gara, Mitch Witek, Ryan Obuchowski, Stu Wilson, Carson Cooper and Cody Learned were all freshman when the Bulldogs beat Quinnipiac 4-0 in the national title game.
"Mitch Witek said it best in the locker room: Every day you put on this jersey, it's a new best day," O'Gara said. "That's how I'll remember this team."