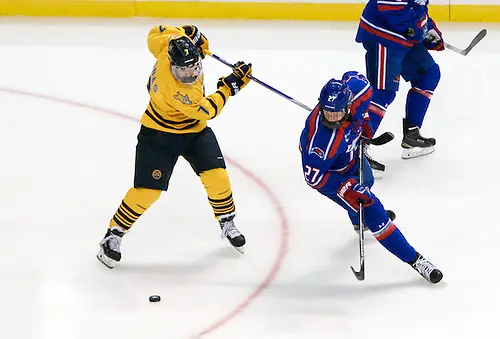 ALBANY, N.Y. — It's hard to find faults with a team that has lost only three games all season, but if Quinnipiac had any, it's that the Bobcats have taken penalties at inopportune times throughout the season.
Leading scorer Sam Anas was rarely among those finding himself in the box, as he entered Sunday's Northeast Regional final against UMass-Lowell with only 12 penalty minutes in 40 games.
2016 NCAA East Regional
See complete coverage at Regional Central.
Yet it was an Anas who took the Bobcats' first two penalties of the game: a hooking penalty that resulted in Dylan Zink's blast from the point to give UMass-Lowell a 1-0 lead at 3:01 in the first and a tripping call near the midway point of the second period.
Those plays might have been uncharacteristic of the junior, but the two that followed were anything but.
With Quinnipiac still trailing 1-0, Anas set up Landon Smith for the tying goal at 10:33. Minutes later, he broke in alone on River Hawks goalie Kevin Boyle, deftly moving the puck from his forehand to his backhand before roofing a shot over the senior's arm and into the back of the net to give the Bobcats the lead for good in a 4-1 win.
"The defense stepped up at the red line and I was able to poke it by them," Anas said. "We had been talking that the goalie likes to challenge and I gave a little fake shot and put it to my backhand and was able to get it past him."
Anas, who was a game-time decision in both regional contests after suffering an injury in the ECAC Hockey title game last weekend, finished the regional with a goal and two assists and was named to the all-regional team.
He played limited shifts at even strength both nights, but saw time on the Bobcats' power play.
"It was kind of a stressful weekend but in the end it's playoff hockey," Anas said. "A chance to go to Tampa; it's the best time of the year. I don't think there was any chance I was going to let myself not play. The doctors did a great job getting me ready."
With Anas' availability in question on the weekend, Quinnipiac coach Rand Pecknold dressed an extra forward for warmups on both nights.
"Both times after warmups, I didn't know if he could go or not, and he's like, 'I wanna play,'" Pecknold said.
However, Pecknold's plan hit a minor snag Sunday, as he told the wrong player to be ready to go in case Anas was out. As a result, freshman Thomas Aldworth was out of the lineup while classmate Craig Martin took his place after sitting out Saturday's win over the Tigers.
UMass-Lowell coach Norm Bazin said the River Hawks didn't change their game plan entering the night, despite Anas' limited availability.
"He's somebody that at 60 percent is as good as some at 100," Bazin said. "He capitalized tonight and good for him."
While Anas was able to do the most with his limited minutes, he also gave his teammates a lift.
"To see him come out and battle through an injury and do the things he does well, it really picks up the bench," linemate Landon Smith said. "We kind of look at it like, 'hey, if he's battling like he is, we've got to step it up too,' so it's huge for our team."