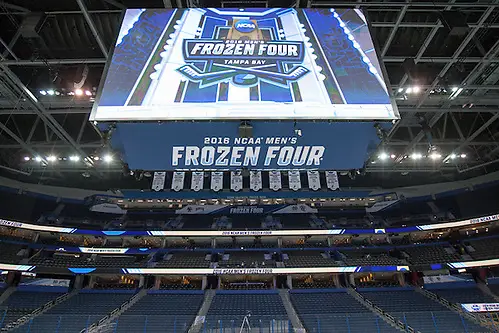 TAMPA, Fla. — Quinnipiac junior forward Sam Anas, who leads the team in goals (24) and points (50), has been favoring an upper-body injury suffered in the ECAC Hockey championship game on March 19.
Anas wasn't at 100 percent in the NCAA East Regional in Albany, N.Y., two weeks ago but was healthy enough to make a big contribution. He picked up an assist against Rochester Institute of Technology in a 4-0 win in the first round and followed that up with the game-winning goal in the regional finals, a 4-1 victory over UMass-Lowell. He was named to the All-East Regional team.
With an additional 10 days to recover and rehab, Anas continued to be evasive on his condition going into Thursday's contest with Boston College.
When asked about his status, Anas replied, "Well, I feel great that we're here in Tampa and really excited to get going and excited to get playing tomorrow."
In other words, no comment.