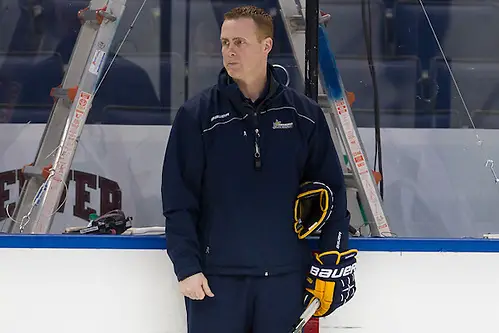 TAMPA, Fla. — Thursday's Frozen Four semifinal between Quinnipiac and Boston College will be the first meeting between the two schools, each headed up by a long-tenured coach.
Bobcats coach Rand Pecknold and Eagles coach Jerry York are both in their 22nd season behind the bench at their respective schools, with York adding an additional 22 years as head coach at Clarkson and Bowling Green.
York's 1,012 wins to date seem an insurmountable goal for any other Division I coach, but if that record ever does fall, Pecknold,
winner of the 2016 Spencer Penrose Award has the best chance.
Pecknold's 445 wins include 15 seasons of at least 20 victories, and he has averaged 20.2 wins a season over his career.
But it would take more than 28 additional seasons at 20 wins per season for Pecknold to get within striking distance. At 49, he would need the longevity of a Red Berenson, who recently announced that at 76,
he will return for another season at Michigan.
The Bobcats have averaged 27 wins over the past four seasons, including a school-record 31 victories and counting this season. At 27 wins a season, Pecknold would need an additional 21 years to reach York's current total.
And of course, York shows no signs of slowing down, going for wins 1,013 and 1,014 in Tampa.