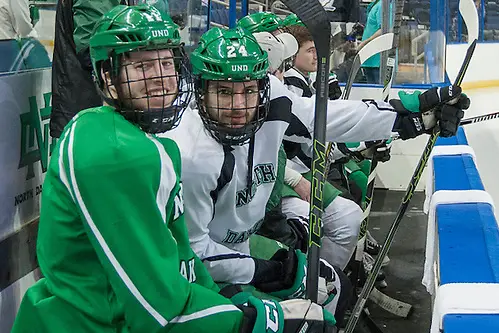 TAMPA, Fla. — In Thursday's late semifinal game, NCHC rivals North Dakota and Denver will be meeting for the sixth time this season, and this game will be the rubber match in more ways than one. The Fighting Hawks swept the Pioneers at home, 5-1 and 4-0, on Dec. 4-5. Denver returned the favor in the Pioneers' barn Feb. 12-13, winning 6-4 and 4-1.
The teams last met in Minneapolis in the NCHC third-place game March 19, a game that resulted in a 1-1 overtime tie.
"We're pretty familiar with what they have on their team and how they're going to play," said junior defenseman Gage Ausmus. "They've got some skilled players on that team. We've just got to play our game, play a full 200-foot game, make the game hard on them and get pucks past their defensemen, make them chip the puck in our zone instead of skating it — just making it hard on them."
"Everyone knows it's a rivalry game," said senior forward Bryn Chyzyk. "We've played them so many times through my career here, and every time it's a great game and a high compete level and it's always very intense. I expect none different tomorrow.
"We definitely respect them as a team. They have a lot of skill up front. We also respect our ability over here. We have a lot of confidence in what we can do. We're just going to play our game and take care of business."
Thursday's semifinal game will be the 276th meeting all-time between the Fighting Hawks and the Pioneers and their seventh match in the NCAA tournament.
Coach Brad Berry called the Pioneers a "dangerous team off the rush." North Dakota outscored Denver 15-12 in their five meetings this season, and each team is capable of finding the net independent of playing the other; North Dakota has the seventh-best offense nationally, averaging 3.64 goals per game, but Denver isn't far behind with 3.30 for 11th.
"Again," said Berry, "we know what they're going to do. They know what we're going to do. But the biggest thing we've got to be aware of when they're on the ice and what they're doing — but we have to accentuate, what we have to do and what got us here — [is that] we have to play our game, just like these guys said."