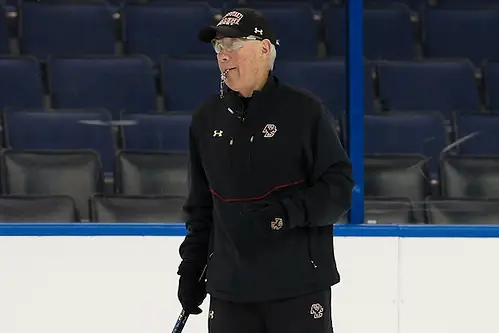 TAMPA, Fla. — When teams get to the Frozen Four, their physical abilities are often so closely matched that the outcomes come down either to the proverbial bounces of the puck or to teams' mental abilities to handle those bounces.
"We've played almost 40 games now," BC coach Jerry York says. "So you're going to [hold] early leads. You're going to be in early deficits. You're going to have swings in momentum. You've got to be able to handle it mentally.
"Mental strength is so important in all sports, but especially at this level. You can be down 3-1 and you can come back and win. You can be ahead 4-1 and you can almost lose a game because your attitude is 'Hey, we've won the game,' and all of a sudden the [other] team comes on strong.
"The mental strength you have is going to play for 60 minutes. And despite the way the momentum shifts back and forth, you have to stay on an even keel. I've seen three-goal leads switch so you can win a
game.
"[The attitude needs to be], let's play through the 60 and give it our best, honest shot."
Sometimes that mental ability only comes through experience, and not just the players but also the coach and staff.
"I'm more prepared now as we go into these Frozen Four [than in my first few times]," York says. "[You get better] the more you're into high-pressure situations, similar to a golfer with a one-stroke lead going into 17 and 18 at Augusta. Can you withstand the pressure and just get par in and win the game?
"The more you're involved in those type of situations, you get a little calmer, you handle the stress better. And it's a carryover from year to year.
"The longer you're in this thing, as teams, you get better. You know what was successful, what wasn't successful."