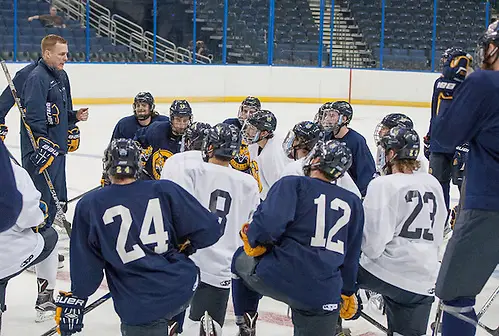 TAMPA, Fla. — It's been a long journey for Quinnipiac coach Rand Pecknold, who in 1994 took over the Bobcats on a part-time basis when they were a Division II team playing in a Division III conference.
"My first goal? Survival," said Pecknold, now in his 22nd season at Quinnipiac.
"We had midnight practices. I taught high school. I had to get up at 6 a.m. By the time I got to bed, it was 3 a.m. Sleep 3 to 6, go teach my job, get home. The teaching job and Quinnipiac were 71 miles apart, if I remember that correctly. Then I would sleep 3 to 6 p.m., get up, go down, recruit, midnight practice."
The Bobcats opened 1-14 that season, leading Pecknold to question whether he was cut out for the coaching life.
"That first year was tough," he said. "I was like, 'What am I doing?' But I loved it. I knew we'd get better. In year two we brought in 19 freshmen, and we were off and running. My fifth year, we went Division I."
Averaging more than 20 wins a season, Quinnipiac and Pecknold went from the Division III ECAC Northeast to the Division I MAAC/Atlantic Hockey, and finally to ECAC Hockey.
In 2007, the school christened the $52 million TD Bank Sports Center. Pecknold's Bobcats are in their fourth consecutive NCAA tournament, having also made the Frozen Four in 2013, losing to Yale in the title game.
But it started with survival.
"That was my main goal, was just survive," Pecknold said. "Survive that first year."