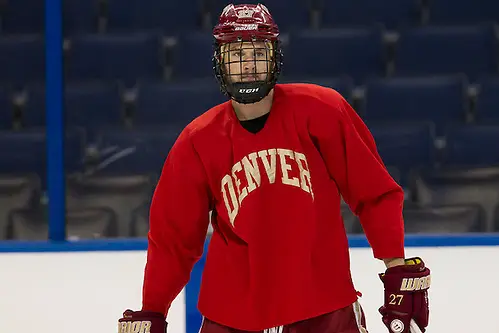 TAMPA, Fla. — Thursday's semifinal between North Dakota and Denver marks the sixth game this season between the two teams, will decide the winner of the season series and, more importantly, send either team on to battle in the for their school's eighth national championship.
Both have won seven titles, with Denver most recently winning in 2005 and North Dakota in 2000. Denver's 2005 title came at the expense of North Dakota, a 4-1 win, which was the last time the two met in the NCAA tournament. Denver owns a 4-2 record against its rival in the NCAA tournament.
This season's battles have been back and forth, with each school sweeping on home ice, then playing to a 1-1 tie in the consolation game of the NCHC Frozen Faceoff in  Minneapolis last month. In the first two games in Grand Forks, North Dakota held Denver to a single goal, ironically the first goal of the series. Denver jumped out to a 1-0 lead on Dec. 5 at 1:22 of the second before giving up the next five, despite outshooting North Dakota 23-22. On Saturday, North Dakota blanked Denver 4-0.
In that series, North Dakota held Denver's power play scoreless on 10 chances, while North Dakota scored a power-play goal in each game.
The rematch happened in Denver on Feb. 12-13. In Game 1, North Dakota took an early lead on a goal from Christian Wolanin at 5:39 of the first, but Denver captain Grant Arnold tied it at 12:44. Denver took a 3-2 lead into the third before North Dakota freshman phenom Brock Boeser tied it at just 1:36 of the third, but Danton Heinen put Denver ahead to stay at 7:44 and Denver won 6-4. North Dakota again held Denver's power play scoreless on three attempts while getting one power-play goal of its own.
In Saturday's rematch, Denver took the first lead on a goal by freshman Dylan Gambrell, but North Dakota's Austin Poganski tied it at 9:01. Denver scored the next three to win 4-1, and for the first time, held North Dakota without a power-play goal. Denver again went 0-for-3 on its power play.
The NCHC Frozen Faceoff consolation game in Minneapolis was a tepid game that lacked the intensity of usual clashes between the two, as nothing was on the line as far as NCAA tournament positioning. North Dakota scored first on a goal from Nick Schmaltz at 6:09 of the first, and Heinen answered for Denver at 13:21 of the first.
In the five games, North Dakota has scored first three times and Denver twice, and each team has lost one game when it scored first. Denver has been held without a power-play goal, going 0-for-19, while North Dakota has gone 3-for-18 on its power play.