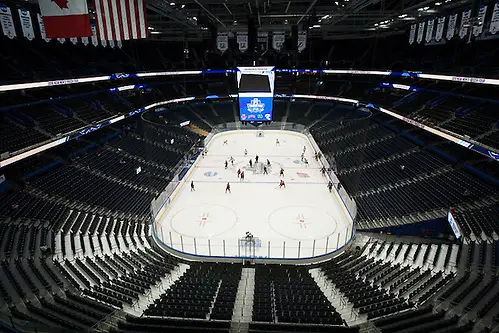 TAMPA, Fla. — Tampa has been lauded for its hospitality at the Frozen Four, but one of the questions about staging college hockey's finale at such a southerly location is whether fans would make the trip.
For the most part, they have. So far, we've seen the typical assortment of team sweaters around the area, which is the only measure we have so far.
Attendance numbers were good when the Frozen Four was here in 2012 — 18,605 for the semifinals and 18,818 for the championship game — but there were tickets available for Amalie Arena (then known as Tampa Bay Times Forum), which lists a hockey capacity of 19,092.
It appears that'll be the case again in 2016. As of Thursday morning, tickets were available through the NCAA and Ticketmaster for both semifinals and Saturday's championship game.
On StubHub, meanwhile, secondary-market tickets were going for as low as $25 and $19 for Thursday's games and $29 for the title game. At Vivid Seats, tickets were starting at $14 and $20 for the semifinals and $21 for the final.
According to StubHub communications manager Cameron Papp, 31 percent of the sales on the site by Wednesday morning were to buyers in Florida. North Dakota followed at 21 percent, with buyers from Massachusetts (7 percent), Minnesota (7 percent) and New York (5 percent) also making up the top five.
The average price for an all-session package sold on StubHub was $236, down 16 percent from last year in Boston. The average sale price for a championship game ticket was $136, down 55 percent from last season.
It should be noted, however, that location probably has a lot to do with the drop. Last season's Frozen Four in Boston featured two teams from within easy driving distance, Boston University and Providence, both of whom made it to the final.