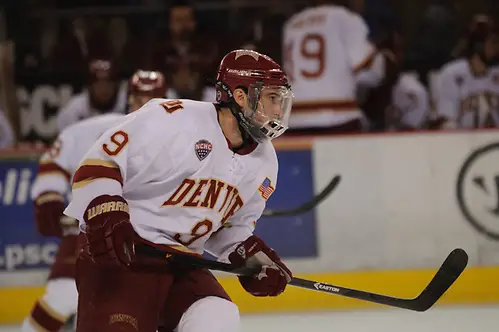 TAMPA, Fla. — Denver forward Gabe Levin was awarded the NCAA's Elite 90 Award as the player from one of the Frozen Four teams with the highest cumulative GPA.
Levin, a senior Finance major from Marina del Ray, Calif., has a 3.961 GPA.
He has been accepted into Harvard Law School but told the DU Clarion that he hasn't yet decided on his plans.
"I'm going to wait at least until the season is over before I make up my mind," Levin told the paper. "I've gotten into some other universities and I'm still waiting to hear back from some, but they're [Harvard] definitely the best one so far."
Levin, the recipient of the NCHC's inaugural postgraduate scholarship, missed the Pioneers' Dec. 4 game at North Dakota so he could rest before taking the law school admission test in Grand Forks the next morning.
It was one of only two games missed this season by Levin, who has five goals and 13 points.