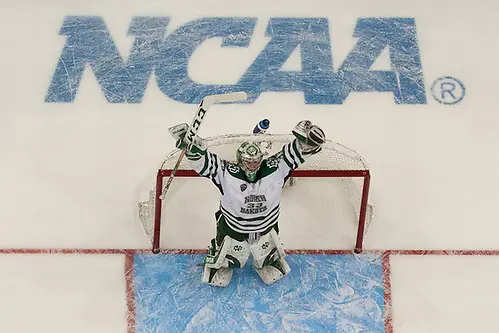 TAMPA, Fla. — In the days leading up to the Frozen Four, most of the buzz surrounding this year's goaltenders centered on Boston College's Thatcher Demko and Quinnipiac's Michael Garteig.
Demko, after all, is a Hobey Baker Award finalist, and Garteig had a stunning first half with nine posted shutouts between the start of the season and Jan. 7. Both Demko and Garteig have been among the nation's top five goaltenders all season.
North Dakota sophomore goaltender Cam Johnson has also been among the nation's top netminders but hasn't received the same recognition. That may be in part because he spent the first half of the season battling an injury.
When he returned as the starter in December, however, Johnson made quite an entrance, shutting out opponents in four straight appearances (Dec. 5-Jan. 1). His GAA (1.68) is second in the nation, and his save percentage (.933) is seventh.
That no one seems to be talking about him isn't an issue. Johnson is a steady, unassuming guy — an asset for someone in his position.
"He's a goalie," said coach Brad Berry. "I think that helps him as far as his focus. When we watched him in the USHL, he would let a goal in early in the game or partway through the game, and we always watched to see what's a goaltender's body language or how does he react after a goal. We watched him a lot. He was grounded. He was focused. He was dialed in."
"Dialed in" is a phrase that Berry and his players use frequently, and it seems to be an apt one — especially for a goalie that backstops a penalty kill that sees success 86.7 percent of the time. In Thursday's semifinal game, the Fighting Hawks stopped all four Denver power plays and went a perfect 23-for-23 against the Pioneers on the PK in six meetings in 2015-16.
In seven postseason games dating to the start of the NCHC tournament, Johnson and North Dakota have allowed three power-play goals on 22 opponent attempts.
Berry credits the entire North Dakota penalty kill for the team's success but points to Johnson's ability to remain cool under pressure — and that is something he credits to two additional men.
"A guy by the name of Zane McIntyre that he got to play behind," said Berry. In his three years with North Dakota (2012-15), McIntyre's cumulative GAA was 2.15 with a .924 save percentage.
"Zane ran the table playing the majority of the games," said Berry. "He [Johnson] got to learn how to prepare and be a professional and adapt to the role he's in."
Then there's UND alum Karl Goehring (1997-2001), who volunteers to work with the Fighting Hawks' goalies. "He's done an unbelievable job with Cam as far as mental preparation," said Berry, "how to prepare for games."
Johnson was prepared for Denver on Thursday, even after the Pioneers tied things up late in the game.
"I think we all had a common goal in mind that we wanted to win that game," said Johnson. "Denver is a team we've played five times. We knew what was coming at us and obviously that stuck in our mind."