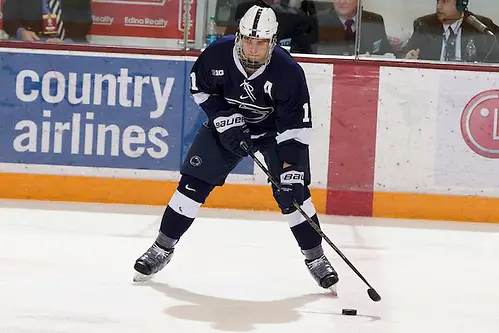 Penn State captain David Glen was named the 2016 winner of the Senior CLASS Award as the most outstanding student-athlete in Division I men's hockey.
A three-time Academic All-Big Ten honoree, Glen is a double-major in economics and political science. In 2013, he missed games to donate bone marrow to an unknown recipient.
"My career as a Penn State student-athlete has prepared me for life after college by teaching me what it means to be a professional both on and off the ice," Glen said in a news release. "My time here has also opened my eyes to the multitude of opportunities that are available for you to serve your community, and the difference your time and effort can make in the lives of others."
The Senior CLASS Award is an acronym for "Celebrating Loyalty and Achievement for Staying in School." Voters consider a list of finalists who have notable achievements in the classroom, community, competition and character.
Here's the full list of players honored:
2016 Senior CLASS Award First-Team All-Americans
David Glen, Penn State
Jake Hildebrand, Michigan State
Alexander Kuqali, RIT
Ethan Prow, St. Cloud State
Jimmy Vesey, Harvard
2016 Senior CLASS Award Second-Team All-Americans
Raplh Cuddemi, Canisius
Theo Di Pauli von Treuheim, Union
Christian Hilbrich, Cornell
Zac Lynch, Robert Morris
Tyson Wilson, Robert Morris