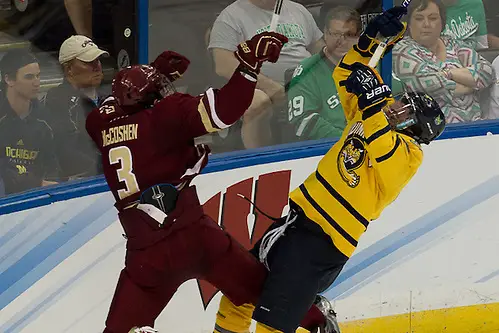 TAMPA, Fla. — Judging from our Twitter mentions, many of you were confused to see Wisconsin's logo on the ice and the boards during Thursday night's Frozen Four semifinals.
So here's the explanation:
NCAA rules require that a member institution or conference serve as the host institution for its championship events. In Boston last year, that was Hockey East. When the event was last in Tampa, it was Alabama-Huntsville.
This year, it's Wisconsin, which gets to have its branding around the event and has to help with athletic training and sports information duties.
The Tampa Bay Sports Commission is also a host for the Frozen Four, but it needed to have an NCAA member as a partner. It has close ties with current and former members of Wisconsin's athletics administration, and the Badgers have been fairly frequent visitors to Tampa for football bowl games.
See this Wisconsin State Journal story for more on the process.