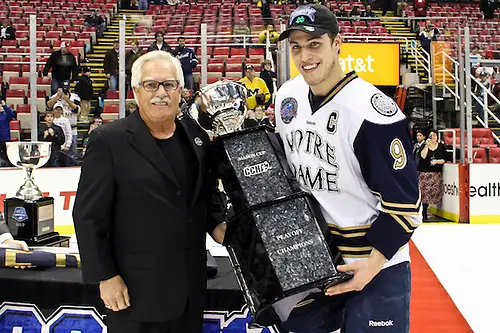 Former Lake Superior State, Bowling Green and Michigan State coach Ron Mason passed away overnight at the age of 76.
Mason also played at St. Lawrence in the early 1960s.
He won 924 games over 36 seasons at LSSU (1966-73), BGSU (1973-79) and MSU (1979-2002), retiring as the all-time winningest college hockey coach. Mason led two of those teams to national championships — an NAIA title with LSSU in 1972 and a NCAA title with the Spartans in 1986. He also coached three Hobey Baker Award winners — George McPhee at Bowling Green and Kip Miller and Ryan Miller at Michigan State.
More: Remembering Ron Mason: College hockey mourns the loss of the coaching icon
On Dec. 2, 2013, Mason was inducted into the U.S Hockey Hall of Fame.
Mason was one of the co-creators of the CCHA in 1972 and won 10 conference regular season titles as a coach — three with Bowling Green and seven with Michigan State — and 13 postseason titles. The CCHA's playoff trophy was named the Mason Cup in his honor.
In 1978-79, Mason coached BGSU to a then-NCAA record 37 wins, a record that was broken in 1984-85 by Mason's own Michigan State team.
Named the AHCA national coach of the year in 1992, Mason was also tabbed CCHA coach of the year on seven different occasions.
Mason was athletic director at MSU from 2002 to 2008 and had served as a senior adviser for the USHL's Muskegon Lumberjacks.