BUFFALO, N.Y. — When you use the word "generational" in hockey, you're often using it when you're talking about talent at the NHL Draft.
A year ago, many called former Boston University forward Jack Eichel "generational," noting that, especially in the college game, you don't see too many players who can emerge from college as an 18-year-old and become an NHL superstar.
Rankings: College players and recruits in final Central Scouting rankings
Eichel's story is special. But equally as special was a weekend 10 years ago when the draft ventured to Canada's west coast.
It was in Vancouver where one of college hockey's greatest days took place. The 2006 NHL Draft featured four college players selected in the top seven, including one player who has gone above and beyond the definition of the word "generational."
The weekend also highlighted one of college hockey's best rivalries, Minnesota-North Dakota, at its peak.
In the end, the first round of the 2006 NHL Draft produced the best crop of college players to date and also changed the perception of college hockey for many.
Kessel watch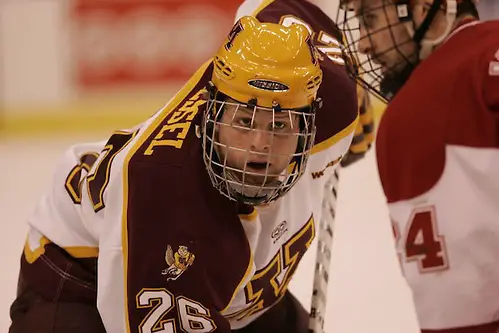 As early a year before the 2006 NHL Draft, there was a lot of buzz about Phil Kessel. The game's top scouts had touted Kessel as a lock as the top pick in 2006.
But when NHL Central Scouting's midterm rankings came out for the 2006 draft, defenseman Erik Johnson, who had committed to play for Minnesota in the following September, was ranked first among North American skaters.
Kessel was a spot below Johnson. The Minnesota freshman was already making a name for himself in the Twin Cities. He potted 18 goals and 51 points in his freshman campaign, earning him WCHA rookie of the year honors. At the World Junior Championship, Kessel led Team USA in scoring with 11 points.
So despite Johnson's top ranking, Kessel was still drawing a lot of the attention for his high-profile success in a Gophers jersey.
"Kessel, you just knew this kid was a scorer," said Wally Shaver, the long-time radio voice of the Gophers. "It was kind of interesting because he had kind of shunned [the University of] Wisconsin, having grown up there his whole life and he decided to come to the 'U.'
"Everybody knew about this kid. He was one of the top recruits in the nation that year."
But as his draft year was upon Kessel, there was concern about many things. His maturity was questioned, as was his ability to be a leader. Reports surfaced that teammates on just about every team he played disliked the superstar.
By the time draft day came, Kessel had almost become an undesirable to the St. Louis Blues, the team that held the top selection. The Pittsburgh Penguins, Chicago Blackhawks and Washington Capitals all took a pass on Kessel as well before Boston grabbed him with the fifth selection.
"It was tough sitting through those picks," Kessel told USCHO at the time.
Blues tab Johnson for reliability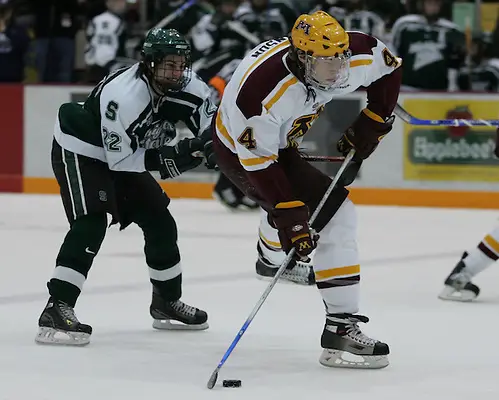 After earning the top spot in the midterm rankings, Johnson ended up being the top overall selection in 2006. The St. Louis Blues said they wanted Johnson for his reliability on the blue line, something that has played out in his career.
He lasted only three years in St. Louis before being traded to Colorado, where he is the team's highest-paid player after signing a seven-year, $42 million contract extension in 2015.
Being the top overall selection, Johnson was in rare air for a collegian. He joined Rick DiPietro as the only college players to be selected with the top pick of the draft.
But on draft day, there was a question whether Johnson would ever arrive in Minnesota.
It wasn't until the following month when St. Louis general manager John Davidson released a statement saying, "We feel this is a win-win situation for Erik to be going to an excellent hockey program to continue his development. This is beneficial for his career, short term and long term, to play for the Gophers. He will have an opportunity to compete for an NCAA national championship, play in the World Junior Championships and enjoy university life."
But less than a month after it was revealed Johnson was on his way to the Twin Cities, Kessel announced he was on his way out. Two months after the 2006 draft, Kessel signed with Boston.
Still, Johnson played the following season alongside another top-10 selection, Kyle Okposo, picked seventh by the New York Islanders.
"There was no question with Johnson and Okposo and you could just tell from the first day of practice that these two guys stick out like a sore thumb," said Shaver. "They were just that much better.
"After the first of the year, things really started to click."
Overshadowed, Toews ends up on top, solidifies rivalry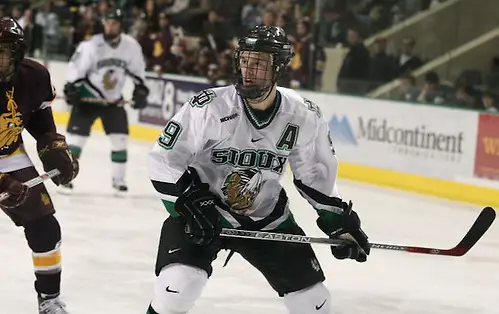 With Minnesota garnering the bulk of the attention at the 2006 draft, the third overall selection by Chicago was North Dakota's Jonathan Toews.
Having played a season at North Dakota already, Toews was overshadowed a bit as a rookie because of Kessel. In fact, when it came to freshmen, Toews wasn't even the top rookie scorer on his team, taking a back seat to T.J. Oshie, who was drafted in 2005, the summer before his arrival in Grand Forks.
But come draft day, Toews had garnered some buzz and as Kessel's stock had fallen, Toews' continued to rise. When he was picked third, Toews had gotten the upper hand on Kessel for the first time.
"Phil Kessel had so much hype coming in and Toews almost got overlooked," said Brad Elliott Schlossman, North Dakota's beat writer for the Grand Forks Herald. "I remember Michael Farber from Sports Illustrated coming to Grand Forks for the Sioux-Gophers series. And his story was going to be all about Phil Kessel.
"I remember telling him that some scouts are saying that this Toews kid could be just as good as Kessel."
On the NHL ice, that has proven to be true. Toews has been a stalwart with Chicago and at age 20 was named captain, one of the youngest in NHL history.
As captain, Toews has led the Blackhawks to three Stanley Cup titles, and internationally he has won six gold medals for Team Canada, two at the Olympics, one at the World Championship and three at the junior level (two Under-20 and one Under-17).
Back in Grand Forks, the 2006-07 rivalry between North Dakota and Minnesota — even without Kessel — was one for the ages. For the Gophers, you had Johnson and Okposo on the ice, as well as David Fischer, who was also selected in the first round, 20th by Montreal. And on the other side, you had Toews in his sophomore campaign with Oshie and Ryan Duncan, that season's Hobey Baker Award winner and WCHA player of the year.
"[North Dakota] had a whole slew of good guys on that [2006-07] team," said Minnesota broadcaster Shaver. "The guys always got up for it, there was no question."
After an exciting regular season matchup of the foes, swept in the Twin Cities by the then-Fighting Sioux, Minnesota exacted revenge on the bigger stage, getting a 3-2 overtime win in front of 19,463 screaming fans in the WCHA title game.
North Dakota had the last laugh, however, a week later. After Minnesota eked past Air Force 4-3 in the opener of the NCAA tournament (one year after the famous OT loss for Minnesota to Holy Cross) and North Dakota took care of Michigan 8-5, the rivals — and some of the best talent to play in this rivalry — met for one last time in the West Regional final.
More than 11,000 packed the Pepsi Center in Denver for the game and both Minnesota and North Dakota delivered, with the then-Fighting Sioux emerging on a Chris Porter overtime goal to advance to the Frozen Four.
North Dakota lost to Boston College in the national semifinals, and Michigan State was the eventual national champion. But that afternoon in Denver provided the last time that the top-end talent from the 2006 draft was on display.
New CBA means quicker exits
Early departures had been a factor in the early part of the 2000s in college hockey. Some of the best talent who were ready for the NHL left college before their four years of eligibility were up.
But after the NHL lockout in 2005, a new collective bargaining agreement between the league and the NHL Players Association accelerated the matriculation of top-end college talent into the pro ranks.
The 2005 CBA included language that allowed drafted college (or incoming college) players to become free agents in the summer after their senior season, similar to what is happening right now with Harvard's Jimmy Vesey. NHL teams poached most of their top-end draft picks long before graduation.
Kessel, of course, never returned for that 2006-07 season. Johnson and Toews signed NHL contracts after their 2007 campaigns ended. Okposo stuck around for two months of the 2007-08 season before signing with the Islanders.
Only Fischer lasted all four years at Minnesota; he never did end up signing with the Canadiens. He was invited to Vancouver's training camp in 2010 but was cut and never played an NHL game before retiring in 2015.
You can point to the new CBA, the success of players like Toews, Johnson and Kessel, or many other factors. But since that 2006 draft, early departures from college have been at a record pace, topped this season by a record 38 players forgoing college eligibility for the pros.
"[North Dakota] lost five guys early this summer," said Schlossman. "Ten years ago, they also lost five guys. The next year they lost Toews and Brian Lee early.
"There was a lot of panic about that, but at the same time, coaches now are realizing when you have a guy like Jonathan Toews come through your program, you have to plan that he's going to leave early.
"When he does go to the NHL after two years, it's not necessarily a hindrance for your team.
"The MVP of the Frozen Four this year was Drake Caggiula. The reason he knew what UND was, was because he watched Jonathan Toews in the World Juniors. The MVP of the Frozen Four was in college in part because of Jonathan Toews. His legacy has attracted more good players to come to the college level."