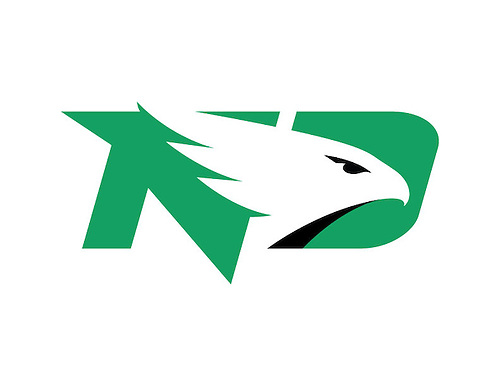 North Dakota has unveiled a logo and wordmark for the Fighting Hawks nickname.
"This is an outstanding day for the University of North Dakota and UND athletics," said UND president Ed Schafer in a statement. "We are thrilled to introduce a champion logo and wordmark for North Dakota's teams, our champion Fighting Hawks athletics program."
Created by SME Branding after a significant amount of up-front input and a number of waves of concept testing that included members from stakeholder groups, the logo features a hawk embedded in a Kelly green ND and a distinctive wordmark that proclaims "North Dakota Fighting Hawks."
"SME spent time on campus and on the phone at the beginning of the semester, listening to what a lot of people — students, student athletes, coaches and others in Athletics, faculty, staff, alumni, community members, representatives of UND's American Indian programs — had to say about our university, our athletics programs, our region and our state," added Schafer. "They did an excellent job of translating what they heard — that we have a long and proud championship tradition, that we are determined and persevere on the playing field, that we are proud of our state and our heritage, that we are progressive and moving forward — and using that input to shape the newest logo and wordmark for the future of UND athletics."
"We are excited to start using this logo and wordmark," UND athletic director Brian Faison noted in a statement. "We will begin using it immediately, but it will take a while to transition everything to the new logo. Many of the uniforms are already ordered, so it will take some time to change it out. But you'll begin seeing it this fall on the football helmets, for example, as we usher in this new era in UND athletics."
UND is planning an Aug. 13 merchandise launch event.