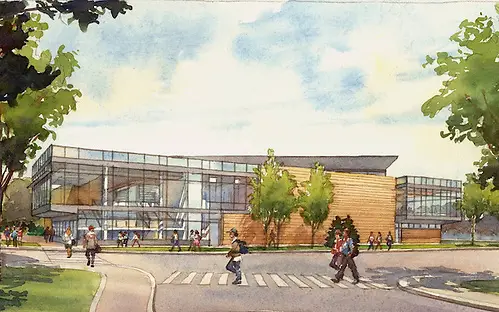 The 2016-17 season will mark special anniversaries for the Bentley Falcons. It'll be the 40th season of varsity hockey, but it'll also be the 45th year for the John A. Ryan Arena, the municipally owned rink in Watertown, Mass., that's been their home since they began play in 1977.
The upcoming season is expected to mark an even more special milestone, however, with the announcement last week that the university will open a multi-purpose arena housing a 2,000-seat hockey rink. With that venue slated to open in early 2018, it means the 40th year will be the final full season played at the venerable arena known colloquially as "The JAR."
"The arena will give an incredible boost to an already rich student life at Bentley," Vice President of Student Affairs J. Andrew Shepardson said in a university statement. "Key to that experience will be home hockey games that really are at home. Being able to also offer a wider variety of events, lectures and programs will make campus life even more exciting. Students have been a driving force behind this project, and it is gratifying to see their commitment pay off."
While jubilation and elation permeates through the Bentley walls, there's a natural question to ask about what happens next. It's a two-fold question, equal parts about the future of the Bentley program and about the future of Atlantic Hockey's eastern teams.
Realignment is a topic of conversation that's constantly front and center in the college hockey universe. With Notre Dame set to leave Hockey East for the Big Ten, fan speculation centered on which team could replace the Fighting Irish.
The Falcons will be playing in a 2,000-seat arena with both home and road locker rooms, an equipment room, weight room and sports medicine center. Unfortunately for realignment theorists, that falls well short of Hockey East's minimum seating capacity of 4,000 seats.
Hockey East's current rinks have capacities all over 4,000 with a couple of noticeable exceptions. But those arenas, like Merrimack's Lawler Arena, were grandfathered in by meeting certain standard requirements. Additionally, Connecticut was accepted with a home arena on campus with less than 4,000 seats because most of the Huskies games would be played at the XL Center in Hartford while the school worked to upgrade Freitas Ice Forum in Storrs.
So for the time being, Bentley, one of the earliest Atlantic Hockey programs, will remain in the league, providing its conference with a potentially emerging power player in the hockey-rich state of Massachusetts.
It's no secret that AHC outsiders consider the league, especially the eastern teams, among the "have-nots" in college hockey. As of this year, three schools — American International, Bentley and Sacred Heart — play in municipal rinks. With Bentley poised to position itself with a new building, the question now centers on who might be next.
It's a question not easily answered in physical buildings. When I talked to Atlantic Hockey commissioner Bob DeGregorio, he lauded both AIC and Sacred Heart while touching upon the new buildings at Bentley and Canisius.
"AIC has a new coach in Eric Lang," he said, "and the school is using the opportunity for renewed commitment to hockey. They played UMass in Downtown Springfield [at the MassMutual Center], and they're looking to make some upgrades to their current arena [at the Olympia Ice Center]."
At Sacred Heart, the Pioneers have a coach in CJ Marottolo who's ingrained in the game's history in Connecticut. He's a North Haven native and former star at Choate Rosemary Hall, and he served as an assistant at Yale for 13 years. His steady construction of the Sacred Heart roster made the team one of the toughest outs in Atlantic Hockey over the past couple of years, while making inroads toward the future. Last year, their fan support included road trips to Bentley by their band as the team came within a game of winning a playoff series.
"Sacred Heart is absolutely committed to their hockey program," DeGregorio said, "and they're investigating how they can improve. They're currently conducting a feasibility study if they can have an on-campus rink, but it's something that's incredibly early. There's a lot of questions, where and how it could happen."
Although Holy Cross' Hart Center renovation won't include the hockey rink or bleachers, the sound system is being re-engineered, video boards are being added and offices are being redone.
That leads us back to Bentley and a glittery new building that will vault the Falcons into any and all facilities conversations. It's been 40 years since the Falcons started playing hockey, and they've done it in a building that served them well. Now they start a new day moving toward a new home.