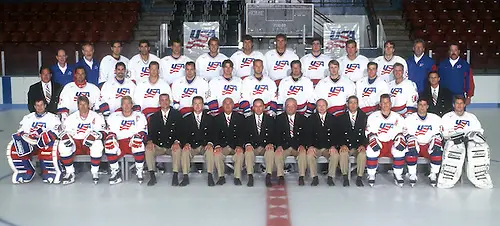 When the United States won the first World Cup of Hockey nearly 20 years ago, it wasn't nearly as stunning as the 1980 Olympic team's upset of the Soviet Union, but it was definitely in the conversation.
After all, to rally and beat a stacked Canada team in the deciding Game 3 of the event — Team USA had its share of high-end talent, too — was a superb accomplishment for the Americans.
And the final two games were held in Montreal after Game 1 was played in Philadelphia. Team USA rallied from a 2-1 deficit in the third period by scoring four goals in the final 3:18 of the game.
After the glow wore off, even the casual observer nowadays may not remember that event. But earlier this week, it was announced that the entire U.S. team of 1996 will be inducted into the U.S. Hockey Hall of Fame. Many players from the team are already in as individuals.
Former Boston College standout Craig Janney and Bill Belisle, who is entering his 42nd season as head coach at Mount Saint Charles Academy in Woonsocket, R.I., in 2016-17, also will be enshrined.
The World Cup team had numerous NCAA alumni, including forwards Tony Amonte (Boston University), Bill Guerin (BC), Brett Hull (Minnesota-Duluth), John LeClair (Vermont), Shawn McEachern (BU), Joel Otto (Bemidji State), Brian Rolston (Lake Superior State), Bryan Smolinski (Michigan State), Keith Tkachuk (BU), Doug Weight (Lake Superior State) and Scott Young (BU), defensemen Shawn Chambers (Alaska), Chris Chelios (Wisconsin), Leetch (BC) and Gary Suter (Wisconsin) and goalies Jim Carey (Wisconsin), Guy Hebert (Hamilton) and Mike Richter (Wisconsin).
Richter was named MVP of the tournament.
All the Team USA coaches played in college as well — head coach Ron Wilson (Providence) and associate coaches John Cunniff (BC), Paul Holmgren (Minnesota) and current Yale coach Keith Allain (Yale).
"Just a strong group of characters," said Leetch, who captained the World Cup squad. "Every one of those guys wanted to compete and we had great leadership with (team general manager) Lou Lamoriello (Providence), Paul Holmgren, John Cunniff and Coach Wilson. Everybody went into that tournament with belief and I think as the four, five games we played in exhibition before, the way we started the tournament, we really solidified the belief in ourselves. All the lines came together, the defense pairings came together and these guys went out and competed each game.
"We needed great performances from individuals, and we got that. We needed everybody to contribute, and we got that."
Wilson said having the full World Cup team honored was "just tremendous." He said he recently looked at that 1996 roster and didn't remember one player having an off game during the event.
"From our goalie on out, all our defensemen, and we even had guys on the team that weren't even playing," said Wilson. "Guys like Phil Housley and guys like that. We decided during the event that guys were just going to have to sit out and we had a tremendous lineup. There was nobody on the team that any of the coaches were ever disappointed in. That was really the first time that I had ever been exposed to a national team of that ilk, and nobody let us down the whole time."
Janney, who played against Leetch in the Connecticut high school circuit in the 1980s, skated 12 years in the NHL after being selected by the Boston Bruins in the first round (13th overall) of the 1986 NHL Entry Draft. In 760 career NHL games, the Hartford, Conn., native registered 188 goals and 563 assists for 751 points while playing for seven teams (Boston, St. Louis, San Jose, Winnipeg, Phoenix, Tampa Bay, New York Islanders).
"A playmaker is only as good as his finishers, and I played with some of the best of our generation," Janney said. "Brett Hull. Brendan Shanahan. Cam Neely. Keith Tkachuk. My thought process in playing with guys of that caliber was that if you can get those guys three or four quality scoring chances a game, in the place where they like to get the puck, they're going to score one or two goals. I went in every game thinking that."
Janney admitted that he wasn't sure if he'd ever see the U.S. Hockey Hall other than as a visitor.
"I kind of thought it passed me by," said Janney. "A lot of the guys from the World Cup team had already gone in and that was kind of my generation. To get that phone call was an unbelievable honor and thrill and to be able to take part in this celebration in November with a lot of the guys that I played with and against with USA Hockey is really truly a thrill."
In his second season at BC (1986-87), he was a Hobey Baker Award finalist after setting Hockey East single-season records in points (74) and assists (51). Overall that season, Janney recorded 81 points (26 goals, 55 assists) in 37 games, averaging better than two points per game.
Janney becomes the sixth Eagles player or coach to enter the U.S. Hall, joining Guerin (2013), Leetch (2008), Cunniff (2003), Len Ceglarski (1992) and John A. "Snooks" Kelley (1974).
The plans for the 2016 U.S. Hockey Hall of Fame induction ceremony, as well as the presentation of the Lester Patrick Trophy, are being finalized and should be made public later in August.