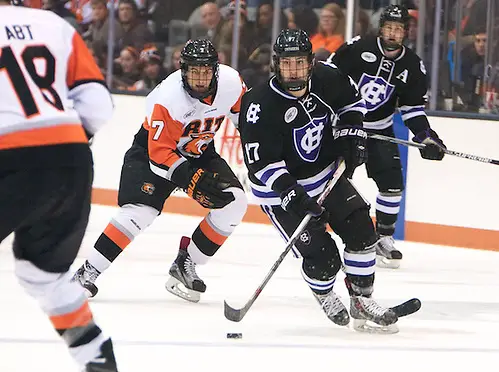 Every coach always spends time evaluating. There's evaluating in-game performances, practice situations, and case studies. They have to look at who plays in what situations with who, against who, and who can follow who. There's no scientific formula to a judgment, but there's reasonable expectations for how their decisions impact how a team plays.
That's why fans and analysts are so quick to reference the "unexpected." There's no way they could see it coming.
As Holy Cross' leading returning scorer, TJ Moore turning a red light on isn't surprising; it's probably expected. Scoring twice? Not unheard of.
Scoring a hat trick? That's something special.
Scoring a hat trick on back-to-back nights? That's unexpected.
Scoring a hat trick on back-to-back nights where the second night saw a natural hat trick in the first period? That's downright mystical.
"Scoring a hat trick on consecutive nights is something that's unique and special," said head coach David Berard. "On Saturday, it was even more special because it was a natural hat trick scoring on his first three shots of the game. As a coach, I've seen how hard he's worked, which is something not everyone might get to see. He's made that progression since his freshman year, through the exhibition with Carleton this year, and he keeps earning more opportunities, seeing more ice time on the penalty kill, which allowed him to get into a rhythm.
"TJ might not be the biggest or the strongest guy on the ice, but he can really wire a puck. When you get the first, it just starts building confidence, and I just told him to keep shooting."
Only in Atlantic Hockey would a hat trick not be enough to win a game. Even though Friday night saw the Crusaders place a snowman on the scoreboard with an 8-2 victory over Niagara, they found themselves tied with the Purple Eagles after two on Saturday – after Moore's first period chapeau. More than halfway through the third, Kris Spriggs put the host team up by one, meaning the hat trick would've been for naught if Michael Laffin hadn't scored an extra-attacker goal.
"It was a completely different game (for us) on Saturday," said Berard. "The games aren't related from Friday to Saturday, and you know it's never going to be the same. At the same time, nobody likes losing 8-2 at home, so we knew we had to prepare for a reality where it was going to be a completely different game. I thought we played well and competed hard, and it was a big positive to show the mental toughness to get that tying goal late. You don't like to make that a trend of having to come from behind late in games, but the more you do it, the more you're going to believe you can. I really liked how we played on Friday, and we got away from that a little bit on Saturday, but we found a way to work through it. It just shows you how hard it is to sweep teams in this league, especially on the road."
Moore's offensive output earned him well-deserved Atlantic Hockey Player of the Week status. His six goals are more than a third and eight points more than a quarter of the way to matching last year's totals. But it's also a testament to the ceiling of a team entering a brutally tough weekend ahead with home games against Hockey East powerhouses Providence and Boston College at the off-campus DCU Center.
Diaper Dandies
Keeping in line with the evaluation of a roster, we turn to the Bentley Falcons.
Last year, Ryan Soderquist began assembling his roster knowing he would need to address a couple of pieces. At a surface level, that's easy to explain; Andrew Gladiuk, one of the league's most consistent goal scorers, was graduating, and Max French, another of the league's best at putting the puck in the net, was entering his senior season.
In the past, the strategy would've been to just find the best available athlete. But given Bentley's recent success through the years, it's a little different.
"Last year, we knew specifically what roles we wanted to fill (through recruiting)," said Soderquist. "We knew that we needed depth scoring. With the way our program currently stands, where we used to go out and find the best available player or talent, we now can recruit players that can play a specific role. And in our league, where we don't have true 18 year old freshmen, you hope that they're college hockey ready. Usually in the first month, that's a toss-up, but you watch them play and hope they can be ready."
Safe to say, it's already paying dividends.
In their 5-1 victory over New Hampshire on Saturday, the freshman stepped to the front of the line. Defenseman Connor Brassard earned the first goal of the game, and forwards Jonathan Desbiens and Dino Balsamo also scored. A fourth goal came from sophomore Alexey Solovyev – just his second career goal.
"We were extremely pleased with (the freshmen)," said Soderquist. "They were ready to play, and they went out and performed. It absolutely helps to get the win."
The youngsters pushed the older players off center stage, which is ironic considering the older players could've been their own storyline. French led the team with three helpers, putting him atop the scoring table, and junior Kyle Schmidt, who joined French and Gladiuk last year in the 40-point club, scored an empty net goal. Even goalie Jayson Argue, also a junior, got in on the scoring, adding a primary assist on the Falcons' last goal.
For Bentley, it's an encouraging start ahead of this weekend's home-and-home rematch with the defending Hockey East champions. Despite hanging their name in the rafters of Boston's TD Garden, Northeastern lost to Bentley earlier in the year – twice, including a 4-1 demolition at the John A. Ryan Arena.
"Playing UNH on (an Olympic sheet) is different from playing Northeastern at the JAR," said Soderquist. "Obviously you have to prepare different based on your opponent, but our identity as a team will not change. We have to keep that as a constant. The more games we can play as a team we want to be will translate to more games that we can win."
I'm All The Way Up
The Air Force Falcons won the Atlantic Hockey championship in 2012, earning the league's automatic bid to the NCAA Tournament. They went to the Northeast Regional that year, narrowly losing, 2-0, to the eventual national champion Boston College Eagles.
In the final regular-season USCHO.com poll of that season, released on March 19, 2012, Air Force ranked 16th. Now 1,667 days later, the Falcons are back.
Air Force cracked the USCHO.com Division I Men's Poll this week, placing 18th with 160 votes after winning the IceBreaker Tournament in Denver. After beating Boston College 2-1 with a third-period comeback, the Falcons officially tied Ohio State in the championship game, though they won the shootout, 1-0, that determined who took home the trophy.
The cadets lead a four-team grouping of Atlantic Hockey teams earning votes. RIT took home seven votes after splitting their weekend series with Robert Morris; Bentley earned six votes for their win over UNH; and Holy Cross earned two points for their three-point weekend against Niagara.
In an era where non-conference wins are huge, all four will play out of the league this weekend. While Air Force heads to the desert for two games at Arizona State, the other three schools all play games against Hockey East. RIT will host Connecticut at Blue Cross Arena, while Bentley plays Northeastern in a home-and-home. Holy Cross plays Providence and BC in two games at the DCU Center in Worcester.
Professional Taste
The NHL descended on Army West Point's Tate Rink on Saturday, with the Florida Panthers and New Jersey Devils playing their exhibition season finale at the home of the Black Knights.
There's a number of connections throughout the Florida organization. Panthers owner Vincent Viola graduated West Point in 1977, while President and CEO Matt Caldwell graduated in 2002. In the AHL, Florida's affiliate in Springfield, which shares their home rink with American International, has a West Point grad as their general manager – Eric Joyce. So it's a natural fit for the Panthers to make their fourth trip to the academy. They highlight a number of teams who have made several trips up the Hudson River.
During the game, the Panthers honored 1st Lt. Derek Hines and Maj. Tom Kennedy, West Point hockey graduates who were killed in action.
Players of the Week
Brought to you by the league's front office in Haverhill, Massachusetts!
Player of the Week – Holy Cross' TJ Moore: No big shocker here. I suggest scrolling up for more details on the Crusader forward, who had a weekend for the ages.
Goaltender of the Week – Air Force's Shane Starrett: Starrett got the job done in winning the MVP award for the 2016 Ice Breaker Tournament. With 83 saves on 87 shots, the sophomore helped the Falcons to their first regular season tournament win since 2013
Defenseman of the Week – Robert Morris' Eric Israel: It was a six-point weekend for the sophomore, helping the Colonials to a weekend split against the RIT Tigers. He also gave up the body by blocking four shots.
Rookie of the Week – Niagara's Kris Spriggs: With a three-point weekend, Spriggs sits atop the rookie scoring for Atlantic Hockey in the first weekend. He scored a goal in the 4-4 tie with Holy Cross on Saturday.