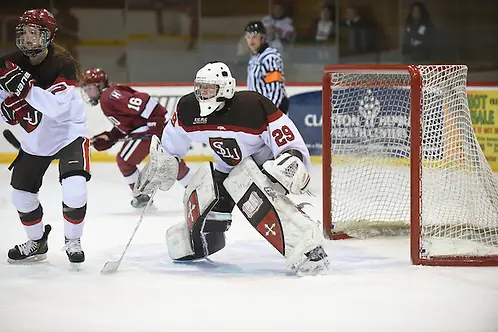 Arlan: Hello there hockey fans! It is always an exciting time in the world of college hockey as teams get back on the ice, some very familiar players are gone, returners adjust to new roles, and new pieces are added.
It is a bit like that on the staff of Wednesday Women, as I'm no longer the columnist for Women's Division-I after my responsibilities expanded at my primary job. Nicole Haase, who has been a contributor to USCHO in recent years, has taken over as columnist and is writing great articles. She and editor Candace Horgan have been kind enough to let me join in their Wednesday Women discussions, and I'm happy to be back with you whenever that works out. Like a roster battling injuries, illness, and inconsistency, our lineup may vary from week to week.
We are three weeks into our season, and even though only a handful of teams have played more than four games and the Ivy League teams have played none, there have been plenty of twists and turns. Of the 29 teams already competing, only three still have perfect records, two in ECAC Hockey and one in Hockey East. The CHA has started slowly with only four wins through its first 20 games, and Robert Morris (3-0-1) has most of those. While it is a surprise that nobody in the WCHA has a clean slate thus far, only St. Cloud State has a losing record, and one of its two wins was an upset of then No. 7 North Dakota. That circuit has shown signs of being more balanced; on Saturday, Minnesota-Duluth was the only one of its favored teams to pull out a win, that coming over a Minnesota State squad that hasn't won in league play since Feb. 2, 2015.
In terms of the most pleasant surprise to date, I'd go with St. Lawrence. The Saints have started by playing three of four games on the road, all versus teams that were ranked in USCHO's preseason poll. When Nadine Edney scored with 4:16 left to give SLU a 3-2 lead at Clarkson on Saturday, I told someone that if they close that game out, I'm giving the Saints my first-place vote this week. It was not to be as Corie Jacobson's extra-attacker goal salvaged a tie for the Golden Knights. Instead, I put Quinnipiac on top after the Bobcats have shut out three straight Hockey East opponents after a somewhat wobbly start when they nearly frittered away a five-goal lead versus Maine. The next two weeks will offer Quinnipiac a chance to cement that top position in my mind, as it faces a couple of NCAA tournament teams from last year in Mercyhurst and Boston College.
What has stood out to you thus far? Who has or has not impressed?
Nicole: I also didn't expect this start from the Saints. I picked them to finish seventh in the ECAC, though much of that had to do with what other teams are doing as opposed to what I thought St. Lawrence wouldn't do. That being said, they have just three seniors and 15 underclassmen, so I expected a learning curve to affect their play against these ranked teams. Instead, they scored 16 goals in four games against two pretty talented goalkeepers.
I was so excited to see Union pull out the win on Saturday against Penn State. It's devastating for the players and the program to lose so often. They're excited in Schenectedy for the players and coaching staff they have and a turnaround seemed in the cards, but getting the win, ending the 55-game winless streak and being able to focus on something positive so early in the season have to do miracles for their mindset.
It probably shouldn't be a surprise, given their recent meetings and Britni Mowat, but I still was surprised by Bemidji's win over Minnesota.
One of the best things about the WCHA is how what match-ups look like on paper rarely matters when the teams actually take the ice. Bemidji State has seen incredible growth and coach Jim Scanlan has really instilled a new culture for the Beavers, but they graduated nine seniors that were crucial to their turnaround and expectations were probably pretty low for them this season. None of that matters when you take on Minnesota, however. Give Bemidji State goalie Britni Mowat credit for keeping that potent Gophers offense off the board.
Things certainly seem to be up in the air in Boston. I'm not ready to say I'm unimpressed with any of those programs, but certainly Boston University, Boston College, and Northeastern have lost games we expected them to win. We figured BC and Northeastern would see a drop off with the players they lost to graduation, but it's definitely not been the start to the season they would have hoped for.
There were a lot of surprise wins and unranked teams beating ranked teams this weekend. Which of those games do you think will be the most important as the season moves on?
Arlan: Looking beyond the past weekend, I think that the most significant result to date was Minnesota-Duluth's series win over Boston College. Because there are so few of those East versus West series that match contenders, the few that do take place are magnified and tend to have a trickle down effect involving other teams from those conferences. With the Bulldogs getting the better end of things, that could help Wisconsin and Minnesota in a comparison with BC, and it could hurt teams like Boston University and Northeastern when compared to UMD. Later in the season, BU hosts Minnesota, but there aren't really any other Hockey East versus WCHA series that figure to match contender versus contender. Next weekend when Wisconsin heads to Clarkson, that will be the first big WCHA versus the ECAC pairing. North Dakota won a series from Mercyhurst and Bemidji State swept Syracuse, but because the latter duo have never earned at-large bids and the former haven't in a few years, as well as the fact that those two leagues play each other with more frequency, those match-ups tend to be slightly less crucial.
Focusing on the past weekend only, I think that St. Lawrence drawing first blood in the first of four games with Clarkson, even though those were not conference games, may be telling in the league pecking order. St. Lawrence spent much of last season trying to figure out who its starting goaltender was. Now it looks like Chris Wells has settled on sophomore Grace Harrison between the pipes, and while her numbers through the first four games might be on the low side of average, you can't overlook her 3-0-1 record. Meanwhile, the Saints score four goals a game, trailing only Colgate and UMD.
BU losing to Vermont on Sunday was unexpected, but that seems to be what the Terriers do, particularly early in the season. Even when Brian Durocher has had tournament teams, they've tended to mix in a couple of very puzzling results.
You mentioned Bemidji State upsetting the Gophers. I was at that series, and there really wasn't much that we haven't seen before. The Beavers didn't give much away, Mowat was strong in net, and they managed to get the first goal in both games. Saturday, new Minnesota starter Sidney Peters made one mistake, and her team couldn't find an equalizer. After having a power play that converted more than 30 percent of the time in all four seasons of Hannah Brandt's career, the Gophers currently have clicked on only one of their first 10 tries without her, and that's probably not just a coincidence. I expect Minnesota to drop a bit over the first half of the season, but if things fall into place, they might still contend once the postseason arrives. The Beavers will be a thorn in the side of anyone they play, and if they can find enough offense to hold their own against teams like North Dakota and UMD, they should hang around the playoff picture.
I think a bigger surprise was Wisconsin needing to rally to salvage a tie versus Ohio State and new coach Nadine Muzerall. Given the Badgers have most of their key pieces back, and Muzerall's still trying to sort out exactly what she has on her roster, I wouldn't have figured it to come down to a shootout. We can chalk it up to the old hot-goalie explanation, but Wisconsin needed a late surge to take game two at St. Cloud State on opening weekend. Have you seen the Badgers yet? Do they miss Courtney Burke that much, or why do you think their scoring is down versus two opponents who ranked near the bottom nationally last season?
Nicole: I did see the Badgers on Friday, and I'll get to that, but I do think that we need to acknowledge Ohio State goalie Kassidy Sauve. She missed last season after surgery to repair both her right and left labrums. In 20 games in 2014-2015, she had a 9-11-0 record and a .925 save percentage. We're obviously looking at a small sample size here, but in her first five starts, her save percentage is .967, she's 2-1-1, she was named WCHA Defensive Player of the Week and she gave the Badgers fits this past weekend.
She's incredibly improved, has done nothing but gain confidence, and clearly used her time in rehab to get better.
As for the Badgers, they looked a little tentative this weekend. They were missing the crisp passing and dangerous shots that are part of their hallmark. They were coming off a bye week and were dealing with some emotional off-ice things. Lines were mixed up because of Sophia Shaver being gone. Sauve was very good. Those things could be excuses, or they could add up to an explanation.
As someone who's spent a lot of time watching them the past few seasons, it does seem like they go through stretches where they struggle to bury the puck, even when everything else seems to be going well. I'm not ready to worry about them, yet, but I would say I'm slightly concerned. They're still averaging 3.5 goals a game and both OSU and St. Cloud have shown they aren't the teams they were last season.
You were at the Minnesota/Bemidji game. Should Gophers fans be concerned? You mentioned Minnesota's power play in your recap — what did you see from them that could account for the 1-for-10 conversion rate?
Arlan: I forgot about Wisconsin dealing with family tragedy. My condolences to the Shaver family on their loss. Sometimes when teams have to deal with such things, it strengthens the bonds in the long term.
Gophers fans have been concerned all along because they knew that graduation was creating big holes to fill in goal, on the blue line, and up front. Minnesota had to deal with not having Amanda Kessel for more than two and a half years, so her loss is simpler to overcome. Brandt was the glue on the power play and for the offense in general. No matter what else was going on, Brad Frost knew he would always have at least one scoring line with her and any other two forwards. Milica McMillen also racked up a lot of power-play points during her career, and it will take time to replace her shot from the point.
One can't read too much into the power-play's performance in the opening weekend, and at Bemidji, it only had two opportunities in each game with all of them coming in the third periods. The second one on Friday was a case of the Gophers being up two goals with about two minutes left and just playing keep away rather than trying to score. So the real concern is failing on the two chances on Saturday when down a goal and needing one. That's the problem with looking too closely at this time of year — the numbers are all based on tiny sample sizes.
Minnesota's staff will have to build new power-play units and forward lines. I'd guess that sometime between now and February they will settle on some configuration. In my opinion, the biggest single question is how quickly Peters settles into the role of the starting goaltender. She's played so few minutes over the last three years that she doesn't yet seem to be at game speed. She'll need to adjust in the same way that freshmen skaters must.
There are a number of teams looking to break in new starters. Teams like Colgate, UMD, and North Dakota return goalies who saw quite a bit of action when they were backups. Others, like Peters, have to make the transition from playing rarely to starting most of the time. Sometimes, even an inexperienced backup goalie can prove costly. Senior Lexie Shaw has done great for the Fighting Hawks, but they started a freshman on Saturday, and St. Cloud scored three times on 14 shots against her to pull the upset.
Are there other goaltending situations around the country that you are watching?
Nicole: There was a good bit of goalie turnover this season. I struggled writing some of the conference previews because I felt like almost every team needed to answer its goalie question.
One that we won't get an answer to for a bit is at Harvard. Emerance Maschmeyer may be the goalie of the future for Hockey Canada. She's literally world-class. With the other Boston teams struggling, there may be a chance for Harvard to make waves, but they'll need to find someone solid in net first.
Another will be at Princeton. The Tigers' Kimberly Newell was crucial to their success last season.
I'm not a big fan of goaltending by committee, so in my opinion, any of the teams that are rotating goalies are question marks.
Union obviously overcame one hurdle, but I think if they can find someone solid to rely on in net, that win won't be a novelty, but a trend. They've tried all three of their freshman, sometimes splitting up games, but I still think they need to find a starter and stick with her.
Boston University has used both Victoria Hanson and Erin O'Neill in its first three games. The Terriers too will probably need to name a starter sooner rather than later.
St. Cloud State's Taylor Crosby had a big game against Wisconsin, despite the loss, but she left Saturday's game with a possible injury. She's been splitting time with Janine Adler.
However, the team that is most missing its graduated goalie is Lindenwood. Nicole Hensley turned out to be a heck of a get for the Lions. Now they've been spoiled by stellar goalkeeping and there's a lot of pressure on Jolene deBruyn and Morgan Skinner.
Looking ahead to next week, which games are you keeping an eye on?
Arlan: In general, I agree with you regarding goaltending by committee not working, but in both of Wisconsin's first two NCAA Championship seasons, Jessie Vetter emerged from a rotation during the season to be lights out in the big tourney, so it can work. I think this is the third season of a Hanson/O'Neill rotation at BU, and it hasn't produced quite that level of success.
I don't miss writing those conference previews, in large part because I had no idea who many of the incoming freshmen were and what they were expected to do.
As far as games next week go, Wisconsin at Clarkson is the obvious highlight of the schedule. The two teams met in Madison two years ago when the Golden Knights were the defending champs and played to a 1-1 draw in the series opener. Annie Pankowski exploded for a hat trick in one of the many shutouts that Ann-Renée Desbiens has produced in her career to give the Badgers a series win. It'll be interesting to see if Clarkson has some revenge in store in Potsdam.
Quinnipiac is at Mercyhurst for a couple of games that should be the best test to date for the Bobcats. The Lakers are still looking for their offensive touch after graduating Emily Janiga and Jenna Dingeldein and scoring just a goal per game versus North Dakota. Maybe Mike Sisti discovered something during their bye week. The teams met a year ago and the Bobcats ground out a one-goal win after the two teams tied in the opening game.
Minnesota-Duluth visits Minnesota; that used to be one of the best rivalries before the Bulldogs' stock dipped. I believe that the last time that they defeated their sister program was early in 2012; I don't remember the last time that they owned the better record heading into one of these showdowns.
There are also a couple of interesting series that pit CHA teams against Hockey East. Syracuse looks for its first win as it heads to Northeastern to face a team that likely hoped to be better than .500 at this point. The Orange are one of those teams that needs to find a goalie after Jenn Gilligan graduated, and they'll have to replace the spark that Melissa Piacentini and Nicole Ferrara provided.
We also have a series with two unbeaten teams when Vermont visits Robert Morris. The Colonials had some good young talent last season, and freshman Jaycee Gebhard is off to a quick start, tying for the team lead with six points through four games. The Catamounts never reached double digits in wins last season, so a fast start this time would be a most welcome change.
Where would you have the pilot fly this weekend if you had a private jet fueled and waiting on the runway?
Nicole: I think I'd have to head to Clarkson, though that Minnesota-Duluth/Minnesota match-up is mighty tempting. We'll see those two teams play again and Wisconsin at Clarkson is another of those rare East/West meetings that can help to gauge the relative power of other teams, so I'd have to pick that one.
Both games are intriguing because I have questions and want to know more about all four of those teams. Is UMD for real? Were Minnesota and Wisconsin's stumbles just that, or symptomatic of bigger issues they'll face down the stretch? Is Clarkson slipping from its perch atop the ECAC? Regardless of results, I think we'll have a clearer picture of who each of these teams really are after these series.
Reading back, I was worried I'd focused too much on the WCHA teams, but with five teams in the top 10, it's hard not to talk about what's happening out West. Despite the bumps this weekend, WCHA teams do seem to be out to prove something this season, especially UMD, Bemidji State, and North Dakota.
I'm not sure what to make of North Dakota yet. I'm not sure if they're ranked because of what they're doing or if it's just because they started on the poll and no one's forced them off yet. Lexie Shaw has thus far proven to be up to the task in net, though I do think they need to figure out some scoring if they want to keep in the national conversation.
As expected, Lara Stalder and Asheligh Brykaliuk have been stellar up front for UMD and the Bulldogs are averaging more than four goals a game. They certainly make it difficult to beat them when they're putting up those kinds of numbers.
If we're talking individual performances, we have to talk about Kennedy Marchment, Hannah Miller, and Brooke Webster at St. Lawrence. All three are in the top six in the country in scoring. They've accounted for 10 of the Saints' six goals after scoring a combined 34 goals all of last season. Clearly that line found another level this season.
Who else has caught your eye with early season performances?
Arlan: There was bound to be a changing of the guard at the top of the scoring charts after many of the top scoring threats graduated. Still, I'm a bit surprised when I glance at the list of those who lead the way in points per game thus far, and see nobody from BC, Minnesota, or Wisconsin.
Twelve people have exceeded a point and a half per game, and beyond the trio from St. Lawrence and the duo from UMD, there aren't many that I even remember mentioning in this column in the past. Taylar Cianfarano of Quinnipiac is one, and she's likely to be in the discussion throughout the year. BU's Sammy Davis had a knack for scoring timely goals as a rookie, and she leads in scoring average now, although it is ironic that all eight of her points came via assists. Meanwhile, teammate Samantha Sutherland has seven goals and no assists; evidently, the Terriers got their roles down early.
Vermont was one of those teams that had a tough time scoring last year, so it could be a sign of better days ahead that sophomore Saana Valkama and freshman Ève-Audrey Picard are both in the top 10. Maybe the Catamounts can improve on their Hockey East campaign of a year ago when they finished sixth, but won only six league games.
In terms of players that I've watched this season who stood out, after Brykaliuk and Stalder, it tapers off in a hurry. Caitrin Lonergan showed flashes for Boston College, and I expect she'll make some noise when she gets a few more games on her resume.
In general, there hasn't been a ton of scoring. It doesn't help that there is always talk of the officials cracking down on hooking and interference, but once the puck drops, such obstruction usually goes uncalled. I doubt we're going to see an increase in attendance to watch women's games where the game's only goal banks in off of a shin pad.
I'd best free up time to go check out some highlight videos. Maybe there are some tic-tac-toe goals being scored around the country and I'm oblivious, largely because I watch too many WCHA games. It makes me wonder what the over/under will be for Bemidji State versus North Dakota this year. I'm guessing about three … for all four games combined.
If you were tasked with increasing scoring in our sport, how would you go about it? Or do you think that it isn't necessarily a bad thing if we see a higher percentage of 1-0 games? Why not? It seems to work for soccer.
Nicole: I dislike the idea of trying to force changes in order to try and effect more scoring. I think things like this ebb and flow. Maybe it makes me a snob or a purist, but I also don't think the game should have to change to appease some need for scoring or excitement. If that's what it would take to gain more fans, I'm not sure I'd be on board.
This past week was a great example of the closing of the gap between the have and have-not schools in women's hockey. If a more even talent pool means that we have more 1-0 games, I'm on board.
I have a soft spot for goalies and we've been spoiled to see some stellar ladies between the pipes. I hope that fans can and do get just as excited for a great glove save as they do for a top-shelf goal.
I really believe that for women's hockey to continue to grow and gain respect, fans have to learn to appreciate the beauty of it as a separate entity from the men's game. The fluidity and flow, the passing and the skating — the things that come as a product of no checking and less stoppages of play — are what make women's hockey so interesting to watch, in my opinion.