Union senior forward Mike Vecchione has been named the Hockey Commissioners' Association National Division I Player of the Month for October.
The HCA National Rookie of the Month for October is Patrick Grasso from New Hampshire.
Union's captain, Vecchione finished the month as the Division I leader in goals (10) and multi-point games (5), ranking tied for first in both points (16) and points per game (2.00), tied for second in power-play goals (4), second in face-off wins (134) and tied for fourth in plus/minus (8).
Vecchione native produced at least one point in seven of eight games in Oct. and won 68.7 percent of his faceoffs (134-for-195).
He scored a career-high four goals and tied a career-high with five points in a 5-2 win against Niagara on Oct. 22, finishing the weekend with eight points (six goals, two assists), which earned him both ECAC Hockey Player of the Week honors and NCAA Division I First Star of the Week (Oct. 25). On Oct. 7, he produced two points (goal, assist) in a 4-3 win at then-No. 11 ranked Michigan in the season opener. On Oct. 21, he led the Dutchmen to a 5-2 win in their home-opening game at Messa Rink, scoring two goals and adding one assist. He also potted the overtime winner in a 3-2 victory against Rensselaer on Oct. 29 and assisted on the game-winning goal the previous evening, earning him a spot on the league's weekly honor roll.
Currently ranking third in Union's Division I era in career points (130), Vecchione is the Division I active career leader in points and assists (78) and sits tied for third in goals (52).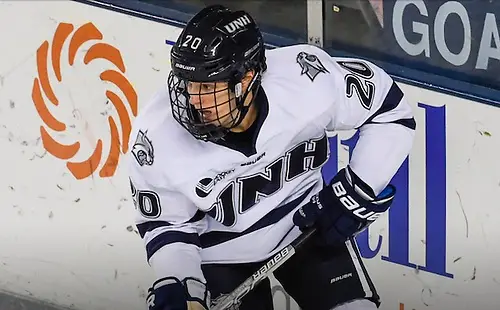 Grasso began his collegiate rookie campaign by collecting 10 points on eight goals and two assists in the month of October, good enough to lead all Hockey East rookies in points and goals.
In just six games on the month, Grasso leads the freshman class in power-play goals (5) and power-play points (6). His eight goals also rank second-most in the nation, and is the highest total by an NCAA rookie. In Hockey East conference play, his four goals and five points were good to lead the league.
Grasso recorded three multi-point efforts on the month, including a four-goal outing on October 29 against Merrimack. In that contest, he netted three goals in a span of 3:56 while also recorded the game-winning goal. The night prior, he set up the decisive tally in a 4-1 win over Massachusetts.
Currently, Grasso sits in second in the NCAA in goal scoring with eight strikes and 13th overall with his 10 points. The first-year forward also has yet to take a penalty through his first six games in a Wildcats uniform.