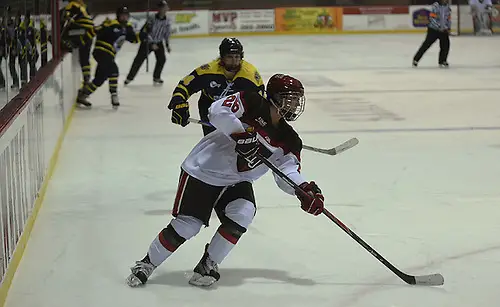 It's been a surprising and prolific start to the season for the St. Lawrence Saints. One of just four undefeated teams left, they've started the season 7-0-1. They are near the top in both team offense and team defense and junior Kennedy Marchment is the number two scorer in the country with six goals and 11 assists in just eight games played. She's the only player in the country averaging more than two points a game.
All this coming from a team that finished last season sixth in the ECAC and was picked seventh in the conference preseason polls.
Now the Saints are ranked seventh in the country and are about to face their toughest test as they play No. 10 Princeton and No. 5 Quinnipiac in back-to-back games this weekend.
Not only will they be tough tests on the ice, but it will be St. Lawrence's first real road trip in almost a month. Other than short drives as part of home-and-home series with Clarkson and Vermont, SLU hasn't traveled since they opened the season — and a lot of eyes — at Northeastern at the beginning of October.
Though maybe not one of the marquee rivalries that comes to mind in women's college hockey, coach Chris Wells said St. Lawrence's meetings with Princeton over the past few seasons have been close and almost always have playoff or postseason implications. Last season alone the teams played five times and the cumulative score was 14-13 in favor of the Saints. Both teams play a similar game, meaning they are chasing the same recruits and tend to know exactly what the other is doing. It was St. Lawrence that ousted the Tigers in the quarterfinals of the ECAC tournament.
They say good teams make their own luck, but with a game-winning goal in the final 15 seconds of the second game at Northeastern and another one with 30 seconds to go against Vermont, Wells knows that the Saints are getting some favorable bounces as well.
"We're ecstatic to be 7-0-1,  but we also understand that we've been very, very lucky," he said.
Despite increased interest in attention on the program as they've surpassed early season expectations, Wells doesn't think he or his players feel any additional pressure. That's facilitated by a lack of national media up in Canton, N.Y., Wells joked, but said recognition is the very last thing he or his staff are interested in receiving.
The team is focusing on this week's games and using their early success to guide them. The Saints scored three goals in the first seven minutes of their first game against Northeastern and Wells said it wasn't just a shot of confidence for the team, but a tidal wave. The Saints have only gotten more confident since then.
The early season success is something Wells and his staff have been focusing on and he gives credit to his players for coming back to campus fit and ready to build on the success they had at the end of last season.
"We've been able to kind of pick up where we left off," said Wells. "The kids who were contributing toward the end of the year came back to campus with the same mindset. They came back mentally and physically fresh. That's been a big difference."
Much of St. Lawrence's success sits at the skates of the top line of Marchment, Brooke Webster, and Hannah Miller. Collectively, they account for 17 of the Saints' 27 goals and 42 of their 72 points. All are among the 17 top scorers in the country.
"That line has been driving the bus; they've been fun to watch," said Wells. "When your top players are your hardest workers it makes all of our jobs easier."
All three are building on their successes from last season and Wells said they each bring something individually to the line that is somehow multiplied when they play together.
"They've found an incredible chemistry; they're probably the only ones that can describe it," he said.
Wells and the Saints know that their early success is no guarantee about how the rest of their season will go. It's a long season that just happens to have started out well for St. Lawrence and they likely have about 10 games against ranked teams to look for before it's over. So the Saints are trying to stay in the moment and focus on one game at a time.
"The non-Ivy teams tend to play a handful of nonconference games before they start their conference schedule,"  said Wells. "Then everyone takes a month off for exams and the holidays before heading into the final two months. I compare it to the Olympic 10,000 meter race. Everyone jogs for 24 laps and then sprint in toward the finish. Everyone just hopes they're Mo Farah at the finish."