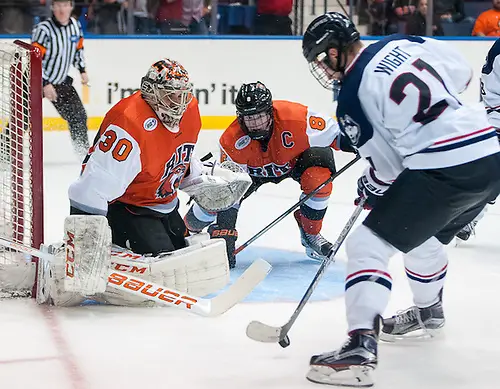 Atlantic Hockey coaches love to talk about parity, that on any given night, etc.
Coaches in every league at every level give similar lip service out of respect for their opponents. But for the past four or five years, the scoreboard has shown that, night in and night out, it really happens in Atlantic Hockey.
So far this season, there have been a total of seven weekend conference series, and only once has a team been able to capture all four points. It happened last weekend, when Rochester Institute of Technology game out on top of both games of a lively series at Bentley, 4-1 on Friday and 6-3 on Saturday.
Special teams, which had been the RIT's Achilles' heel so far, came through. The Tigers scored a power-play goal in each game, and more importantly, held the Falcons to 0-7 with the man advantage on the weekend.
"Our penalty kill has not been up to its standard," said RIT coach Wayne Wilson. "If it was, not perfect, but just up to our standards, we could be undefeated."
Wilson's team allowed a total of nine power-play goals in losses to Robert Morris, Union and Rensselaer. Coming into last weekend at Bentley, the Tigers were just 69% on the penalty kill.
"It's not just the way we took the penalties, it's how handled them," said Wilson. "Coming into this season, (penalty killing) was a strength, with a lot of returning players who have spent a lot of time killing penalties. We were not getting the job done. It's definitely been a focus for us."
Things paid off against Bentley, traditionally one of the top teams in the league with the man advantage.
"It was a good effort all weekend," said Wilson. "We can build on that."
Another point of emphasis for RIT was holding onto a lead, which the Tigers were able to do both nights. RIT faltered in its last conference game, a 6-5 loss to Robert Morris that saw the Tigers blow a 5-1 lead thanks to penalties and an inability to kill them off.
"We learned our lesson, and it was a hard lesson," said Wilson. "We had played well the first night and most of the next night (against Robert Morris). But then we got kicked in the teeth."
This past Saturday, RIT held a 5-1 lead but saw it slip to 5-3 when the Falcons attempted a third period comeback. This time, the Tigers responded and held Bentley off the scoreboard over the final 15 minutes.
The reward was four big points.
"You have to get points every weekend if you want to finish in the top half of the league," said Wilson. "And every season that's more difficult. Anyone can beat anyone and so far the results show that."
One of the keys to the Tigers' 3-1 record in league play are contributions by freshman, especially on defense. Adam Brubaker has three goals so far, including two game winners. Brody Valette has chipped in a goal, and classmate Darren Brady has two helpers.
Up front, it's been sophomores leading the way. Erik Brown leads the team in goals with six– he had a total of seven all last season. Classmates Gabe Valenzuela (four goals) and Liam Kerins (three goals) have gotten off to fast starts.
Ravaged by injuries last season, the two-time defending champions are healthy right now, which presents a different kind of problem for Wilson.
"We've got 26 really good hockey players," he said. "That makes for difficult coaching decisions. Everyone at this point deserves to be playing, so it's a different lineup every night to keep everyone happy.
"I'm sure the injuries will come, but for now, we like everybody and want to give them a chance to play."
Brick wall
Army West Point goaltender Park Gahagen had another impressive weekend, helping the Black Knights to a road split at Robert Morris. He allowed a pair of goals in a 2-1 loss on Friday, and then just one the next night as Army turned the tables with a 2-1 win of its own.
The Colonials rained 21 shots on Gahagen in the third period on Saturday, only finding the back of the net once, on the power play with about five minutes left.
Gahagen allowed just three goals on 66 shots in total for the weekend. He currently has a 1.32 GAA and a .995 save percentage. That's good for fourth nationally, with the three goalies ahead of him playing significantly less minutes so far.
"Hats off to Gahagen at the end there," RMU coach Derek Schooley told Pittsburgh Hockey Digest. "I don't know how he was keeping those pucks out. They were hitting him, they'd hit a leg and still hit him. It was amazing, actually, how all of them were staying out."
Coming up, Army West Point hosts Air Force in its biggest rivalry weekend of the season. The Black Knights haven't beaten the Falcons since 2011 (0-7-3). We'll see if Gahagen can be the difference this time.
Putting the "International" in American International
American International has a long history of admitting students from other nations (it's in the school's name, after all). The Yellow Jackets are taking full advantage, with six international players on the roster, all freshmen.
Dominik Florián (Czech Republic) currently leads the team in scoring with three goals and two assists in five games. Right behind him are Janis Jaks (Latvia) and Hugo Reinhardt (Sweden) with four points, and Martin Melberg (Sweden) with three.
Goaltender Zackarias Skog (Sweden) has made three starts in net, posting a 4.14 Goals Against Average and a .889 save percentage.
All six played junior hockey in the U.S. prior to attending AIC.
Downward trend
I'm not bringing up the league's non-conference record again to be a downer, but since Dan Rubin and I were crowing about it earlier in the season, it's only fair to check in when things aren't going so well.
And things aren't going so well.
Atlantic Hockey teams went 1-5 in non-league play this last week (not including Tuesday's Holy Cross/Union game). That's on the heels of an 0-6-2 week, but after a promising 6-7-5 opening to the season.
The league's record now stands at 7-18-7 (.328), better than last season's .246 and also better than the WCHA so far (.258).
A challenging weekend is coming up. Mercyhurst travels to Merrimack and New Hampshire, Sacred Heart also visits UNH, Niagara is at No. 14 Penn State for two, and Robert Morris has a home-and-home series with No. 11 Ohio State.
Weekly Awards
Player of the Week — Erik Brown, Rochester Institute of Technology: The sophomore had three goals and a pair of assists in a sweep of Bentley. He has eight points in his last four games.
Goalie of the Week — Paul Berrafato, Holy Cross: The junior from Williamsville, N.Y. stopped all 23 shots he faced in a 3-0 blanking of Brown. It was his fourth career shutout.
Defensive Player of the Week — Brady Norrish, RIT: The junior captain had four assists last weekend, including a career-high three in a 4-1 win at Bentley. His eight assists leads the team.
Rookie of the Week — Brendan Soucie, Army West Point: Soucie had two of the Black Nights' three goals last weekend in a split with Robert Morris. He scored the only goal in a 2-1 loss on Friday, and then had the game winner in a 2-1 win the next night.