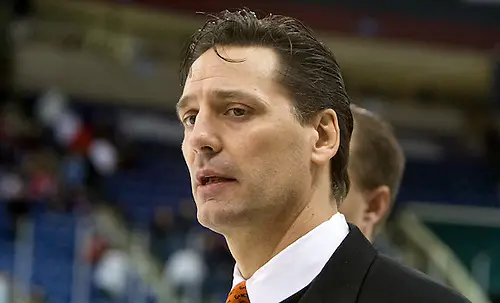 With a sizable roster turnover one might have assumed going into the season that Penn State's trend of improving its win total during the program's first three seasons might come to an end.
On the other hand, maybe not.
The Nittany Lions, with a roster that features 10 freshmen and eight sophomores, have gotten off to an impressive 5-1-1 record this season and, after starting the season unranked, have climbed to No. 14 in the USCHO.com Division I Men's Poll.
What has led to the good start? A little bit of everything.
"I think our power play is working very well, but our penalty kill has been excellent as well," PSU coach Guy Gadowsky said. "We're very happy with what we've done so far on the penalty kill. That's something that you have to cultivate continually, it's not something that you say you've got it or your work is done, you really have to continue to work at it all year long."
Even with officials calling games closer this season, the Nittany Lions have helped their penalty kill by simply staying out of the box altogether – something they didn't do very well last season.
"That was our biggest concern and No. 1 priority going into the year because we did take way more penalties than any other team in the Big Ten (last season) and that was something that was a really top concern to us," Gadowsky said of Penn State's 11.86 penalty-minutes per game average. "We examined a lot of reasons why, with video and others, and really tried to change things and educate our team on what you can and can't do. So far, I think it's been paying off."
Freshman Denis Smirnov leads the team with nine points so far and Gadowsky rattled off a sizable list of other freshmen and sophomores that he feels have gotten off to a good start.
Penn State's most important freshman, however, plays between the pipes. Peyton Jones has started off his career with a 5-0-1 record and currently holds a 2.11 GAA.
"When your goaltender plays great it's a lot easier for the team to get good results," Gadowsky said of Jones. "You don't know the difference whether it's just announced that he's the first star or that he got pulled from the game," he said. "His demeanor is the same, he's just so even-keeled and calm.
"Part of our penalty kill has been really good because he shows no panic. When you have a goaltender that is so calm and composed it really helps everybody and I think that has been a big factor for us."
Was Penn State's coaching staff expecting that type of composer out of Jones going into the season?
"We weren't [and] actually, that was a pleasant surprise," Gadowsky said. "We knew he was a great athlete and we knew he was a great goaltender. We didn't expect his demeanor to be so veteran-like."
Gadowsky also credited the upperclassmen for helping acclimate the youngsters to college hockey and to the school itself.
"Everything that I've heard is that our young guys really enjoy the relationships that they're building with our upperclassmen and that it's been very beneficial for them to navigate Penn State as well," he said.
So far this season, the Nittany Lions has shown the ability to carry momentum from one weekend to the next. Their opening-weekend split with then-ranked St. Lawrence led to a blowout-victory on the road at Mercyhurst, which led to a tie and overtime victory at Notre Dame.
"Friday we came out and, although we allowed a goal late in the third for them to tie us, we came away from that experience knowing that we can play with them," Gadowsky said of the weekend at Norte Dame. "Then to prove it again the next night, it was more than the 'W,' it was the confidence that we can play with a great team that's very well coached and we can hang with them. That was a big boost to our overall confidence."
Last weekend, the Nittany Lions swept Canisius at home. In a style that has become common for Penn State, it fired a boatload of pucks on net during the two games – 112 to be exact.
"I think we've led the nation in shots the last two years in a row, so it's not totally uncommon," Gadowsky said. "We have guys the really love to score goals and guys that really love to score goals shoot the puck."
Penn State will close out the season's first half by playing four series at home. With the way the team loves to play at Pegula Ice Arena, that fact gives it the opportunity to keep this run going.
"We're fortunate to have a stretch here that we play at home," Gadowsky said. "We pay for it a little bit on the back end so we better take advantage of it now."
Minnesota and North Dakota to renew rivalry
Minnesota and North Dakota will play each other in the regular season for the first time since both schools departed the WCHA this weekend at Mariucci Arena. The Gophers defeated North Dakota 5-1 before tying the second game of the series 4-4 in January 2013. The two schools met at the 2014 NCAA Frozen Four semifinal, which the Gophers won 2-1 on a last-second goal.
Minnesota is 146-130-15 all-time against the Fighting Hawks. This will be the first time UND has faced the Gophers under head coach Brad Berry. North Dakota was swept by Minnesota-Duluth last weekend.
Three Stars of the Week
First star — Ohio State junior forward Matthew Weis: Weis scored two goals and added four assists to help the Buckeyes sweep Niagara and stay undefeated last weekend. He set a career high with four points in Friday's game and tied a career high with three assists. This is his first career Big Ten weekly award.
Second star — Wisconsin sophomore forward Luke Kunin: Kunin scored two goals during the Badgers' 5-2 victory over St. Lawrence on Friday and added a goal and two assists in Saturday's defeat of Clarkson. This is his second career Big Ten weekly award.
Third star — Ohio State sophomore defenseman Tommy Parran: Parran lit the lamp twice and added an assist during the Buckeyes' win over Niagara on Friday and recorded a pair of assists to help Ohio State complete the sweep.
B1G in the poll
No. 11 Ohio State, No. 13 Minnesota, No. 14 Penn State and No. 17 Michigan represent the Big Ten in this week's USCHO.com Division I Men's Poll. Wisconsin received votes in the poll.
My ballot
1. Minnesota-Duluth
2. Denver
3. North Dakota
4. Boston University
5. Massachusetts-Lowell
6. Minnesota State
7. Boston College
8. Notre Dame
9. Quinnipiac
10. St. Cloud State
11. Harvard
12. Ohio State
13. Minnesota
14. Providence
15. Penn State
16. Yale
17. Northeastern
18. Bemidji State
19. Michigan
20. Lake Superior
This week's matchups
Penn State vs. Niagara (Thursday and Friday, Pegula Ice Arena)
Michigan at Arizona State (Friday, Gila River Arena)
Michigan State vs. Michigan Tech (Friday and Saturday, Munn Ice Arena)
Ohio State vs. Robert Morris (Friday, Value City Arena)
Minnesota vs. North Dakota (Friday and Saturday, Mariucci Arena)
Wisconsin vs. Northern Michigan (Friday and Saturday, Kohl Center)