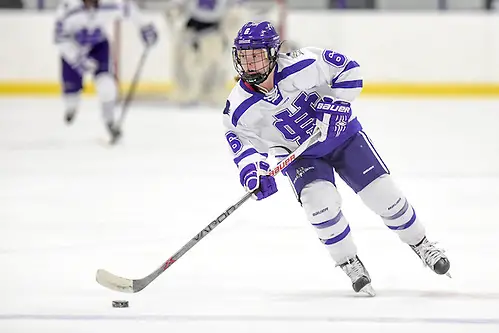 Arlan: Last season in our final Wednesday Women, you and I were still discussing the possibility of a perfect season by Boston College. This year, we'll have to find other things to talk about, Candace, because as we collaborate for the first time, no team is perfect. Luckily, there are plenty of other topics that await.
Perfection is gone, but Wisconsin, St. Lawrence, Colgate, and Princeton are still undefeated. In the ECAC, everything looks like it will be contested to the end: the title, home ice, and getting into the top eight to make the postseason. Plus, it already has the makings of a year where the top three in the ECAC will advance to the NCAA tournament, so that's another cutoff to watch, and likely the most important one of all.
At the top of the rankings, the Badgers continue their presumed march to a championship, but now they head into their final series before a bye week with a question mark concerning the status of standout goaltender Ann-Renée Desbiens, who was forced from the second game at Minnesota State with an injury in the final seconds. Hopefully, she returns quickly and is able to continue rewriting the record book.
She wasn't the only WCHA star to suffer an injury, as Bemidji State defenseman Alexis Joyce had to leave in the final period against North Dakota as the Beavers were swept. For a team that struggles to score, she is crucial to their hopes of generating offense from the blue line.
Robert Morris found just enough punch to sweep Mercyhurst by identical 2-1 scores. We've seen the Lakers overcome similar stumbles in recent years, but even though they are traditionally strong finishers, they'd best not let the field grab too large of a lead.
Harvard didn't resemble a team that played in the championship game in March 2015 as it fell by identical 4-0 scores on both stops in the North Country. Neither was an upset, as both Clarkson and St. Lawrence are ranked, but one would still expect tighter games.
The biggest surprise in the circuit was Rensselaer combining 41 saves by Lovisa Selander with a late goal from newcomer Sabrina Repaci to knock Cornell from the unbeaten ranks. As long as the Engineers have Selander between the pipes, opponents will have to earn their points.
In Hockey East, Merrimack did its part to muddy the waters by going on the road to stun Northeastern before returning home with a flat performance against Providence. That league is looking more and more like it will once more be BC on top and everyone else fighting for the scraps.
The biggest news of the week, at least in terms of the larger picture, was Holy Cross announcing its intention to join a D-I league and compete full time at that level. You covered that news this week and wrote that the Crusaders are considering their options with Hockey East, ECAC Hockey, and College Hockey America. Where do you see Holy Cross ultimately landing, and what will it mean for our sport?
Candace: Hi Arlan, and I'm excited to be back chatting about our favorite sport with you. The announcement by Holy Cross is exciting in a few ways. HC has always been technically a D-I, but has played a D-III schedule. That meant that its team couldn't advance to a national tournament, and it couldn't play last year in the NEHC postseason tournament, nor before that in the ECAC East. Holy Cross could have gone the Sacred Heart route, playing as a D-I independent and treating the sport like a red-headed stepchild, but the decision to seek conference affiliation shows to me a commitment to the sport by the school.
As for where the Crusaders could end up, part of that will be determined by what conference will take them. Athletic Director Nathan Pine indicated to me that the CHA, ECAC and Hockey East were all on the table. However, I don't see anything happening with the ECAC. That league is full, and while I could see Holy Cross' school administration have some desire to be in a conference with the Ivies, since the school has always prided its academics beyond anything else, the ECAC being full means that a current ECAC school would have to leave the conference for Holy Cross to be allowed in. The only current ECAC school that I could see having any desire at all to leave would be Quinnipiac, but the Bobcats seem happy where they are, especially since the men just advanced to the national championship last year.
That leaves the CHA and Hockey East. On the face of it, the CHA seems like a more likely choice, since the Holy Cross men's team plays in Atlantic Hockey with three teams that currently have women's programs in the CHA: Mercyhurst, RIT and Robert Morris. The men's team has had success in Atlantic Hockey, and has a long tradition in the conference. Hockey East is also a possibility though, in that the men's and women's Hockey East conference each have an odd number of teams. I don't think Hockey East will accept just the women though, so Holy Cross would also have to be willing to upgrade the men's program and commit to Hockey East and leave Atlantic Hockey. Betting odds lean more toward the CHA for the women, but I don't discount Hockey East as a possibility.
The next question is how can the Crusaders get out front on the recruiting battle and have some success early. There are some examples for Holy Cross to follow. RIT had almost immediate success at the D-I level, but the Tigers had won the D-III national championship the year before they moved up to D-I, and at least for the women, the talent disparity between the best of D-III and the mid-to-lower tiers of D-I isn't as drastic as it is for the men. RIT advanced to the CHA tournament final the year after they won the national championship at D-III. However, since the graduation of Ali Binnington, who was in net for RIT when the Tigers won that championship, the squad has struggled to have the same level of success.
Penn State started in the CHA the same year the Tigers did, and the Nittany Lions struggled a lot more, not getting a win over a D-I opponent that year.
However, if Holy Cross wants to look to a team as a template, it could do far worse than looking at Merrimack. The Warriors are in their second year as a program and have already shown great improvement. In their first year, they racked up a few wins, but couldn't maintain it. This year, they've certainly made me take notice. I'll admit that I wrote the 5-1 win over Maine off as the Black Bears having an off night, but then the Warriors beat and tied Robert Morris, and this past weekend, in a shocker, beat Northeastern, which had been red hot. The Warriors are still a little too inconsistent, as they followed that emotional win with a bad 6-2 loss to Providence, but I'm beginning to wonder if Merrimack might make the Hockey East tournament this year. What's your take on the Warriors?
Arlan: I agree with your assessment of the Warriors as inconsistent. I suppose that is totally understandable for a couple of reasons.
Merrimack is playing opponents that have four recruiting classes, while it only has two of its own. Erin Hamlen's team has some talent, to be sure, but at a certain point the line charts have to start to tilt in favor of the other team. There are many things that go into deciding the winner of a hockey game, and on the days when depth turns out to be the determining factor, that doesn't bode well for the Warriors.
Along with the lack of depth, they want for experience with a roster comprised of seniors Marie Delarbre and Samantha Saulnier, five freshmen, and 17 sophomores. Of course, that's an improvement over last year when all of those sophomores were rookies and most of the team was still trying to figure out what college hockey was all about.
Young teams typically have more potential to improve over the course of the year. That potential isn't always realized, but should Merrimack reach the postseason, it could present a dangerous obstacle in some team's path.
One key, as it always is, will be goaltending. Samantha Ridgewell was one of the brightest spots in the last year's lineup, posting a more-than-respectable save percentage of .925. She hasn't found the same form this year and has only played a couple of games. Is she dealing with an injury, or did freshman Léa-Kristine Demers come in and take the starting job away? We'll have to watch how the position plays out over the season.
The good news is that scoring is up. With 28 goals through 10 games, the Warriors are almost halfway to the 57 they potted in their debut campaign, and the production is coming from several different sources.
Maybe inconsistency just goes with the territory in Hockey East. BC beats Quinnipiac but loses to Maine. Vermont beats Boston University but loses to New Hampshire. Providence has been the most predictable to date in terms of winning and losing against the opponents one would expect, and we've seen enough of the Friars over the years to know that won't continue for long.
What do you think of Hockey East as a whole? Is there any potential challenger on the horizon for the Eagles? BU has historically filled this role, and a case can be made for Northeastern, but the Huskies' performance against St. Lawrence in the opener and the home loss to Merrimack suggest otherwise. BC has won the last three season titles by eight, 10, and nine points. Will this year be any different?
Candace: I don't think so, but BC is a little more vulnerable this season than last, when Alex Carpenter and Haley Skarupa could save the day, but the Eagles are starting to show some positive signs since a shaky opening weekend against Minnesota-Duluth and then the loss to Maine. Freshman Caitrin Lonergan is showing, at least through 10 games, that she wants to fill that Carpenter/Skarupa role, as she has 11 points and is averaging 1.1 points a game. Senior Andie Anastos has six points in her last three games, after going six games without a point. Coincidentally, BC has won the last three games, including the impressive win over Quinnipiac. If Anastos can continue to improve her point production to where it's at least at what it was last year, if not higher, and sophomore Makenna Newkirk can come on as well, BC will be in a good spot to again capture Hockey East. Newkirk is definitely off in her point production as well, and didn't register a point in her first four games, but has shown some signs of coming around.
Who can challenge BC over the course of a long season? BU and Northeastern certainly have the players who could help do so, and Merrimack, Providence, and Vermont have all shown some good things so far. Ironically, Maine is 1-5 in conference, and the Black Bears' only win was against the Eagles.
I mentioned Duluth earlier. It's been nice to see the Bulldogs on a tear again, and back in the hunt, after all the controversy that has swirled around the program the last couple of years. They are getting impressive offensive production from Lara Stalder, Katherine McGovern, and  Ashleigh Brykaliuk, and sophomore Maddie Rooney is showing signs of becoming a solid starter in net. The Bulldogs got an impressive sweep of Ohio State this past weekend, a series that in the past few years at least might have seen them drop a game when they let their guard down. The Bulldogs are undefeated at home and .500 on the road, with those two losses coming in Minneapolis to arch-rival Minnesota. The Bulldogs have another tough test to pass in their next weekend out in two weeks to show that they are back in the national title hunt when they travel to Grand Forks to face North Dakota. I find that just a little ironic, since the men's team just swept No. 1 North Dakota last weekend in Duluth, getting their first sweep of the Fighting Hawks since 1995, and first home sweep since 1992.
Regardless, if the Bulldogs want to be in the conversation for an at-large bid to the NCAA tournament, I think they need to get at least a win and a tie in North Dakota. Do you see it the same way? What's your take on the Bulldogs? After North Dakota, they host No. 1 Wisconsin. Could that weekend end up being the Badgers first loss of the year?
Arlan: First, just a comment on Anastos. She was knocked out of the game I watched in Duluth with an injury, so that was the main factor in her being held off the score sheet in the stretch you referenced.
In the upcoming series in Grand Forks, I don't think that UMD needs a series win. A split would likely suffice. It went 1-3 against Brian Idalski's team last season, and the 'Dogs haven't won the season series over UND since 2011-12. So a split on the road would be a good result for them, in my opinion. With the softness we've seen from Hockey East thus far, no apparent power team in the CHA, and teams in the ECAC lining up to take chunks out of each other, this season sets up well for the WCHA's third team. A split keeps UMD on the inside track with the strong result against BC, the lead in the conference standings, and the rematch at AMSOIL Arena come February.
As for whether the Bulldogs could upset Wisconsin, maybe, but I tend to doubt it. They came oh so close against the Gophers, but I think Wisconsin is farther along than Minnesota was that weekend. UMD deserved some points that weekend, but it couldn't hold on to a third-period lead in the second game and lost in overtime. They definitely have the ingredients to scare anyone, with a dangerous top line, a goaltender who can take over a game when she's on, and a underrated leader on the blue line in Sidney Morin. However, the Badgers can match or exceed all of those strengths, with scorers like juniors Annie Pankowski and Emily Clark, who have been relatively quiet to this point, and Sarah Nurse, who looks to be on the verge of a big senior season. Jenny Ryan contributes many of the same talents in Mark Johnson's D corps. Desbiens gives UW an edge in net against just about anyone. Of course, this assumes that she is able to take her spot in Wisconsin's net for that series in Duluth. If not, then the complexion changes.
Let's look at UMD at North Dakota from the hosts' perspective. Most people have been a bit down on the Fighting Hawks so far this year, but they're back in the rankings this week after sweeping Bemidji State, something neither the Bulldogs nor Gophers could do. UND is only averaging 2.6 goals per game, but that's actually an improvement over last year. The attack is largely led by the senior class, but freshmen Emma Nuutinen and Abbey Stanley have contributed, and everyone is going to know who Ryleigh Houston is by the time her career is complete. Goals allowed is better, albeit by a tiny fraction, and Lexie Shaw has seamlessly taken over for Shelby Amsley-Benzie.
North Dakota might not earn a lot of style points these days, but there aren't many teams in the East who could travel to Grand Forks and return home with two wins. It is a very hard destination for even the strongest teams. Do you give the Fighting Hawks any chance to earn their way into the national tournament?
Candace: Yes, but if it happens, it's at the expense of Minnesota-Duluth and Bemidji State. There are four spots claimed automatically to the conference tournament champions. Realistically, five spots are taken between the ECAC tournament champ, the Hockey East tournament champ, the CHA tournament champ, the WCHA tournament champ, and whichever of Minnesota or Wisconsin doesn't win the WCHA tournament, because IMHO, it is neigh impossible to beat those two teams back-to-back on consecutive nights. That leaves three spots left for teams to get at-large bids.
A lot of weird things can happen true, like say BC is high enough in the PairWise that it qualifies as an at-large team, but loses in the Hockey East tournament, so there is a different team with that bid and then two Hockey East teams. The ECAC teams will take chunks out of each other true, but I figure two plus the conference champ get in. As of this point, it's Quinnipiac, Colgate, St. Lawrence, Clarkson, and Princeton fighting to win the ECAC tournament and get at-large bids.  I think this season, three ECAC teams are going to get in, which leaves three spots for the WCHA squads, one of which is realistically available, since Wisconsin and Minnesota are likely locks.
For North Dakota to get in as an at-large team, they need to win the season series against Duluth, going 3-1 or so, and not take bad losses that have plagued them in past, like losing to Ohio State. Unfortunately for the Fighting Hawks, they already have one loss that could deny them an at-large, the loss to St. Cloud State on Oct. 8. It's tough to think that a loss on the first or second weekend could negatively affect a team's chances so drastically, but that's the system.
We'll know more about North Dakota by Thanksgiving, as after next weekend's Duluth series, the Hawks play Minnesota. They need to go at least 2-2 on those weekends to have a shot at the at-large spot. I have been impressed by North Dakota so far and have voted for them in the poll I think every week. Shaw is proving to be an outstanding goalie, with the fourth-best save percentage in the country. That critical stat, goal differential, isn't bad for North Dakota as a result, as the Hawks only give up 1.7 goals per game on average, and the penalty kill is second in the country, trailing only Bemidji State, killing off 44 of 46 chances so far.
Ironically, that last stat is one of Minnesota-Duluth's few weaknesses, as the Bulldogs are near the bottom in PK success, killing off only 30 of 40 chances, a 75 percent success rate. We know how important special teams are when the postseason starts, and that stat could come back to haunt Duluth if the Bulldogs are battling the Hawks for an at-large spot.
Let's head back East again. The competitiveness of the ECAC is truly amazing this season. I didn't even mention Cornell in my earlier list, but the Big Red, minus the loss to Rensselaer last weekend, have started well too. Who do you give the inside track to in the ECAC, for not only regular season crown, but tournament winner and qualifying for the NCAA tournament?
Arlan: We've seen in recent ECAC seasons that the league can produce different answers to each of those questions.
Quinnipiac took last year's season title, and the Bobcats look to be built to play the type of consistent hockey that translates into regular-season success. If you can make yourself very, very difficult to score against, then you'll at least be within striking range in almost all your games. More than any other team I watched last season, Quinnipiac just smothered opponents, and really didn't give them a chance to get anything going. The Bobcats' season ultimately ended when Clarkson struck right out of the gate in the NCAA quarterfinal, and Cassandra Turner's squad could never find an answer. That has been the Achilles' heel in Quinnipiac's game that has prevented it from accomplishing even more in its fairly brief history — the offense doesn't always result in goals in the biggest games. Some of that likely comes from a defense-first mentality, and the rest is just not having that many people who are natural point-producers. Now Taylar Cianfarano is an upperclassman and is closing in on the century mark in points for her career, as is senior Meghan Turner. Those two plus senior Emma Woods and Melissa Samoskevich will be tasked with doing the heavy lifting up front. Another senior, Taryn Baumgardt, anchors the blue line and chips in up front. In terms of the defense, I think that the Bobcats are still trying to find their way a bit after graduating Cydney Roesler and Kristen Tamberg; they just aren't as veteran laden on the back end as they were a year ago.
I'm sure that Clarkson will be in the mix again, and Princeton should be a factor, but the first full weekend of ECAC action suggested that the Tigers are lagging behind Quinnipiac at the moment. How much of that is the late Ivy League start or whether it is a sign that the Bobcats will be better once again remains to be revealed.
Colgate is very intriguing with the depth of offensive potential on its roster, but for the most part, that offense is still more promise than it is a proven commodity. None of the Raiders have reached 50 points in their career, although Breanne Wilson-Bennett is on the brink of doing so and as many as four others could join her before we've exhausted 2016. Colgate hasn't had a defining moment yet in its season because the level of competition hasn't been what the Raiders will soon face. They've come through thus far with the only blemish being a tie versus Syracuse. Their biggest weekend to date will come when the Raiders visit Princeton and Quinnipiac the third weekend of November.
Of all the ECAC teams, I've been the most impressed by St. Lawrence thus far. The Saints remind me a lot of a Western team like Minnesota-Duluth or Minnesota with the way that they play. Team speed is very good, there is skill throughout their lineup, the defense is mobile and can move the puck, and they have a top line that can do damage in a hurry. They are fun to watch. I must confess that they are the only ECAC team that I've been able to watch online more than once. I liked what I've seen from Chris Wells' team and have been voting them second on my USCHO poll ballot. I like their chances of getting back to the NCAA tournament if they can stay healthy. What have you seen from the ECAC in general, and do you share my impression of SLU?
Candace: I have been very impressed by St. Lawrence so far. The Saints made me take notice when they finally had success against Clarkson earlier in the year. Their arch-rival was a team they'd struggled against in recent years. Getting a win at home and then a tie on the road made me think this might be a different St. Lawrence team, and the convincing win over Harvard this past weekend was the follow-up. St. Lawrence has won with an explosive offense. Kennedy Marchment is on a tear, racking up 17 points and averaging more than two points a game. She's second in the country to Sarah Potomak of Minnesota in scoring, trailing her by one point, and she's played two less games than Potomak. Her linemates, Brooke Webster and Hannah Miller, are right there with her, averaging over 1.5 points a game. In the back, Grace Harrison has a 1.36 goals-against and a .936 save percentage.
St. Lawrence's offense falls off a little after its top line, and that is one reason the Saints are ranked eighth in team offense. I expect some of those teams above them will fall off that pace as the season progresses. St. Lawrence matches the offense with a strong defense which ranks fourth, giving up only 1.38 goals per game.
Having said that, ranking St. Lawrence second seems to me to be giving them a little too much credit. I've had them at five or six. I don't see the Saints yet as on par with Minnesota and Wisconsin, who have been 1-2 for me all year in my poll. I also think Duluth might be better than the Saints.
This weekend presents a tough test for the Saints, as they go on the road to face the Princeton/Quinnipiac travel pair. Both games are potential trap matchups for the Saints, but should they win both I might rethink who could come out on top in the ECAC. Obviously it's early in the season, and right now Colgate has three conference wins, Clarkson, Quinnipiac, and St. Lawrence all have two conference wins and no losses, and Princeton is one point behind with a tie and a win. I think the ECAC race is going to be very interesting this year. Regardless, playing Quinnipiac is the first we'll see of a common opponent for St. Lawrence versus, say, Boston College.
Clarkson also has the Princeton/Quinnipiac travel pair on the road this weekend. The Golden Knights have shown a few more signs of vulnerability. I think they miss Erin Ambrose on the blue line. However, when you look at the Clarkson record, they have beaten everyone they should, and only lost to Wisconsin and St. Lawrence. With Shea Tiley guarding the net, Clarkson will always be a tough out, and Cayley Mercer leads the forwards and scores at a good clip.
Like you, I've been impressed with Colgate. The Raiders really came out of nowhere last year, and are following it up with a strong start. I think they will be right there in the ECAC hunt all year long.
We haven't talked about the CHA yet. Robert Morris turned in an impressive sweep of Mercyhurst this weekend. The Lakers only have one win all year, ironically against Quinnipiac, of all teams. If the ECAC race looks tight, the CHA is even more so. What do you think of the CHA so far?
Arlan: At this point in time, it shapes up to be Robert Morris, Syracuse, and Mercyhurst in a tightly bunched pack with Penn State following behind, then a considerable distance back to Lindenwood, and RIT having a lot of work to do if the Tigers want to be relevant in this edition of the CHA.
A year ago, I really liked the Colonials' rookies, but young players can be up and down, and if you have to rely on too many of them to make an impact, it doesn't translate all that well into postseason success. Those players, as sophomores, should be in a better position to do what needs to be done, particularly in big moments. I think we saw a prime example of that from Kirsten Welsh over the weekend when she scored late in the third period to finalize the first win over the Lakers. You're less likely to see such contributions from a freshman defenseman. Not that it doesn't happen, but except for extraordinary players, it is more of a bonus than something a team can depend upon from a rookie. That play had to be particularly frustrating for the Lakers, as it came seconds after they had killed off a two-minute five-on-three advantage for RMU.
With each season that passes, players like Brittany Howard and Jessica Dodds grow more comfortable with their roles as leaders of the team. It looks like RMU has some depth in goal this year, as Lauren Bailey also notched a win over Mercyhurst, allowing a single goal in the process. Strength in that position is always a good thing, so that there is someone to keep things rolling if the starter is unavailable for a game or a dozen.
I'd say that the Colonials are as likely as anyone to find themselves in the championship game of the CHA tournament. As we've seen in the last couple of years, it is one thing to reach the final and another to find that goal in overtime needed to earn an NCAA berth.
Despite its record, I don't think Syracuse is that far away. It seems like the Orange have never really had that goaltender than can go out and on her own, if need be, win games for them. What if they could add someone like Selander at RPI or Swiss goalie Janine Alder, who was very impressive for St. Cloud State this past weekend when I got my first look at her? I think they've had teams the last couple of years that could have made the big tournament and put a scare into someone in the first round with such a backstop. Maybe new starter Abbey Miller can be that goalie. We'll have to watch and see.
What are you watching in the topsy-turvy CHA?
Candace: The question for me is whether Robert Morris can keep up the momentum. Beating Mercyhurst on consecutive nights could take a lot out of them emotionally, and getting two such important wins doesn't matter if RMU goes out and gets swept by Syracuse this weekend, or loses to RIT the weekend after that. I'd say that Robert Morris does have the depth, and I've actually been puzzled by the Colonials' relatively poor seasons the last couple of years, but we'll see. The thing with the CHA is that everyone makes the tournament, and then all they have to do is win four games and they get an invite to the big dance. More than the other three conferences, I think the CHA is the most unpredictable. We've seen teams come out of nowhere to win the tournament in recent years, and that happening again this season wouldn't surprise me.