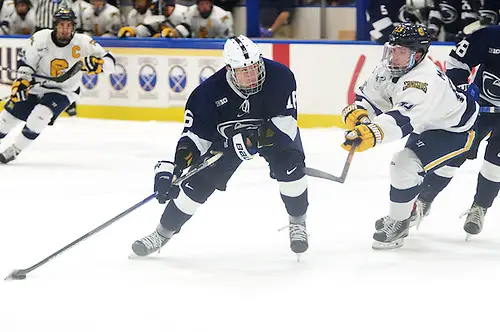 Each week during the season, we look at the big events and big games around Division I men's college hockey in Tuesday Morning Quarterback.
Jim: Well, Paula, our No. 1 team held serve this weekend but it wasn't easy. Minnesota-Duluth pulled out back-to-back 5-3 wins on the road against St. Cloud State in yet another pair of heavyweight battle for the Bulldogs. Both nights, UMD trailed in the second period, but rallied to win both games.
To say this is becoming commonplace for the Bulldogs might be an understatement. Many believe that if you can turn around a couple of games in the third period in a season, that's pretty good. But Minnesota-Duluth has now done it five times in 10 games.
It all began with overcoming a 3-1 deficit against Michigan Tech in the opening weekend with two of the final three goals coming in the third. A week later, the Bulldogs trailed UMass Lowell, 4-1, scored late in the second and then twice in the third to earn a tie. A night later, Lowell held a 1-0 lead late when the Bulldogs tied it. That game finished in a tie.
And then this weekend, the games were carbon copies. Fall behind 3-1, score in the final two minutes of the second to grab the momentum and then explode in the third.
I don't think this is healthy in the long term (and I'm not just talking about the impact on coach Scott Sandelin's heart). But there is also a confidence that no matter what happens throughout the game, your team has the confidence to come back. I guess it's kind of a double-edged sword.
Paula: I saw that again and again last season with Michigan, a team that would give up a large number of goals, but then take control of the third period with a talented offense that seemingly could score from anywhere. The confidence that builds in an entire team can carry a season pretty far – but, as you said, isn't healthy in the long run. Sooner or later, teams that rely on their ability to come back find themselves matched against a team that can hold on to a lead or an even better third-period squad. For teams like last year's Michigan team, it was the latter and in the form of North Dakota in the deciding game of the Midwest Regional. This year's Bulldogs may find themselves in the same position, very confident but outmatched in the NCAA tournament.
That early confidence being built, though, shouldn't be underestimated. As we've seen repeatedly in our careers, teams that on paper look as though they should have down years or rebuild often get a little success early, contributing to the overall team chemistry that can likewise reinforce confidence. In that regard, a team that is surprising me this year is Penn State. The Nittany Lions lost their first-ever senior class at the end of last season and they had many question marks coming in. Now they're 7-1-1 and averaging more than four goals per game, with 15 players on their roster having scored at least a goal.
Penn State swept Niagara at home this weekend, two 5-1 games, extending their unbeaten streak to 6-0-1. During that stretch, they've surrendered two goals only once. Their only loss this season was to St. Lawrence by a score of 6-3.
Looking at their schedule, it can be argued that they could play tougher opponents in the early going, but they have six more games remaining in a 10-game home stretch that culminates with their opening weekend of conference play against Michigan. Should they roll through upcoming Alaska-Anchorage and Arizona State, they should have all the confidence they need when the Wolverines come to town.
Jim: I think what I like the most about Penn State is where its scoring comes from. Sure, Andrew Sturtz has eight goals and rookie Dennis Smirnov has five goals and a team-high 15 points. But right now, 15 different players have scored goals for the Nittany Lions.
You mentioned the back end, where Peyton Jones has carried the bulk of the work in net. But both he and fellow netminder Chris Funkey have GAAs below 2.00. Any team that is allowing less than two goals a game is going to be a national power. Can this keep going? Time will tell. But I like Penn State's chances to enter Big Ten play with 10 or more wins.
Over in Hockey East, I'm impressed with a couple of teams. Boston College has slowly erased a 1-2-0 start to put together the nation's longest unbeaten streak at eight games (7-0-1). And UMass-Lowell, which faced off against a red-hot Vermont team last weekend, earned a weekend sweep to improve to 6-2-2 through 10 games. Add in Boston University at 4-2-1 and you have three Hockey East teams in the nation's top five.
That has been a trend in the USCHO.com poll this year. For the past couple of weeks, it was the NCHC with three top five teams (heck, one week, the NCHC held the top three spots). All of which makes me wonder: when it comes to the nation's top teams, is this another year for both Hockey East and the NCHC to dominate?
Paula: I think we'll find by the end of the season that the answer to that question is, "Yes, absolutely," unless the Big Ten remains competitive in nonconference play throughout the first half of its season. The NCHC and Hockey East benefit from having a number of programs that have been able to maintain excellence consistently in recent seasons, which is particularly admirable, in my opinion, when it comes to a new league like the NCHC. Because several of the teams in each of those leagues have had good starts against other good nonconference teams in the early going in recent years, the leagues have dominated the top 10 and positioned themselves well in the PairWise.
So far this year, the Big Ten has the second-best nonconference win percentage in Division I hockey, and three B1G teams – Penn State, Minnesota and Ohio State – are among the top 16 teams in the current PWR, and Wisconsin is No. 17. Should Big Ten hockey continue to fare well in nonconference play through the end of November, especially, there will be at least four B1G teams technically under consideration when league play begins in December and continues in earnest in January, and that may elevate the entire Big Ten.
But I always expect Hockey East and the NCHC to dominate. Always.
Thumbs Up/Thumbs Down
Thumbs Up
Thumbs up to Robert Morris for becoming the first team to beat Ohio State this season. The Colonials (3-3-2) beat the Buckeyes (5-1-3) soundly Friday night in Columbus, 6-2. Sophomore Alex Tonge had two goals, including the game-winning goal, and an assist in Friday's win. The teams tied the following night, 4-4, in Pittsburgh. Robert Morris is now 4-1-0 versus Ohio State in Columbus, but the Buckeyes have never lost in 84 Lumber Arena (2-0-2).
Thumbs Down
This weekend, hockey lost one of its good guys and long-time friend of the game, Bob Saunders. If anyone has been around Matthews Arena of the last couple of decades, you saw Bob. He gave his time to the Northeastern hockey program and worked under a number of different coaches on Huntington Avenue. Saunders was part of Mike Adessa's staff at Rensselaer for 11 years and won the national title in 1985. Last March, he was part of the Northeastern team that remarkably rallied to the Hockey East title. Our hearts go out to the Northeastern program and Bob's family.