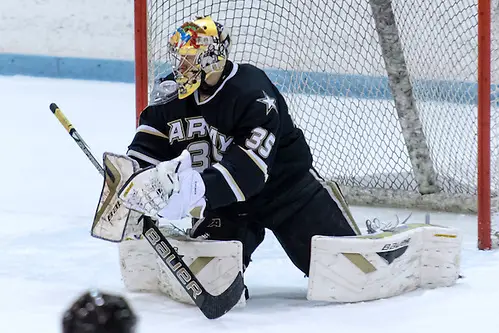 Each week during the season, we look at the big events and big games around Division I men's college hockey in Tuesday Morning Quarterback.
Paula: Jimmy, it seems that every weekend this season has been an interesting weekend, and every Monday you and I always find something to surprise us. One of the things that surprises me this week is North Dakota's continue slide and the poll voters' reaction to it. The Fighting Hawks are 0-4-2 in their last six, all against ranked opponents. This past weekend, with their tie and loss to Denver, I expected the Fighting Hawks to drop out of the top 10. They were able to salvage a point in the shootout in Friday's 1-1 tie, but in each contest, they allowed the last goal in regulation. It makes me wonder if some voters look to the PairWise rankings, too, to determine placement of some teams. And all of that gets me thinking about the difference between polls and the PWR and the purpose of each.
Perhaps I shouldn't be surprised by this, but Bemidji State's continued success is impressive. The Beavers are 5-0-1 in their last six, having tied and defeated Minnesota State this past weekend — and they took the shootout point as well in Friday's 1-1 tie. In 12 games, they are lowest in the nation in average goals-against (1.33) and junior Michael Bitzer (.944 SV%, 1.32 GAA) is having a career season.
We talked last week about confidence, and the Fighting Hawks and Beavers seem like candidates for a study in contrasts. I wonder how long North Dakota will remain confident as the season progresses if they don't soon see rewards for their efforts. I don't have any doubt about Bemidji's confidence at this point.
Jim: I'll admit that I don't see North Dakota play often enough to make a proper judgement. I don't know their X's and O's and how the personnel is able or unable to execute each night. But I have had a few North Dakota fans who see the team regularly and have watched them for numerous seasons all tell me (mostly when they were ranked number one) that they didn't believe that the Fighting Hawks were a top team. Two separate people told me they will fight for home ice in the NCHC. And I get it. They lost a lot from a national championship team. It was almost undoubtable that North Dakota would still garner the votes to be the preseason number one. And a decent start kept them there. But maybe we're seeing the reality of what this team is – a good, middle-of-the-pack NCHC team.
Don't get me wrong. I think North Dakota will win more than a fair share of games. I expect them to be a 20-win team come season's end. But there will be bumps in the road.
As for Bemidji State, the Beavers are playing excellent hockey and people are beginning to recognize it. At 9-2-1, the Beavers are one of the hottest teams. Their only losses came against aforementioned North Dakota. Both came in Grand Forks when the Fighting Hawks were playing their best hockey. And both were one-goal losses.
What strikes me about Bemidji is that their WCHA schedule was so front-loaded with league games. Thus, the fast start has the Beavers at 9-0-1 in WCHA play. You can't take those wins away and thus every other team will be playing catchup with the Beavers for the rest of the season. You can't crown a champion in November. But if you could, Bemidji State might be the most worthy of that designation that I've ever seen this early in the season.
Paula: That is one of the main points about Bemidji, that they are off to that fast start in conference play – and in a league that started very slow this season, putting everyone in the position of having to chase BSU. I'm sure that many other teams find that position enviable.
Another surprising team with a fast-ish start in conference play is Army. After sweeping Canisius at home last weekend, the Black Knights are 6-2-0 in conference play, 6-3-1 overall, and are 20th in the PairWise, a statistic that is only anecdotal but interesting nonetheless, given that Air Force (No. 21) and Robert Morris (No. 19) are where they are in the PWR. I mentioned Bitzer and the season he's having, but Army senior Parker Gahagen (1.40 GAA) is second only to Bitzer (1.32 GAA) in goals against nationally, and Gahagen's .949 save percentage is the fourth-best in the country. Like Bitzer, he's the only goalie his team has played this season. We both know that a team can sometimes ride a very good goaltender a very long way.
Jim: My USCHO Live! co-host, Ed Trefzger, who calls RIT games on radio and thus has seen a lot of Gahagen over the years, has been touting his prowess for a couple of seasons, dating back to the days when Army struggled. So it's very nice to see the product of his performances translating into wins for the Black Knights. Silently each year I find myself rooting for the military academies knowing these players are making more than a commitment to play hockey and get an education. I have always thought of both Army and Air Force as teams that consistently work hard and all so often that has made up for any talent gap that exists against non-military school opponents.
I would like to go back to goaltending and some of the nation's leaders. Looking at goals against average (and I know it is easy and the sample size can be small) but after Bitzer and Gahagen, the next three leaders in goals against are all freshmen. In fact, six of the top 10 goaltenders in GAA are rookies. I see a lot of Hockey East games where freshmen goaltenders seem to be the storyline of this young season, but in reality, I think there is a strong trend of top rookie goaltenders, which could be a very good trend going forward.
Paula: I think we may be seeing a good rookie class nationally, but a particularly good crop of rookie goaltenders. In my B1G column last week, I talked about how the rookies are contributing to play in that conference, and there's no doubt in my mind that an improvement in goaltending is contributing to an improved Big Ten overall.
I was able to see Boston University play Michigan at Yost Ice Arena Friday night, and Michigan freshman Hayden Lavigne (1.48 GAA, .956 SV%) made a pretty good case for himself for the starting position between the pipes there. Lavigne made 30 saves in his second shutout of the season against an aggressive Terriers team that outshot the Wolverines 30-21 and 15-2 in the second period alone. He's fourth in the nation for goals against and first nationally for save percentage, but the Wolverines have played three goaltenders this season. His classmate, Jack LaFontaine, was in net for Michigan's 4-2 loss to BU the following night, but he also stopped 30 shots. While LaFontaine's goals-against average is, well, average (2.70), his save percentage (.923) is a not-too-shabby (14th nationally). Of course, we know that teams can have varying degrees of confidence in front of different but talented netminders.
For the record, I thought that BU's Jake Oettinger (1.79, .932) looked a step off Friday, taking nothing away from some top-notch goal scoring from the Wolverines Friday. He did get Saturday's win for the Terriers.
The goals-against averages of rookie goaltenders nationally is impressive; nine of the top 20 GAAs belong to rookies, as do 10 of the top 20 save percentages.
A cursory glance at the success of the teams with promising rookie goaltenders yields some interesting stats. As you said, Hockey East is particularly gifted this year with good rookie goaltenders, with four freshmen whose stats have them in the top 20 nationally and at least one other, Boston College's Ryan Edquist (2.01 .909) undefeated in three games. Penn State has Peyton Jones (1.96, .919) as another freshman that can make bank, and Atlantic Hockey, the NCHC and the WCHA each have teams with an impressive newcomer.
Also interesting is that three teams with good rookie goalies – Robert Morris, Michigan and Michigan Tech – are currently not under consideration in the PWR, and that may be because they've rotated goaltenders more than other teams have in the early going. The other nine teams with rookie goalies whose GAAs are among the top 20 are TUC at this early point in the season.
Jim: You just mentioned Penn State and, though we've mentioned them before, I can't help but go back to the early play of the Nittany Lions. If this is a more established team, there's a chance that Penn State could be number one in the USCHO.com poll with a 9-1-1 record. Instead, they are 10th and constantly moving up. Sure, the Big Ten conference slate is a few weeks away from beginning and I think that will be their truest test. But everything that Guy Gadowsky and his team has shown to date is impressive and much more than I ever expected we would see four years after this program began their quest in the Big Ten and NCAA hockey.
Thumbs Up/Thumbs Down
Thumbs up to Arizona State for its overtime road win against New Hampshire Saturday. The game was tied, 2-2, after the second period, with each team exchanging goals in each of the first two periods, and then the Wildcats went ahead 4-2 in the third on two goals less than a minute apart before the period was three minutes old. The Sun Devils answered with two goals of their own to send the game to overtime, and freshman Brinson Pasichnuk scored the second OT game-winning goal in Sun Devils history 56 seconds into OT. Kudos to senior Robert Levin for his 32-save performance in Arizona State's net.
Thumbs down to the Zamboni at Northeastern. Sunday afternoon, while the Huskies and Notre Dame were embroiled in a heck of a game, a scoreless tie through two periods, one of the Zamboni's batteries died. The inability for the machine to power along the ice meant that the hot water kept flowing and created a rut in the ice that, though the building's Bull Gang worked hard to repair, couldn't get to a state that was safe for play. That meant that nearly three-and-a-half hours after the initial faceoff, it was decided that the game would be postponed. Whether the game is ever finished is yet to be seen. That will be decided later this week. And before you ask, no, this Zamboni is not (and could not be) as old as the century old building.