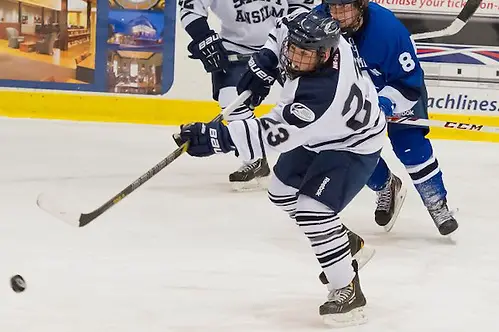 A couple of weeks ago, Holy Cross formally announced that its women's hockey program would be elevating itself to full Division I and looking to align with one of the existing conferences, either the CHA, ECAC, or Hockey East.
Holy Cross had played in the NEHC (New England Hockey Conference) and previously with other NEHC schools in the ECAC East. The Holy Cross women, along with St. Anselm, St. Michael's, and Franklin Pierce, were all "playing down" as programs, which meant that they were ineligible for official postseason play, either in the NEHC tournament or the Division III national tournament.
The NEHC is in its second year as a hockey-only conference. All the schools that formerly comprised the ECAC East moved to the NEHC.
"About three years ago, we made the decision to leave the ECAC and form our own conference with both men and women," said Norwich director of athletics Tony Mariano. "We didn't change any of the members. Everybody that was in the old ECAC East moved over to the new conference."
Katie Boldvich is the commissioner of the NEHC.
"I've been working with these schools for a while; this is my fourth hockey season," said Boldvich. "I did work with them when I was with the ECAC, as I oversaw ECAC Division III hockey leagues, so this group was one of them."
While St. Anselm and St. Michael's compete in the men's NEHC, and those schools, along with Holy Cross and Franklin Pierce, also compete in the women's NEHC, that will no longer be an option going forward, as the NEHC will, starting in 2017-18, limit membership to schools that are only full Division III programs.
According to both Mariano, who serves on the NEHC executive committee, and Boldvich, that decision has been in the works for a while, and comes back to postseason opportunities for members of the leagues.
"There's been a long-standing conversation regarding the membership," said Boldvich. "The biggest concern was from some of the programs, since the NCAA tournament doesn't count games against non-D-III competition for the primary criteria for selection and seeding in the tournament. It was always a topic of conversation every year after teams would get selected and seeded in the tournament, whether or not we were hurting some of our Division III institutions with getting at-large bids, because they were essentially playing four games against opponents, whether single games against opponents in the women's conference, or the two in the men's conference that, quote-unquote didn't count for selection."
Mariano states that the existing D-II schools were working on trying to get an exemption to continue in the NEHC, but were unsuccessful.
"For three or four years, the Division II schools tried to get legislation at the NCAA level to allow those games to count," explained Mariano. "Those teams were following all the rules and regulations that our league has, so there were no scholarships and the starting dates were the same, and the NCAA rules they had to follow were stricter than the rules the Division III schools have to follow. They weren't successful in getting the NCAA to allow those games to count.
"We just felt that we were putting our Division III schools at a disadvantage when we compared to all the other Division III schools around the country vying for a limited number of at-large bids for the NCAA tournament."
When the NEHC decided to move to being an only D-III league, they put the schools it affected on notice, and also gave them the option to move to D-III if they wanted to remain in the league. However, since that affects other sports at the D-II schools, those institutions decided to stay at their level.
"We had actually been talking about it for the last two years, and basically what we said to the Division II institutions was if you want to look at dropping your program down to Division III and you were involved in that process, then we would keep you as a member of the conference," said Mariano. "I know St. Michael's had looked at doing that and started the process, and St. Anselm had done the same thing. We gave them a deadline of this past April to have made that decision and moving forward with dropping their programs to Division III, and both of those schools made the decision after they had initially started the process to withdraw that process and remain in Division II.
"Once that was determined, our conference, because we had that deadline of this past spring, made the decision in our meeting in May that we would eliminate those schools from the conference."
With these decisions made, the affected schools are now looking for a home. Holy Cross was only a member of the women's league, since the men play a full D-I schedule in Atlantic Hockey. Now the women will also move up. Franklin Pierce only competes in the NEHC in the women's league; the men currently compete in the D-II Northeast-10.
St. Anselm and St. Michael's were the two programs that competed in both the men's and women's league. The St. Anselm men will possibly join Franklin Pierce in the NE-10, while the women's outlook is less clear.
"We're continuing to explore all our options, kind of looking at everything and seeing what the best short and midterm solutions are for our programs; that's obviously one of the solutions that is on the table," said St. Anselm associate director of athletics Mitch Capelle regarding the men's team joining the NE-10.
Asked about the women's program, Capelle states, "I think there are a few schools that are in the same situation that we are without having a home or a place to play. We are doing the same thing with the women's that we are with the men's, which is exploring all options and seeing if there is something we can pull together with existing relationships, and see if there are scheduling options with other leagues that we can pull together."
St. Michael's director of athletics Chris Kenny laments the demise of existing rivalries with existing NEHC schools, but hopes that they can continue in some form.
"We were very sad to learn the outcome of that decision," said Kenny of the NEHC going to D-III only. "We knew it was on the horizon and we certainly understand and respect it, but nevertheless are disappointed to see our ties to the NEHC come to an end at the end of this season for our women's hockey program and our men's hockey program too. It's been a great association for us, and there are a lot of traditional rivals for our school in that group, so we are sorry to see that coming to an end. As far as what's next, we are exploring options at this point. It's an ongoing process. We are committed to the sport at the college obviously, so we are looking at our next-best option."
The option does exist to play one-offs against schools in the NEHC in the future. The schools will also likely look at other scheduling options in the Northeast.
"I think to play a game against a Division II school or a Division I school like Holy Cross might be OK, because it won't have as big an effect on the winning percentage and games not counting if you only have one game not counting, not four," said Mariano. "Four is a huge difference. I would think that based on schedules and teams needing an additional game, they may schedule a game with those Division II schools down the road, but I think it will be based on the individual school and there may be schools in the conference that feel they might not have a great opportunity to get an at-large bid so they may make a decision to play a Division II school."
Echoed Boldvich, "We're not restricting those institutions on who they can play out of the conference. It's still the coach's choice, and if they feel it's in their best interests to keep their relationships, they're able to do so."
There may be further changes on the horizon as well, pending the passage of legislation that is up for discussion at the next NCAA convention that will allow hockey to have scrimmages or exhibition games not count against the 25-game maximum.
"In many of the other sports, they have scrimmages that don't count, so there was an inequity there," said Mariano. "This year, at the NCAA convention, that piece of legislation is moving forward and I believe it's going to pass. That would offer the opportunity for any of the Division III schools to potentially play a scrimmage against St. Anselm or St. Michael's, and I think schools would do that."
Boldvich explained that the current NEHC coaches have been discussing this legislation with their ADs and getting them to build support for it.
"It gets voted on by the entire NCAA membership," said Boldvich. "The legislation isn't specific to ice hockey; it's actually for all sports and just looking at regulating them the same. Right now, if you look down the line, volleyball might have a scrimmage, hockey doesn't, soccer doesn't, basketball does, so this says what is considered an exemption, and any program can choose two exemptions they want to utilize as far as not counting games for the conference tournament. If a team wanted to do a scrimmage, they'd be able to. If they wanted to use two scrimmages, they'd be able to. If they wanted to do a foreign tour, or the U.S. Development Team, they'd be able to. It kind of lets the program dictate what's best for them in preparation for the season."