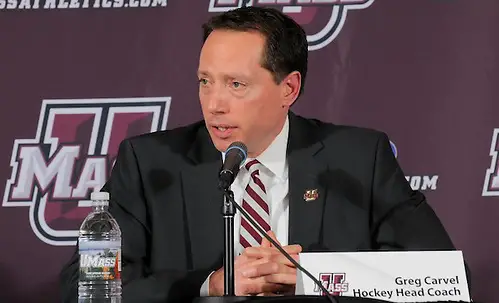 When Massachusetts entered Hockey East in 1994, short-term expectations were low.
There had been no UMass varsity hockey at all from 1979 to 1993, and the newly revived program had played only a smattering of Division I opponents the previous year, facing primarily D-III teams.
To no one's surprise, the Minutemen finished last in the league with a 3-21-0 record. The next four years, and seven of the next eight, they finished either last or next-to-last.
Fast forward a couple decades.
A year ago, UMass finished in the cellar for the second straight season, and in the two previous years it managed no better than next-to-last.
In the middle of those two bookends of futility, Don "Toot" Cahoon coached the team to its best years. He was awarded Hockey East Coach of the Year in 2003 for getting the program to a 10-14-0 record, good for sixth place, but also its first Hockey East tournament appearance in the Garden. A year later, the Minutemen finished third and advanced in the tournament to the championship game, losing a heartbreaker in triple overtime to Maine.
Three years after that, the Minutemen again advanced to the Garden and also earned their first NCAA tournament berth.
The peaks were glorious for those who followed the program, and this writer still wonders what Cahoon could have accomplished if he'd stayed at the helm, but unfortunately those high moments were more the exception than the rule.
In the program's 22 year existence, UMass has finished last or next-to-last 12 times. It has finished with a winning record in Hockey East only twice (although in 2009-2010 it came close with a 13-14-0 mark, leaving it in a tie for sixth place but only two points out of third). And in the what-have-you-done-for-me-lately world of sports, what matters most are the two statistics cited above: no winning records in the last nine years and last or next-to-last finishes the last four.
Enter new head coach Greg Carvel, hired from St. Lawrence where he fashioned winning records in three of his four years after taking over for SLU legend Joe Marsh. More notably, in Carvel's last two seasons the Saints finished second and fourth, respectively, in the ECAC. And it's not as though he took over a program that ran on auto-pilot. Two years before he arrived, St. Lawrence finished next-to-last.
"When I got to St. Lawrence, taking over from Joe Marsh, I wanted to continue what he had built," Carvel says. "Those were teams that played with a lot of passion, and they played hard and they played honest. It was just a matter of reviving that. My last couple of years there, we had teams that opponents in the ECAC knew were going to play hard, play fast and make you compete all night long.
"St. Lawrence had a tradition and history of championships. Here at UMass, we have a lot of building to do."
The building Carvel envisions involves fundamental principles first of all.
"We've got to create a culture where players understand the level of commitment, the level of conditioning, and the level of sacrifice that it takes to win," he says. "You have to have a culture of guys that hold each other accountable, that push each other. You need to get to the point where it's not the coaches that are demanding of the players, but the players are demanding of each other. We were able to get to that level at St. Lawrence. It's a process and the same thing that we're trying to instill here at UMass. It takes time.
"Words don't change it. Ultimately, it's the young men that go on the ice that have to make the change. That's what we've been preaching to our guys. It doesn't matter who the coach is. It doesn't matter what the system is. What matters is what the players do, and just how committed they can be. Can they keep developing and pushing themselves? When you get in an environment where everybody can do that, it really pushes the program forward."
Although the focus is on the long-term process, Carvel feels some recent results reflect those changes. Last year, the Minutemen got blown out a disheartening number of times; this year, only a 7-4 loss to Boston College qualifies. And Friday night, UMass traveled to Merrimack, a place where it hadn't won in nine years, and emerged with a 3-1 win.
"We're a quarter of the way through the year, and I'm happy with the progress," he says. "In our last three games, we've only given up five goals. That tells me we have a team that's committed to playing hard, and playing the right way without the puck."
It's a young team, as befits the building process. Only two seniors play regularly. Freshmen and sophomores dominate the lineup, and in promising fashion, the top of the scoring totals.
"They've been given opportunities," Carvel says. "You're seeing guys who if they were at different programs, they might not have the same opportunities. It's good to have those young kids playing important minutes, not just to find success on the ice, but to realize just what it takes to be effective.
"That's why I like that we dress seven or eight freshmen every night and have two freshman defensemen on our first power play. It's not that they've been very effective, but they're getting the experience so they realize where their game needs to get to. If they're not playing those minutes, they're not developing as quickly."
That said, the Minutemen will need strong recruiting under Carvel to make sustained improvement in the standings.
"It takes time to recruit the type of players that you think are required to fill your vision of the team, the way you want to play," he says. "I have my own vision of how I'd like my team to play, and it takes time to bring in those players."
It's really only with the current recruiting class that the UMass staff can really go after that vision in earnest. With almost any coaching change, recruits de-commit and go to another school after the coach that pursued them leaves. In Carvel's case, only two of this year's eight freshmen are holdovers from the previous regime who stuck with the program.
"We had to scramble," Carvel says. "A big part of recruiting is building relationships. This freshman class will be given a lot of opportunities, but we weren't really able to do our usual preparation with a recruiting class that you have committed for a year or two. You talk to them about their development and develop a relationship.
"That [lack of relationships] won't be the case next year. We've got six kids committed, and we're very very excited about all of them. It'll be a huge influx of skill and speed into our lineup."
Which is not to say that UMass stole kids destined to be high NHL draft picks from Boston College and Boston University.
"I don't think we can get in any recruiting wars with BU or BC," Carvel says. "They're recruiting a certain type of player, and we're recruiting a different type of player. It was the same thing with St. Lawrence. We never won a recruiting battle with Harvard or Yale. You know what type of players you're going to be able to bring to your school.
"Much like St Lawrence, I want the type of player who has a chip on his shoulder. He hasn't had an easy road. He hasn't been the kid that's always been in the spotlight. We want those type of kids to help build an identity.
"What you need to do with a program like UMass that has been down is sell them on the future. Any kid is always going to go where the opportunity is. He's going to go where he feels there's a vision and a coach who believes in what he can do as a hockey player."
After this Friday's game against New Hampshire, the Minutemen will be flying to Ireland for the Friendship Four, an experience that acted for Northeastern as a springboard to a league championship. While that outcome isn't realistic for UMass, it should still provide lasting benefits.
"Obviously, it's a great bonding experience," Carvel says. "It really pays huge dividends. It provides more time for players and coaches and everyone to just be together and build some bonds and be with each other in a different environment that you can't really recreate in any other way. Hopefully, it will help forge the kind of foundation we're trying to create this year."
The Northeastern-Notre Dame suspended game
Perhaps like me, you were checking on the score to Sunday's contest between Northeastern and Notre Dame, and saw that it was stuck at 0-0 after two periods. No matter how many times you hit the refresh button, nothing changed.
As it turned out, Northeastern's Zamboni had broken down in one corner of the ice and dumped a considerable amount of water, leaving a hole when that portion of the ice was unable to freeze. After a delay, the ice was eventually deemed unplayable and the game was suspended.
Such a unique situation warrants a closer look. Hockey East commissioner Joe Bertagna, who's been around almost as long as Zambonis and frozen ice, weighs in on the matter.
"I haven't had to deal with exactly the circumstances here because it's a league game and points [in the standings] are at stake, but two games come to mind," he says. "When I worked for the ECAC, we had a playoff game, Yale at Colgate, and it was the first night of a best-of-three and they just resumed it the next day. We had to finish game one before we could start game two.
"The other [similar case] was a game at BC where there was fog on a Friday night against North Dakota. It was an unseasonably warm night, it was humid and they didn't have dehumidifiers. They couldn't play. Power had gone out. [Like the Northeastern – Notre Dame contest], that was also a tie game at the time. They agreed to a tie. It was also after two periods, but there were no league points at stake.
"What makes this one a little more challenging is because of how our standings tend to be. Not playing the third period and somebody not possibly coming in with a win make it more complicated. The fact that it's tied now as opposed to one team being ahead and perhaps wanting to call it a game and the other team being behind and wanting to play makes it so we don't have to deal with that."
As of earlier in the week, Bertagna was waiting for both schools to submit their wishes, whether they want to reschedule or not. He was also waiting for an interpretation from the NCAA on whether a resumed game needs to have rosters limited to the same players who were on the score sheet. Although that makes intuitive sense–teams have already listed their lineups and started the game–what happens if they can't schedule the game for another month or two and the same players aren't available?
Although Notre Dame's involvement makes for geographical challenges that wouldn't exist if Northeastern's opponent had instead been BC or BU, those challenges aren't necessarily insurmountable.
"Notre Dame has to come back out to the area, so if they were coming out to play a two-game series and Northeastern was in the area, you could in theory find a common date on a Sunday or Monday to play a period," Bertagna says. "Based on the rule book, there are two choices: you either resume the game or if you played two periods, you call it [over] whatever the score is."
On Wednesday afternoon, the game was ruled a tie.
Confirmation of Alfond
In the Monday Morning wrap-up blog, I noted from afar that Maine's performances at home against third-ranked BC, fifth-ranked Lowell, and seventh-ranked Quinnipiac were eye-opening. Alfond Arena appeared to once again be a very tough place to play.
My fellow columnist, Jim Connelly, was there this past weekend as part of the Lowell radio broadcast team with Bob Ellis, and he provided on-site confirmation of what I speculated from afar.
"Alfond is back to the old Alfond," he says. "Loud, rowdy fans. Maine played so much more confidently at home on Friday than [on Sunday] at Lowell."
The sound you hear is of Hockey East coaches cracking open a fresh bottle of Excedrin.