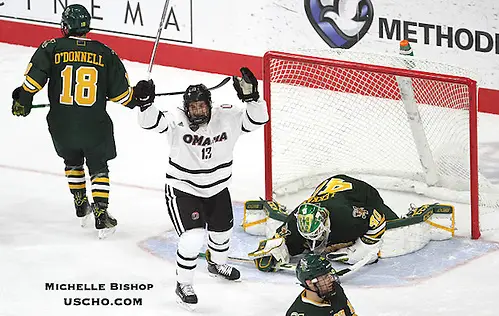 The more often Omaha has played on the road this season, the more head coach Dean Blais has liked what he's seen.
That's a good thing for the Mavericks, especially with a road-heavy schedule leading up to their holiday break. Before that, what Blais hopes to see come around are UNO's results while playing at home.
Currently sitting just outside of the USCHO.com Men's Division I Poll's top 20, UNO (6-3-1 overall, 3-1 NCHC) hosts No. 2 Minnesota-Duluth (8-2-2, 5-1) this weekend. The series at Baxter Arena will give the Mavericks, who won their first four road games this season, a chance to improve upon their 2-3-1 home record.
That bumpy start began with a loss and tie against Vermont on Oct. 21-22 before splitting with then-No. 5 Massachusetts-Lowell the following weekend. Omaha then fell 2-1 to Colorado College on Nov. 4 before closing a six-game homestand with a 6-4 win over the Tigers.
UNO's split against CC is still fresh in Blais' mind despite the Mavericks having swept Miami on the road last weekend in Oxford, Ohio.
"We're getting our opportunities at home," Blais said. "We've played kind of the same and our shots for and against have been pretty consistent. They were really consistent for the first six, seven periods against CC when we were getting 18 attempts every period.
"We beat them on Saturday and they won on Friday 2-1, and I think it was just their goaltender making good saves, three or four really good saves that were the difference in the game. We couldn't gain any momentum that night and we got down 2-0 and then they just played a good defensive game getting the puck out of their own zone."
Fast forward to last Friday, where five unanswered goals gave the Mavericks a stunning 6-4 win over Miami. The following night, a 6-2 win over the RedHawks gave UNO an even dozen goals on the weekend.
When asked Tuesday what he attributes UNO's greater success away from home to, Blais pointed to routines players forge.
"When the guys are together, I think they're more focused and they concentrate a little bit better when they're traveling to and from (road games)," Blais said. "On top of that, I just think that sometimes being at home is a distraction, and we've played some pretty good teams.
"Vermont had a really good weekend, and we beat them twice out there (last season) but I thought they just outworked us here, and then UMass-Lowell, who was the No. 5 team in the country, we beat them 5-1 and then dropped a tight (4-2) game the next night. We've been more successful on the road, but I think it's just because you're more focused and you leave on Thursday so you're together all weekend instead of just here and there."
UNO will soon return to that grind with three consecutive road series after the Mavericks host UMD this weekend. After Saturday, UNO won't play at home again until Dec. 30-31 when Lake Superior State visits.
First thing's first, though, and UNO is facing two formidable foes: UMD and an illness making its way around the Mavericks' camp.
"We've got to go to Northern Michigan, Wisconsin and St. Cloud back-to-back-to-back, so there's three weekends on the road after there's No. 2 Duluth here this weekend," Blais said. "We're focusing everything right now on Duluth, and we've got the flu bug going through the team right now.
"(Sophomore defenseman) Jalen Schulz got sick right before we left before we left for Miami and we didn't take him, and then (junior forward) Jake Randolph misses the third period on Saturday throwing up and with the flu, and then on the way back two guys got sick and three guys missed practice (Monday) and it looks like another two are missing practice (Tuesday), so hopefully we get that over with."
Broncos' turnaround continues
Western Michigan coach Andy Murray knows his Broncos aren't currently the finished product of themselves.
Ten games into the season, though, Murray has little to complain about.
Early last season, WMU's results were at times maddeningly inconsistent. The Broncos went 2-0-1 in their first three games of the 2015-16 campaign before losing two games in a row, winning the next two and losing the next eight after that.
The last two losses of that eight-game skid saw Western concede 13 goals on the road against then-No. 17 Minnesota-Duluth. A much stronger WMU team went back to Duluth last weekend and knocked the top-ranked Bulldogs from atop the hill.
After WMU and UMD combined for six goals in Friday's first period at Amsoil Arena, a game-winner with 31 seconds left in the game from Broncos sophomore forward Colt Conrad gave Western a 4-3 victory. The Broncos were unable to clinch a sweep on Saturday night, but Murray left Duluth happy enough to see his glass as half-full.
"We've been (to Duluth) many times and we know the kind of opponent they've always been and this year in particular with a lot of upperclassman seniors and juniors," Murray said. "They deservedly were the No. 1-ranked team in the country and they've beaten a lot of top-quality teams, having swept North Dakota, and every game they're so competitive.
"Gratifying for us to get the first win, disappointing that we didn't get the second win. When you win that first game, you want to finish the job off and our players were disappointed in not getting the win the second night. Now, our play in both games was very solid. We competed, we battled on pucks and played very hard. Our power play was not as good as we needed it to be on Saturday and our penalty-killing gave up two goals, so in losing 2-0 we lost the special teams game."
At No. 18, WMU is one of two previously unranked teams in this week's USCHO poll. Denver leapfrogged UMD into the No. 1 spot.
At least for now, Western's strength of schedule can hardly be questioned. Four of the Broncos' five opponents thus far were ranked at the time, and two of WMU's three losses came Oct. 28-29 at then-No. 3 Denver.
Solid play and a 6-3-1 start to the season have left the Broncos with reasons to feel good about themselves. Just don't use a certain other word in their presence.
"We don't use the word 'confidence' around our team very much because I don't know what confidence is," Murray said. "I mean, if I could just pick it off a tree and give it to our guys, I'd give it to them. Just play good and you feel good, and if you don't play good, you feel lousy.
"To me, the bottom line is we believe in our group. We're a young team. We've got to continue to get better. Our theme every day is 'better.' Be better than what you were yesterday as a person and a hockey player, so we've got some work to do."
This weekend, WMU hosts a non-conference series against Air Force, which is also 6-3-1 and has won its last three games. Military Appreciation Week at the Kalamazoo, Mich., campus coincides with the Broncos' first games against Air Force since 1988.
"It's our opportunity here at Western Michigan to show gratitude for those that defend our country all the time," Murray said. "Obviously these are young cadets but we know what their future is and their commitment to being in that branch of the Armed Forces and their athleticism and their competitiveness.
"We've watched tape of them already and they're a very good hockey team. Coach (Frank) Serratore has done a great job with the program for many years. They've beaten a lot of good teams already this year. They knocked off Boston College and Ohio State in Denver to win the Denver opening tournament. We're talking about a team that competes and plays hard."
WMU is off next weekend before hosting No. 12 St. Cloud State and visiting eighth-ranked North Dakota in consecutive weeks.
Players of the week
Offensive player of the week: Austin Ortega, Omaha. A four-point weekend from the senior forward gave UNO its first-ever road sweep over Miami. Two goals and two assists against the RedHawks saw Ortega exit the weekend tied for second in the NCHC in points (15) and goals (9).
Defensive player of the week: Luc Snuggerud, Omaha. The junior defenseman picked up four goals last weekend in Oxford while helping UNO go 8-for-11 on the penalty kill. Snuggerud recorded three points (two goals) on Saturday in a 6-2 Mavericks victory.
Rookie of the week: Jack Ahcan, St. Cloud State. A three-point weekend from the talented SCSU freshman defenseman helped the Huskies to a road sweep over Colorado College. Ahcan also played a part in SCSU killing nine of the Tigers' 11 power-play opportunities.
Goaltender of the week: Tanner Jaillet, Denver. DU's junior netminder was terrific last weekend in helping the now-No. 1 Pioneers to a win and a tie on the road against No. 6 North Dakota. Jaillet stopped 51 of 54 shots in Grand Forks and now leads the NCHC in both goals-against average (1.66) and save percentage (.934).