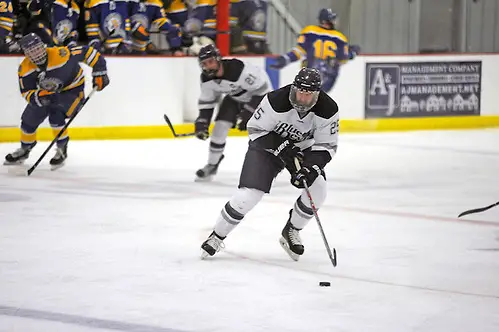 Riley Colvard is on track to have the best season of his college hockey career at Wisconsin-Stout. The senior already has as many goals as he scored last season (four) and he has tallied three assists as well.
If you ask the senior forward what has changed, however, he says it's pretty much about being at the right place at the right time.
"Not much has changed," Colvard said. "I'm just getting good shots and getting bounces to go my way that might have not done that in the past. I'm happy with the way things have gone for me so far."
Colvard gives credit to his linemates as well, noting Gavin Smith and Colton Brausen have played a big part in his success.
"They make life easier on me," Colvard said. "They are a lot faster than me and I know if I get the puck to them they are going to find a way to score."
Colvard is coming off a junior campaign where he scored a career-best four goals and dished out a career-high 10 assists.
As a senior this season on a Wis.-Stout team that is 4-2 through six games, Colvard has embraced a leadership role.
"Having experience helps and I'm doing my best to be a leader," Colvard said. "I'm a vocal leader and that's the way I've been since high school. I'm always trying to be positive and encourage the younger guys to play hard."
His leadership and contributions have paid off as Wis.-Stout is six wins away from matching its win total from a season ago.
Part of the resurgence has to do with the fact that there is more competition in practice.
"Our practices are very competitive," Colvard said. "The lines are always changing in practice. Everyone knows they have to play hard because your spot isn't guaranteed. I think that competition has made all of us better players."
Colvard is also impressed with the team chemistry the Blue Devils have displayed.
"Everyone gets along in the locker room," Colvard said. "There aren't any selfish players. We all want to do what is best for the team."
Colvard arrived as a freshman looking to make an impact and he ended his first season with two goals and four assists. He's come a long way since then.
"It was a difficult transition from juniors to college because you had to learn to juggle hockey with school; the season is also a lot shorter in college," Colvard said. "It took me about a month or so to adjust to it."
Colvard is thankful for the opportunity he has to play college hockey and does his best to make the most of every opportunity.
"It's a privilege to play in college," Colvard said. "I've had a lot of fun and have made a lot of friends. I'm grateful that I get to play the game at this level."
As for the rest of the season, Wis.-Stout is hoping to be a surprise contender for the WIAC title in a league that features the reigning national champion in Wis.-Stevens Point and national powers Wis.-Eau Claire and Wis.-River Falls.
"This is a tough league and you have to be at your best every night," Colvard said. "Our nonconference schedule does a good job of preparing us for the conference. We played pretty well in the conference tournament last year and had a chance to advance to the championship. We gained a lot of confidence from that and feel like we can compete for the title if we play up to our potential."
Big Weekend for the Cardinals
Saint Mary's swept Bethel this past weekend to win its first two MIAC games of the year and improve to 3-1-2 overall. The Cardinals, who defeated the Royals 2-1 and 4-2, have won their last three games overall.
Phil Heinle rose to the occasion in goal in both games, racking up a total of 44 saves, including 37 in Saturday's win. Heinle has started four games this season for the Cardinals and owns a 2-0-2 record. He has allowed nine goals and has 104 saves on the season.
Heinle, a first-team All-MIAC selection two seasons ago, has won at least six games each year of his career and has 22 wins in all. His play has been huge in helping Saint Mary's start off the season with momentum.
Meanwhile, his brother, Jay, has been one of the top scoring threats on the team this season, punching in three goals. A first-team All-MIAC pick a year ago, Jay is looking to build off what he accomplished a year ago when he scored 16 goals and dished out eight assists.
The Cardinals have scored 19 goals in all and have allowed 15.
Falcons continue to soar
Concordia recorded its first NCHA series sweep of the season over the weekend, knocking off Finlandia 5-2 and 4-3. The Falcons are unbeaten in their last four games, winning three times during that stretch to improve to 3-2-1.
Stefen Seel scored the game-winner Saturday as Concordia continued its dominance of the Lions. The Falcons have never lost to the Lions under coach Jasen Wise, who has guided the Falcons to a 9-0-1 record against Finlandia. The record includes six road wins.
Seel is off to a great start to his sophomore season, scoring twice and dishing out six assists. Seel leads the team in assists and points. His game-winner was his second of the season and third in his career.
Seel played in 26 games as a freshman and was the team leader in assists (14) and second on the team in points (20). He is well on his way to duplicating that success this year.
Blugolds working overtime
Wis.-Eau Claire has played more than its fair share of overtime games this season. Three of the last four outings for the Blugolds have gone to OT, with two of those games ending in a tie.
However, Wis.-Eau Claire punched out a little earlier Saturday night, skating to a 5-1 win over Concordia (Minn.). It's the second time this year Wis.-Eau Claire has won a game by more than a goal.
Mac Jansen has been one of the driving forces behind Wis.-Eau Claire's early-season success, scoring five goals and dishing out five assists. Patrick Moore has also risen to the occasion, punching in two goals and dishing out five assists. Wis.-Eau Claire, which is 3-1-2, has scored 23 goals in all.
The defense of the Blugolds has been solid as well this season, with Jay Deo starting all six games and racking up 134 saves. He owns a 1.95 goals-against average.