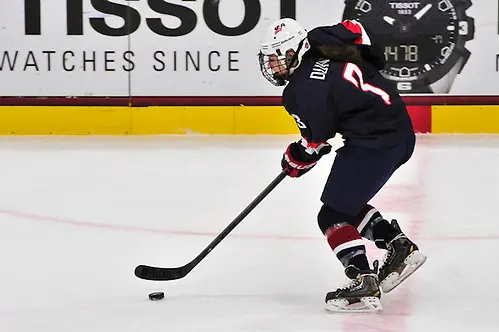 I spoke with new Ohio State coach Nadine Muzerall for my Division I column this week and we covered a lot of ground, some of which didn't make it into the final piece.
I ended up leaving out any reference to specific players because the tone of the piece was about rebuilding the program and not about this year's team. I had initially included a bit about the team's seniors and was trying to fit in the others, but it felt awkward and forced, so I pulled them all out and figured I'd share them here with you now.
About goalie Kassidy Sauve:
You're only as good as your goalie. She's fantastic and phenomenal. She's dialed in. She came back, she worked hard, I still have her for another three years to be the backbone and quarterback of our team.
About Jincy Dunne:
First and foremost, Jincy is a fantastic person. She is a bright young woman. She's pre-med. She's tough on herself and she has high expectations like most fantastic athletes do. She needs to trust in herself and that's a process.
You can slowly start to see her game growing, especially on the Olympic-size sheet at St. Cloud. She is just not somebody you want to give time and space to. She has fantastic hands, especially in tight. She's got such advanced hands for a defenseman. She has an amazing vision of the ice. She has a hell of a shot as well. She has a great sense of the game with all these other skillful components that make her a very complete hockey player, but at the end of the day, her being a fantastic person makes her very coachable.
There are expectations that she has on herself, but (the fans) as well, but they want to see her be who she can be. She has those high expectations of herself and she should. She's handling it just fine.
About Breanne Grant and Katie Matheny:
In four years (our seniors) have gone through so much turmoil and they've stuck around. They didn't bail. They saw the potential in the hockey program.
About assistant coach Jess Koizumi, who ended her NHWL career to become coach:
Jess has been doing fantastic things behind the scenes when I wasn't here. You need your staff and your players to have those values, that character. I had some people call me when they found out I was the head coach and say they would want to help next year.
You know what, I won't need you next year. I need somebody this year when the chips are done because that shows character. I don't need somebody when things are in motion and working well. That doesn't define character.
When I spoke with Jess, who I knew very informally, when I called her up and I said "I've got a business proposition for you," and I spelled it out for her and she said "I'm in," I was very impressed that she saw the big picture.
She still has it. She's out there dangling with the players.
She said "I can maybe play another two years or I can take this opportunity that is a huge opportunity and help build a program and I want to do that." She chose to come on this crazy train and come aboard and we're excited about what the future can look like.