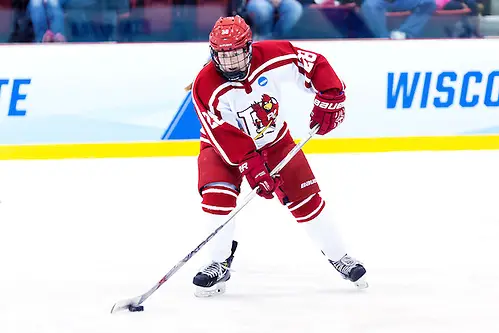 In recent years, any discussions about women's Division III hockey start and end with Plattsburgh. The Cardinals are three-time defending national champions and own a total of five of the past 10 national titles.
To say expectations are high in Plattsburgh would be an understatement, but no one expects more than coach Kevin Houle and the players themselves. So while it's easier said than done, once the season starts, the Cardinals try not to think about outside expectations, rankings, or polls.
"For us, it's all about the next game and trying to get better all the time," he said. "We never talk about the future or the past in terms of what we did last year. We never look too far ahead. I think that's been part of our success, the ability of the team to focus and go out and compete on a nightly basis; to kind of keep the pressure off our team, keep the pressure off the girls in terms of expectations. Our goal is just really to keep things in the present and not get too caught up."
Ultimately, it's a short season — just 25 games. Every game counts. Every game is important. If Houle's players are focused on what came before or what comes next, they aren't worrying about the next point or the next opponent. With such a short slate, every mistake has repercussions and gives other teams a chance to close the gap. The only way Plattsburgh can control what happens at the end of the season is to take care of business on a game-by-game basis.
"We have to get better today; we have to outwork our opponent," said Houle. "We have to compete every day in practice. We're not concerned about the end of the season, we're concerned about the day that's in front of us, the practice of the game. Easier said than done, but we don't harp on next week, let alone the end of the season."
It's a workman-like attitude for a team in a blue-collar town.
Despite the reputation Plattsburgh has built — and the no. 1 ranking the Cardinals are carrying — Houle sees room for improvement. He cited come-from behind wins over William Smith and Neumann as places where the Cardinals struggled. What's encouraging, though, is how Plattsburgh responded in game two of each of those series, winning 5-1 and 5-0.
Though it probably feels to opponents that the Cardinals merely continue to reload an already potent roster, Houle said his team is going through some growing pains after losing the centers of their two top lines — Bridget Balisy and Giovanna Senese — to graduation. Both players had been in those roles for the past three championship seasons. Now the Cardinals need to find players to step into those roles and quickly make the adjustment.
No team could be as successful as Plattsburgh has been without a solid foundation. Houle and his staff have worked to create a culture of acceptance in their locker room, something he thinks should be happening wherever you go. That creates an openness and trust among the team and gives them the base they can build on. Those core values direct the team's actions, on and off the ice.
"We want to be a team that is close-knit and is accepting and has a very close group inside that locker room," said Houle. "That's where we get off to a good start. We want to be selfless on and off the ice. Whether it's being a good teammate, not worrying about who's scoring, who's getting the accolades, and we want to be disciplined and relentless in our play. I think if we can do those three things on a regular basis and have that culture in terms of acceptance and getting along and really being good teammates, that can get our team over the hump when you're playing someone that's of equal caliber."
Once that foundation is built, the team can start to focus on their game on the ice. The trust the players have for each other manifests itself in crisp passes, anticipating each other's moves, and controlling the puck for long stretches, a hallmark of the Cardinals' game plan. That they are so aggressive and relentless in their attack leaves little opportunity for opposing teams to regroup, much less form a counterattack.
The Cardinals faced their first big test of the season Wednesday night as they faced No. 6 Norwich, but once again Plattsburgh came out ahead with a 3-1 win.
To play Plattsburgh is to be challenged for 60 minutes and hope they make a mistake.
However, they don't make a lot of mistakes.