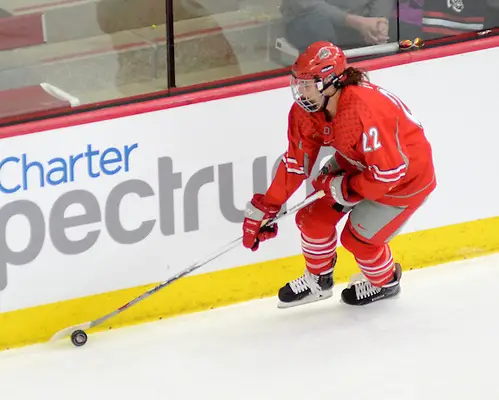 It's been quite the first few weeks of the hockey season for new Ohio State coach Nadine Muzerall. Hired just 20 days before the Buckeyes were set to open the season, she wasn't actually cleared for a work visa — she's Canadian — until the team was already in Troy, New York, to face Rensselaer on opening weekend. She surprised the team by joining them on that road trip and has been sprinting to catch up ever since.
Muzerall became the third coach in as many seasons when she took over the program in September. Jenny Potter had the reigns for one season before being dismissed in the wake of numerous NCAA violations. Before that, Nate Handrahan resigned after four years as head coach in the wake of allegations of sexual harassment, inappropriate conduct, and bullying.
It's been a rough stretch for the student-athletes of the Ohio State women's hockey team, something Muzerall was incredibly aware of when she took over. Before she could worry about coaching systems or techniques or even line configurations, she had to reassure her players and earn their trust. That reassurance also needed to extend to incoming recruits and committed high-school players. Their trust had been broken numerous times already and Muzerall had a difficult task in front of her.
Having dropped an established life in Minnesota to uproot her young children and move to Ohio on short notice helped prove that Muzerall was "all in."
One thing she didn't have to worry much about was the readiness of her team. They had been practicing and preparing for the season without a coach and were as ready as could be expected under the circumstances.
"I give a lot of credit to the ladies on the team. They had no role models. They had no coaches. They had nothing and I said 'I gave up everything to come here and I'm fine with that, but I'm all in and I need you to be all in. If you're not, then it's not going to work out. But if you are, something great is in motion.' I don't know of many teams that could have handled it as gracefully and as responsibly as they have."
By uprooting her family, Muzerall had shown her commitment to the players and that was compounded by the one made by assistant coach Jess Koizumi, who was prepared to continue her professional hockey career in the NWHL before Muzerall called her.
That both of their coaches had made abrupt life decisions to join the Buckeyes showed not only that they were committed to their new roles, but that they believed in the players and what could be built at Ohio State.
The players seemed to respond. They lost just one of their first five games, pushing No. 1 Wisconsin for a tie and impressing folks with their resiliency.
The season hasn't continued in that manner and that's something Muzerall is attempting to address and figure out. The Buckeyes have had flashes of brilliance over the past few seasons, pulling a few upsets and hinting at potential, but they've been unable to maintain it.
Even with the team all on board for the new leadership and direction for the program, they still have to catch up a bit. Muzerall admitted there's only so long they can use that excuse, but does think that fitness has played a part in the team's early inconsistency. Though they were practicing, Muzerall laughingly said the team wasn't pushing themselves they way she is.
Beyond that, she said another coach in the league told her that they think of Ohio State as the "Sleeping Giant" because of all the potential they have — the rest of the league is just waiting for them to wake up. Muzerall is on board with that characterization.
However, the Buckeyes aren't there yet. First and foremost, Muzerall wants to work to create a culture of winning, something that hasn't been present for this team. It's a more nebulous lesson than teaching physical skills, but focusing on the mental game is something she said she knows will make a huge difference for the Buckeyes. Winning breeds confidence and Ohio State needs some of that.
"There's no day off in our league," she said. "I think that challenges the girls and makes them better each day in practice. You have to have that mentality of playing with confidence and a chip on your shoulder. We're going to make people work for it. We're going to be that blue collar, tough team. It's going to come with time and experience. I didn't think it's going to be resolved right now, but we're working on it. We're working on the mental preparation and knowing what it's like to win."
In general, Muzerall said she thinks one of the biggest things she and the university can do for the student-athletes is support them, something she isn't sure they've felt in the past. She's instilling a family-first culture where the teammates are accountable to each other, on and off the ice. Building trust and respect gives them agency, and Muzerall said being a family means supporting, loving, and teaching each other, even if that might include some tough love.
"I want (them) to be a better person when (they) leave here than when (they) came in," said Muzerall. "Hockey only goes so far, I have to prepare them for the rest of their lives afterward."
From a university standpoint, Muzerall pointed to Senior Athletics Director Diana Sabau, who she said is not just a great boss, but a tremendous supporter of the team and the student-athletes. She attends multiple practices a week and has joined the team on a road trip to get a better sense of how they can improve the entire student-athlete experience. In addition, she's undertaking trips to other universities' rinks as Ohio State takes the preliminary steps to discuss a new hockey rink in Columbus.
The long view looks as promising for the Buckeyes as it has in years. Muzerall is not just excited and humbled by the opportunity, but she's excited about it and sees the potential to build Ohio State into a premier program. She pointed to the school's proximity to so many different hockey hotbeds, including Toronto, as one of the reasons she sees a bright and promising future.
"We are geographically located in a prime spot. There should be no reason that we can't be one of the best. I think there's so much potential with this program," she said.
In the meantime, Muzerall said she just tries to take everything day-by-day; the big picture can start to get a bit overwhelming. And she's not focusing on next season, yet. They have higher expectations for the second half of the season and no plans to use the way their season began as an excuse anymore. There's still a lot of hockey for the Buckeyes to play and Muzerall thinks Ohio State will continue to surprise people.